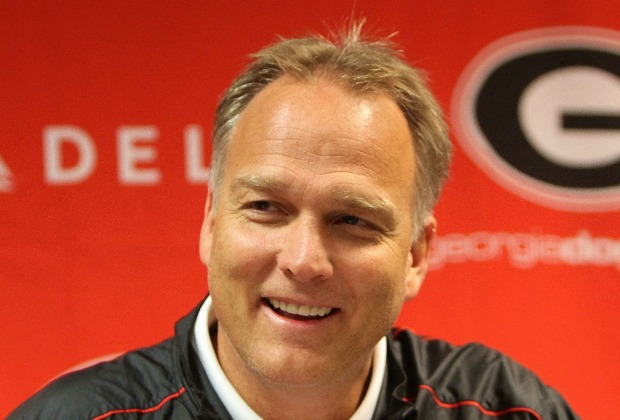 Photo by Rob Saye
The Georgia Bulldogs football program dealt with seven offseason arrests, a duo of players getting kicked off the team, and others deciding to go elsewhere. Questions have come up about who is at fault for this news over the offseason.
Head coach Mark Richt hasn't been able to address these issues too much over the offseason. Especially since the arrest/dismissal from the program of defensive tackle Jon Taylor and outside linebacker Davin Bellamy's driving under the influence arrest. Friday he got that chance to speak about these issues.
"The guys that misbehave have a discipline problem and that's why we discipline them," Richt said. "The rest of the guys don't. Some are still here and some aren't. That's just part of the consequences for not doing what you're supposed to do, when you're supposed to do it. The great majority of our guys are doing a great job and I'm really proud of them. There's different levels of issues obviously, but even a good man makes a mistake sometimes."
Mark Richt announced today that the redshirt freshman linebacker Bellamy is going to sit out two games for his arrest.
As far as the national perception of his program goes with all the offseason news his program made. Richt believes they have to continue doing what they can to make sure the team is ready to play this football season.
"I can't really worry about that right now," Richt said. "Again, we're going to hold true to what we believe is right. We're going to take care of business if business comes up and then play football."
Some would probably say the attitude re-adjustment for the program would also come from their disappointing and injury plagued 8-5 season in 2013 as another factor towards some changes within the team. Some people would also point to the addition of defensive coordinator Jeremy Pruitt to the team, with his no non-sense approach to the players. Junior outside linebacker Jordan Jenkins would say that would be a huge reason for why things feel different inside the Butts-Mehre Building.
"He saw what happened last year and said 'I don't want this to happen,'" Jenkins said. "'I've recruited some of you guys and know a lot of you guys on this team. I know y'all can play better than how you played in the past. If you're with me the skies the limit for us if we can all buy into the program and get everyone on the same page.'"
Offensive coordinator Mike Bobo said on Wednesday that this needs to be a player-led team in order to succeed. Senior quarterback Hutson Mason says this wish was granted over the summer.
"Selfishly I think this is the most leadership and accountability that we've had on this team since I've been here," Mason said.
Mason says that the team came together during a Navy Seal's program they went through over the summer. He believes that it allowed for players to lower their guard a little and let their teammates get to know them a little more. He also says the players took it upon themselves to lead over this offseason period.
"It's not offense versus defense and that's what we've been trying to preach," Mason said. "Even with the guys that got arrested, it's like the guys on offense want to say well the offense has been doing good. That's what we're trying to eliminate, the pointing finger garbage. We had a player led meeting this week after that happened and said 'listen that's not what it's about, that stuff is what gets team's beat, because that's separation.'"
Mason says that players like linebackers Ramik Wilson/Amarlo Herrera and safety Corey Moore really stepped up to become vocal leaders for this team. He also says that running back Todd Gurley stepped up that part of his game as well over the offseason.
The spotlight again goes back on Richt in terms of recruiting with the offseason news. People have wondered whether Georgia is getting guys that might have questionable character. Richt says they try to do as much research on prospects as they can.
"We do everything we can do within the rules to get to know these guys," Richt said. "There's only so many times we're allowed to do that."
A surprising revelation was made by Richt on Friday about a potential prospects social media account getting him into hot water with Richt and his staff during the recruiting process.
"We told him and we told his coach we don't condone that," Richt said. "He was a guy that was already committed to Georgia. Then he persisted, changed his little handle and continued to do that kind of thing thinking we wouldn't find out. We found out about it and we cut him. We rescinded that offer to him because if he's not going to do what we say to do at that point, then what's going to make us feel like he's going to do it when he gets here."
Richt wouldn't say exactly what was done by this player on social media or who he was. So people will have to take guesses as to who it might be.
As for this supposed offseason of change, we don't know just yet whether the mindset has changed for the Georgia football program, given the offseason news. However, we do know that everyone seems to be onboard with the way things have gone after all these events came to light. For now, the focus is solely on fall camp.