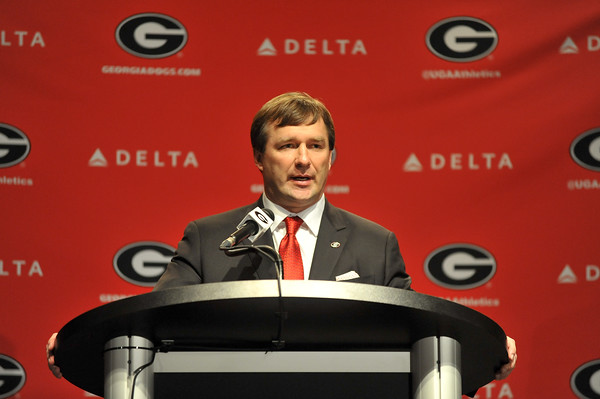 Sean Taylor/ Georgia Athletics
ATHENS, Ga.— In less than a week, the Georgia Bulldogs have parted ways with Mark Richt as their head coach and now hired his replacement. If you've been that far out of the loop, his name is Kirby Smart and he comes to Athens after coaching with the Alabama Crimson Tide since 2007.
It is a homecoming for the new Georgia coach, after he played for the Bulldogs from 1995-98. He also began his coaching career, as an administrative assistant under then head coach Jim Donnan in 1999.
Smart grew up here in Georgia and played high school football for his father Sonny at Bainbridge. He got emotional on Monday in his opening remarks when speaking about his family.
"I've thought about this day all of my life," Smart said. "As the son of a high school coach and the best English teacher in the world, I've always aspired to be a head coach. Thanks, mom, thanks, dad, for the example you set for me and for so many others. As most of you know, I spent five of the greatest years of my life here in Athens as a student-athlete. As I look throughout this very storied program, there are several coaches that had a great impact on my life here."
Smart also thanked the man who he's replacing, Mark Richt for giving him a coaching job in 2005. For one season, he served as the Bulldogs running backs coach.
The Bulldogs new head coach has learned from one of the best football minds in the history of the game, Nick Saban. He started coaching for him in 2004, as his defensive backs coach for the LSU Tigers. He rejoined him in 2006, to coach the safeties for the Miami Dolphins. He's been with him ever since.
At the Friday coaches press conference for the SEC Championship Game, Saban was asked about Smart and got visibly emotional when describing what Smart means to him. Smart says that Saban has been nothing but supportive of him throughout this entire process.
"He was great," Smart said. "His reaction was he's excited for me. He and I have a great relationship. We spent 11 years together, nine consecutively there at the University of Alabama. He's been a great mentor for me, and he was very supportive. Said he'll do anything he can to help me and continue that development. He's always been supportive. He's got a lot of guys he's worked with out there in this profession."
When it comes to the program expectations under Smart, he says they have clearly defined expectations for the players. He emphasized the student part of student-athlete when talking about what will be asked of them.
Smart has already met with the team. That visit came on Sunday night.
He's already told them what to expect from he and his coaching staff.
"I spoke to those guys about doing the right things off the field," Smart said. "If they can continue to do that, they can be successful. But I talk to them about change. I told them, I guess it was 20 years ago, I sat in the same place they were and had a new coach coming in. The uneasiness about having to prove yourself again and start over sometimes as an upperclassman is tough. I want to be here for them for that. We're going to challenge them and demand toughness and effort out of every person and every aspect of their life. We're going to push them harder than they've ever been pushed. But I think to be excellent, they have to do that."
The Bulldogs new head coach will be on the recruiting trail for the next week and will return back to Tuscaloosa on Tuesday to help the Crimson Tide prepare for their upcoming College Football Playoff semifinals matchup against the Michigan State Spartans.
For those asking about Georgia's top recruiting target, quarterback Jacob Eason… Smart says he'll be on the road to visit him immediately.
As is usually the case when it comes to being hired for a new job. Smart says tons of people have reached out to him.
One of those people is the Falcons current coach Dan Quinn.
"He called and said, hey, look, if there is anyway I can help you, I went through a similar process when he was with the Seahawks and also trying to take over the Falcons," Smart said. "He talked about time management and managing your time the right way. Spending every free moment you have and having people help you."
In terms of hiring the new coaching staff, Smart says there is no timetable on that. His first priority is recruiting. He will be focused on both Georgia and Alabama until his coaching duties at his current job have ended.
He says that all coaches will be considered for the openings on his staff. Also, he has not been restricted in any way on who he can hire.
Smart did confirm on Monday that he would be with the Crimson Tide until their season is over.
"It's very important to me that I finish things the right way over there," Smart said. "A lot of these young men playing for the University of Alabama I sat in their homes three, four, five years ago and convinced them to come to the University of Alabama. And I don't think it would be doing justice to turn and walk away from those kids."
Georgia will close out their season on January 2, when they take on Penn State in the Taxpayer Bowl in Jacksonville, Fla.