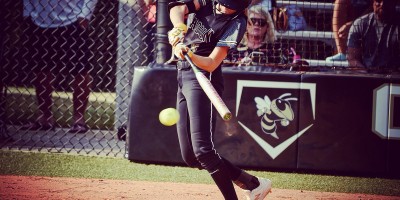 Calhoun Softball Twitter
Action heated up across the state on the volleyball court and football and softball fields on Thursday night.
In softball, Calhoun needed just four innings to dispose of Haralson County, 13-0. Erin Barnes led the Lady Yellow Jackets going 2-for-2 with a home run and four RBI's. Esperanza Reyes went 2-for-3 with a home run and three RBI's. Carlie Henderson, a South Carolina commit, went 2-for-4 and Jordan Blair added a home run. Maggie McBrayer got the shut-out two-hitter for Calhoun.
On the football field, Cairo avoided a Westover comeback after being up 20-3 at the half. Cairo's Aaron Atkins intercepted the ball to spoil a Westover 2-point conversion attempt and seal the 27-25 victory for the Syrupmakers.
Cairo scored early with a touchdown pass from Mathew Peters to Nick Gosier. A Westover fumble and scoop-and-score from 60-yards put Cairo up 14-0 with 4:17 left in the first quarter. Westover scored a field goal early in the second quarter to cut into the lead 14-3. Tay Soloman pushed the Syrupmaker lead to 20-3 on a 57-yard touchdown run but a fumbled snap on the extra point made it a 20-3 game. Soloman scored again with 1:44 left in the third to add to the lead, 27-3. Westover scored a touchdown with 8:40 left in the game and the two-point conversion cut the lead to 27-11. Another drive and conversion pulled Westover to 27-19 with 2:42 left. A Cairo fumble with 2:25 left gave Westover the ball at the 26-yard line and on third-and-long, Westover found the endzone to pull the game to its final tally.
Jackson defeated Central-Macon 34-21. Jackson jumped to a 10-0 lead with 5:22 in the first quarter before Central scored a touchdown with 1:46 left in the first. Central scored early in the second quarter to take a 12-10 lead but Jackson took back the lead with a touchdown at 4:34 left in the first half to take control of the game. Jackson's lead ballooned to 27-12 at the end of the third quarter and would extend its lead with 6:54 left to put the game away.
In volleyball, Lassiter defeated Marist in a closely-contested four-set match (27-25, 25-22, 23-25, 25-22). Archer defeated Rockdale and Duluth on the evening to advance to 3-0 in region play. J'ernai Argilagos had 28 assists and 11 digs. Nyah Barney had 29 digs. Becca Balon added 34 digs. Delise Wysinger had 10 kills and Kyla French added 10 kills and seven blocks.
Football
Academy For Classical Education 35, Pataula Charter 12
Cairo 27, Westover 25
Jackson 34, Central-Macon 21
Mundy's Mill 35, M. L. King 12
Riverdale 40, McIntosh 20
Softball
Adairsville 2, Lakeview-Fort Oglethorpe 0
Allatoona 12, Osborne 2
Apalachee 16, Gainesville 5
Baconton Charter 3, Seminole County 2
Beach 14, Johnson-Savannah 6
Bleckley County 13, Telfair County 8
Buford 15, Johnson-Gainesville 0
Cairo 12, Dougherty 0
Calhoun 13, Haralson County 0
Camden County 13, Tift County 0
Camden County 4, Tift County 0
Carrollton 13, Rome 1
Central-Carroll 13, Troup 5
Chapel Hill 6, LaGrange 0
Charlton County 7, Clinch County 6
Charlton County 8, Clinch County 3
Chattahoochee 11, Northview 3
Chestatee 7, Blessed Trinity 4
Coffee 8, Northside-Warner Robins 2
Commerce 4, George Walton Academy 1
Dacula 2, Habersham Central 1
Dodge County 9, East Laurens 1
Douglas County 12, Tri-Cities 0
Drew 15, Morrow 5
East Hall 6, Greater Atlanta Christian 5
Emanuel County Institute 19, McIntosh County Academy 5
Fannin County 7, Rabun County 3
Forsyth Central 4, South Forsyth 0
Georgia Military 6, Lincoln County 0
Gilmer 12, Pickens 0
Gordon Lee 11, Christian Heritage 0
Greenbrier 13, Grovetown 4
Hardaway 13, Westover 1
Hart County 6, Monroe Area 3
Holy Innocents' 2, Chamblee 1
Houston County 11, Veterans 3
Jackson 10, Peach County 1
Jefferson 5, Jackson County 4
Jenkins 22, Groves 7
Jenkins County 7, Treutlen 6
Johnson-Savannah 7, Beach 6
Lambert 6, Milton 3
Lanier County 4, Echols County 2
Lovejoy 28, Mundy's Mill 20
Lowndes 14, Colquitt County 0
Lowndes 8, Colquitt County 0
Lumpkin County 16, Cherokee Bluff 8
Mays 30, Creekside 4
Miller County 10, Pataula Charter 1
Miller County 19, Pataula Charter 2
Mt. Paran Christian 8, Mt. Pisgah Christian 0
North Forsyth 3, West Forsyth 1
North Gwinnett 18, Duluth 1
Northside-Columbus 9, Columbus 0
Pace Academy 18, Towers 0
Peachtree Ridge 0, Mill Creek 0
Pike County 7, Rutland 0
Pinewood Christian 7, Brunswick 0
Pope 9, Alpharetta 1
Portal 10, Claxton 2
Ridgeland 13, Southeast Whitfield 1
Ringgold 1, North Murray 0
Riverwood 5, North Springs 4
Schley County 13, Manchester 1
Sonoraville 13, Murray County 0
Starr's Mill 17, Fayette County 0
Stephens County 11, St. Pius X 0
Tattnall Square 9, Trinity Christian 8
Thomasville 11, Early County 6
Thomson 12, Cross Creek 3
Upson-Lee 5, Spalding 1
Walker 0, Whitefield Academy 0
Washington County 19, Southwest 0
Washington-Wilkes 16, Greene County 6
Webster County 20, Randolph-Clay 5
White County 12, West Hall 1
Whitewater 13, Griffin 0
Wilcox County 7, Irwin County 3
Winder-Barrow 11, Lanier 6
Woodland-Cartersville 9, Villa Rica 4
Volleyball
Alpharetta 2, Hillgrove 0
Alpharetta 2, North Gwinnett 1
Athens Academy 3, North Oconee 1
Brookwood 2, Mt. Vernon Presbyterian 0
Brookwood 2, North Cobb 1
Calhoun 2, Coosa 1
Clarkston 2, Tucker 1
Coosa 2, Sonoraville 1
East Hall 2, Union County 0
East Paulding 3, Hiram 0
Eastside 2, East Jackson 0
Elite Scholars Academy 2, McNair 0
Elite Scholars Academy 2, Therrell 0
Gainesville 3, Dawson County 0
Harris County 2, Landmark Christian 1
Hebron Christian 2, Central Gwinnett 0
Hebron Christian 2, Collins Hill 0
Heritage-Catoosa 2, Chattooga 0
Jackson County 2, Hart County 0
Kennesaw Mountain 2, North Cobb Christian 0
LaFayette 2, Gordon Central 0
LaFayette 2, Gordon Lee 1
Lake Oconee Academy 2, Oglethorpe County 0
Lakeside-DeKalb 3, Galloway School 1
Lakeside-Evans 2, Alcovy 0
Lakeside-Evans 2, Heritage-Conyers 0
McIntosh 2, Harris County 0
McIntosh 2, Landmark Christian 0
Morgan County 2, Hart County 0
Morgan County 2, Jackson County 0
Mt. Bethel Christian Academy 2, Whitefield Academy 0
Mt. de Sales 2, Brookstone 0
Mt. de Sales 2, St. Anne Pacelli 0
Mt. Paran Christian 2, Woodward Academy 0
North Cobb 2, Johns Creek 0
Pepperell 2, Chattooga 0
Prince Avenue 2, Westminster Christian Academy 0
Rabun County 2, Lake Oconee Academy 0
Rabun County 2, Putnam County 0
Ridgeland 2, Dade County 0
Riverwood 3, Roswell 2
Rome 2, Cedartown 1
Rome 2, Model 0
South Atlanta 2, KIPP Atlanta Charter 0
South Atlanta 2, Washington 1
South Forsyth 3, Mill Creek 0
Southwest DeKalb 2, Clarkston 0
Upson-Lee 2, Pike County 0
Westminster 3, Holy Innocents' 0
Windsor Forest 2, Woodville-Tompkins 1
Woodville-Tompkins 2, Johnson-Savannah 0