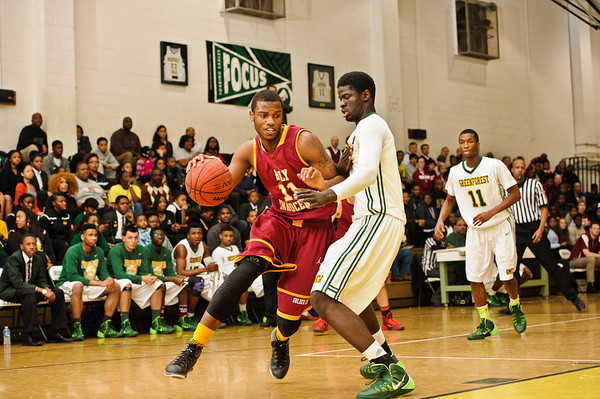 Photo by Ty Freeman
BOYS
AAAAAA
Norcross 49, Berkmar 45: Nine different players scored for visiting Norcross and Ricky Madison was the lone Blue Devil in double-figures with his team-high 10 points. Norcross' defense held the Patriots in check and the well-balanced Blue Devils were able to cling to a 30-21 lead at the half. Berkmar's 6-foot-10 senior Tim Rowe finished with 13 points, including a 3-pointer in the fourth quarter, and was guarded in the paint by Lorenzo Carter, a UGA football signee and two-time AJC defensive player of the year on the gridiron. Berkmar's other star, senior Kiair Crouch, scored a game-high 14 points. Berkmar was held to 45 points or less just two other times this season.
Pebblebrook 61, Luella 50: Junior Ty Hudson scored a game-high 25 points as Pebblebrook topped host Luella. The Falcons led 26-22 at halftime and 41-36 in the fourth quarter before pulling away. Luella never got closer than five points during the final eight minutes. Junior forward Derek Ogbeide added 15 points for Pebblebrook, junior Kevin Murph scored nine and junior Chris Nelson chipped in eight. Senior TeMarcus Blanton led Luella with 13 points.
Tift County 56, Hillgrove 47: Three players accounted for 52 of the Tift County's 56 points as the Blue Devils battled past visiting Hillgrove. Only four players in total scored for the Blue Devils, but four scorers were enough. Senior Tadric Jackson led the way with 23 points, while senior D.J. Bryant added 17 and senior Ladarius Stewart chipped in 12. P.J. Horne tacked on four points for Tift County, which trailed 9-6 after one quarter before taking a 16-11 halftime lead. Hillgrove was within four points with fewer than three minutes remaining but could get no closer. The Hawks were paced by senior Kyle Castlin, who poured in a game-high 27 points.
AAAAA
Jenkins 81, Northside-Columbus 60: Visiting Jenkins silenced the home crowd with a 19-4 run to open the game. The Warriors grew the lead to 48-26 at the half and as much as 30 points (77-47) with four minutes left in the fourth quarter. Jenkins junior Malik Benlevi had a game-high 21 points and seniors Romaine Gray (11) and Cedrick Woodson (10) also finished with double-figure scoring. Junior Phillip Whittington, who finished with 20 points, led Northside.
Warner Robins 69, Bainbridge 48: The Demons took a commanding 23-11 lead over visiting Bainbridge after the opening quarter. Bainbridge used a 9-0 run in the second quarter to narrow the deficit to 35-27, but Warner Robins answered in the second half and outscored the Bearcats 34-21. Warner Robins junior Nathan Curtis made his presence known early and netted 10 of his game-high 21 points in the opening quarter. The 6-foot-4 forward was joined in double-figures by junior forward Stephon Raybon, who finished with 12 points.
AAAA
Columbia 63, Sandy Creek 44: Senior Maurice Rivers scored 19 points and dominated the glass to the tune of 22 rebounds as Columbia overwhelmed host Sandy Creek. Senior Nick Singleton also had a double-double for the Eagles with 14 points and 10 rebounds. Senior Keuntay Puckett scored 13 points and junior Shadell Bell added 10. Columbia slowly put Sandy Creek away with leads of 12-11 after one quarter, 31-24 at halftime and 45-34 going into the fourth.
Jonesboro 84, Rutland 81: The Visiting Cardinals out jumped to a 21-14 lead after the first quarter and extended it to 35-18 midway through the second quarter. Jonesboro's lead grew to 44-30 at halftime but Rutland used a 10-4 run to in the third to cut the deficit to 48-40 with just under four minutes left in the quarter. Rutland trailed 62-51 entering the fourth and outscored Jonesboro 30-22, only to fall three points shy. Junior point guard Austin Donaldson and freshman wing James Walker Jr. led Jonesboro with 22 points apiece and junior wing Tracey Hector Jr. finished with 21. This is Jonesboro's fifth trip to the semifinals since 2002.
Westover 68, Glenn Hills 51: Senior C.J. Davis scored 18 points and grabbed 10 rebounds to lead Westover past visiting Glenn Hills. The Patriots trailed by one point after one quarter and by three at halftime, but they outscored Glenn Hills 15-3 in the third quarter to seize control. Westover focused its defense on Aubrey McRae in the second half and challenged other Spartans to score, which they failed to do consistently. McRae finished with 20 points, 14 of which came in the first half. Junior Andre Kennedy had 15 points and seven rebounds for the Patriots, who also got 12 points from senior Mike Green.
AAA
Buford 80, Cartersville 73: Senior Rakim Lubin poured in 31 points and grabbed 14 rebounds to lead Buford past visiting Cartersville. Sophomore D'Marcus Simonds almost recorded a triple-double for the Wolves with 29 points, 11 rebounds and seven assists. Senior Matt McMorris added 16 points, six assists and four rebounds. Buford, however, trailed by 11 points during the third quarter and by four heading into the fourth. Cartersville senior Corey Tobin drained seven three-pointers in the first half to go into halftime with 23 points. The Wolves shifted senior Montgomery VanGorder to defend Tobin starting in the third quarter and VanGorder did the job, as Tobin scored only five points in the second half to finish with 28.
Callaway 71, Swainsboro 68: Callaway led by a slim margin most of the way and managed to hold off visiting Swainsboro. The host Cavaliers held a 16-13 advantage after one quarter and a 29-28 halftime edge before outscoring the Tigers 26-19 in the third quarter. Swainsboro chipped away throughout the fourth, but could not get closer than a 3-point deficit. The Tigers eventually missed a desperation half-court heave at the buzzer. Junior Terry Godwin led Callaway with 16 points. Sophomore Dre Martin and freshman Braylon Sanders both scored 14 and sophomore Joe Brown added 13. Junior Steven Howard scored a game-high 20 points for Swainsboro, which also got 19 from Korey Somerville.
Johnson (Savannah) 53, Washington County 52: The Atomsmashers pulled out a victory in the "Reaction Chamber", their home gym, when senior guard Adrian Bonds sank two free throws with 24 seconds left after being fouled on a drive. Johnson coach Utaff Gordon changed his defense from a man-to-man to a 3-2 zone for the first time all game for Washington County's final possession, and it worked. The Golden Hawks struggled to identify the defense and missed a 20-foot jumper at the buzzer. Bonds finished with a game-high 28 points, while A.J. Gray led Washington County with 15. It is Gordon's second straight semifinals berth as coach of the Atmosmashers.
AA
Greater Atlanta Christian 60, Jefferson 47: The visiting Spartans had four players score in double figures and advanced to their fifth semifinal in six years under coach Eddie Martin. GAC senior forward Justin Lewis led the team with 21 points while senior forward Isaiah Wilkins had 12 and guards Cam Boyd and Garrett Covington each had 10. GAC was in control throughout, leading 20-13 after the first quarter, 36-21 at the half and 47-28 at the end of the third.
Vidalia 80, Northeast-Macon 62: Vidalia senior Dashon Holloway led the Indians with a team-high 21 points and the Indians claimed a 45-29 halftime lead over Northeast-Macon before cruising in the second half. The win gave Vidalia its fourth semifinals berth in school history. Seniors Terry Jones and Alton McCloud scored 17 and 11 points, respectively, and junior guard Jordan Black finished with 10. Vidalia remains unbeaten at 30-0.
A
Athens Christian 59, Aquinas 48: Will "Turtle" Jackson scored 19 points, had six rebounds, six assists and four steals as Athens Christian advanced to the semifinals. Host Athens Christian held Marquette-commitment Ahmed Hill scoreless in the final period. Jackson, a UConn commitment, scored 14 points in the final period to help the Eagles outscore Aquinas 16-8 in the final eight minutes. Aquinas led at the half 28-26, but Athens Christian took a 43-40 lead int the fourth. Hill scored 14 points. Athens Christian junior forward Demetrius McWhorter scored 16 and led the team with 10 rebounds.
Calvary Day 64, Greenforest Chr. 63: Senior wing Khaliq Hughes sank a free throw with 4.1 seconds left to give Calvary Day a win at Greenforest Christian. Hughes was fouled going to the basket after a Derek Kirkland steal inside the final 11 seconds with the game tied. Only seven points were scored in overtime and Hughes had three of his team's four. Hughes finished with 21 points and a team-high 11 rebounds while Kirkland led Calvary Day with 25 points. The Cavaliers led most of the first half, including a 29-18 edge in the second period. However, Greenforest went on a 12-3 run to end the half and built a 50-39 lead in the third quarter. Calvary Day eventually tied the game at 60 to force overtime.
St. Francis 74, Holy Innocents' 72: Host St. Francis trailed by seven with 2:30 left in the game, but the Knights' full-court press and missed fee throws by Holy Innocents' allowed St. Francis to quickly narrow the gap. Senior point guard McKinley Brown converted 3-point play with 8.7 seconds left to give St. Francis a 1-point lead. Knights junior guard Malik Beasley had 24 points and 11 rebounds while Kobi Simmons added 20 points and junior forward Kaiser Gates had 15 points and a team-high 12 rebounds. In a back-and-forth game, St. Francis trailed 18-17 after the first period, then led 38-32 at the half and 59-54 after three quarters.
Turner County 69, Portal 61: Junior guard Quan Hillmon scored a game-high 23 points and senior point guard Quan Williams added 10 as Turner County held off visiting Portal. Senior center Antonio Graddic chipped in eight points and 17 rebounds for the Rebels. Portal got 15 points from junior Trent Thomas, 14 from senior Stacey Morgan and 12 from senior Harrison Sherrod. The Panthers cut a 35-23 halftime deficit to 50-42 after three quarters, but could not mount a serious charge in the fourth.
GIRLS
AAAAA
Tucker 55, Salem 39: Tucker sped to a 20-10 lead after the first quarter. The teams each scored five points in the second quarter and the host Tigers maintained a 10-point cushion at halftime (25-15). Senior center Erykah Davenport has led the Tigers in scoring and rebounding in each round of the playoffs and finished tonight with a game-high 17 points. Davenport was the only Tucker player that finished in double-figures, but a total of seven players contributed baskets.