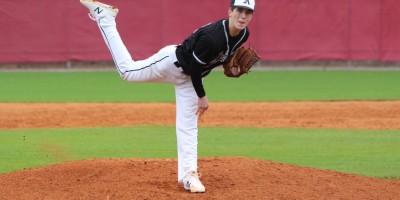 Alpharetta downed Greenbrier 12-4 to reach the semis. Credit: Alpharetta HS
Thursday night brought quarterfinal Game 3s in baseball and several quarterfinals matches in boys and girls lacrosse. In Class AAAAAAA baseball, Brookwood handled Lassiter 12-3 to earn a matchup with state No. 1 Mill Creek in the semifinals on May 15-16. Three of Class AAAAAA's series went to rubber matches, and defending champion Pope defeated Houston County late, 8-2, after a weather delay. Class AAAA's top team, Blessed Trinity, defeated Columbus 7-3 and next week will host Jefferson, a 10-5 Game 3 winner over Woodward Academy. In boys lacrosse play, 6A-7A North Gwinnett defeated Roswell 16-14 and Westminster and Kell both moved on to the Final Four in A-5A. Blessed Trinity bested McIntosh 14-6 in A-5A girls lacrosse.
On Friday, Score Atlanta will have state championship recaps from the day's action in soccer and track and field, as well as Class A-Public baseball and lacrosse quarterfinal scores for Friday night. And stay tuned Saturday for championship tennis coverage from the Rome Tennis Center at Berry College, as well as soccer and baseball.
Baseball
Allatoona 10, Grovetown 0
Alpharetta 12, Greenbrier 4
Blessed Trinity 7, Columbus 3
Brookwood 12, Lassiter 3
Callaway 9, Thomasville 6
Holy Innocents' 14, Pinecrest Academy 7
Jefferson 10, Woodward Academy 5
Lovett 4, Southeast Bulloch 2
Morgan County 3, Pike County 2
Pope 8, Houston County 2
Prince Avenue 2, Savannah Christian 1
Starr's Mill 3, Carrollton 0
Boys Lacrosse
Kell 12, Woodward Academy 8
North Gwinnett 16, Roswell 14
Westminster 13, Marist 9
Girls Lacrosse
Blessed Trinity 14, McIntosh 6
Kell 16, St. Pius X 6
Westminster 7, Marist 5