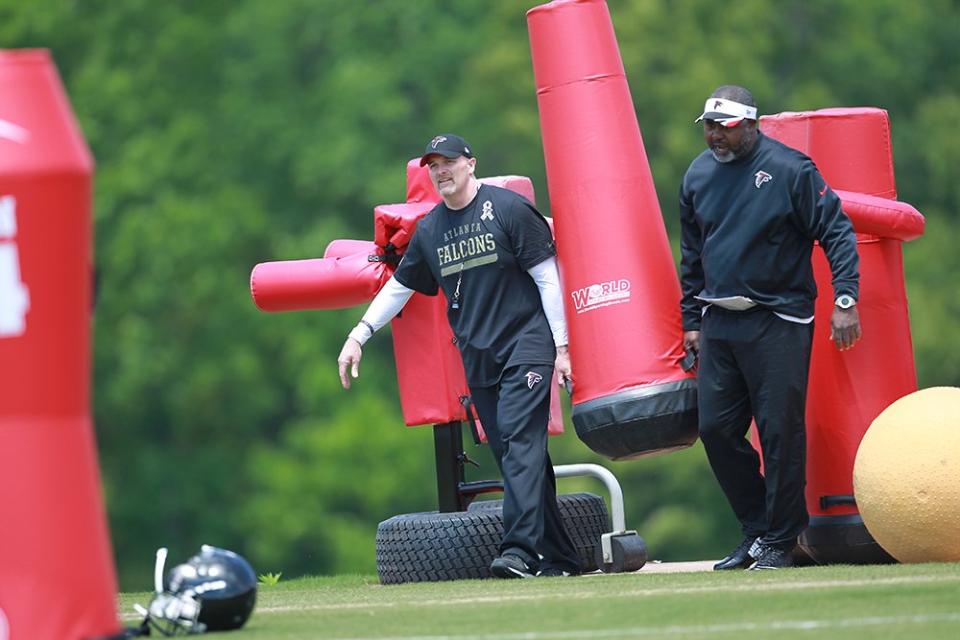 AtlantaFalcons.Com
FLOWERY BRANCH, Ga.– Tuesday marks the first day back to work for Falcons veteran players. This time it is a little different, with new head coach Dan Quinn and staff taking over.
With the new head coach/staff, the Falcons had the opportunity to hold veteran mini-camp earlier this year. They decided on working the team out before the draft and the players seemed to like the energy that Quinn brings to his practices.
The team was pretty much all accounted for, with these workouts getting underway. That is something that doesn't surprise veteran quarterback Matt Ryan.
"I think it speaks to the guys on our team," Ryan said. "I think it speaks to the kind of guys that we have in our locker room. Guys have been here right from the start. (They've been) in meetings, paying attention, (and) trying to do things the right way. I think that's going to bode well for us moving forward."
Ryan is happy with the way that things started off on day one, but also knows that players will get even more familiar with the new regime on the practice field as time moves on.
"We've got a lot to install still and we've got a long way to go," Ryan said. "Today was a good start. I thought the energy from players and coaches was right where it needs to be. The biggest thing that I've found throughout my career is consistency day to day and that's what we've got to strive for at this point."
Ryan is entering his eighth season with the only team that he has ever known in the NFL. He is coming off a good personal season, in which he threw for 4,694 yards and 28 touchdowns.
He now has to learn how to practice under a new coach and he knows he needs to be a veteran leader for some of the younger guys who might not be so used to the new style of practice.
"I had great mentors when I came in to the league," Ryan said. "Great veteran guys who showed me how to do it the right way and kind of pulled you along. I think that's part of the role as you become a veteran player, is to help out those younger guys. Because the way rosters shake out, there's a lot of young guys that are going to have to be on your team and are going to contribute to help you win games. The faster you can pull them along and have them be productive, I think the better off you are."
Wide receiver Julio Jones is back for his fifth season in a Falcons uniform and like Ryan is learning under only his second head coach in the NFL.
Jones had a good bounce back season, from the foot injury that caused him to miss most of the 2013 season. He would play all 16 games in 2014 and pulled in 1,593 yards receiving with six touchdowns.
He likes the new coaching staff in place, but knew he would when Quinn first met with the players.
"He was basically telling us what he expects out of us and what we can expect out of him," Jones said. "Everybody out here doesn't want to let anybody down. We don't want to let him down and we know he doesn't want to let us down. So, we come out here and we bust our tails."
We have heard about different methods of motivation and developing the culture that Quinn wants to bring to this team over the offseason meetings with the players. Some examples include the "point of attack" tapes showing the players their strengths/weaknesses and the high energy meetings.
Today we heard about the "points system" that Quinn has brought to the practice field. Quinn says it's another chance to motivate.
"The 'points system' is just another way to compete at practice," Quinn said. "Today we did it in '7-on-7' and another day we'll do it in different period at practice. It's just another way to have fun and change up the period. Make sure it's a little more at stake than just the complete or incomplete."
Third year cornerback Desmond Trufant is a huge fan of this being used during practice.
"Everything is a competition," Trufant said. "From the first meeting, we've been competing. Offense vs. defense, '7-on-7', and blitz period its wins/loses. So everything is competition and I love it."
Quinn also had officials on the practice field, to make sure that it had the feel to the actual game. He wanted his team to practice within the guidelines of the game in a safe environment to help them be the best they can be.
Again, the overall goal of practice was to maximize competition.
The Falcons also had 11 veteran players on the field, who will be trying out for the team. Names like sixth year corner back Derek Cox and sixth year defensive end Adam Carriker stand out in that group.
Quinn says he liked what they brought to the field.
"I thought what an important two days for those players," Quinn said. "Adam was certainly one and Cox was another one to say the speed they can play with. They both jumped off to me, so I can't wait to go in and watch the tape on them."
The Falcons will wrap up this short veteran mini-camp tomorrow, a day ahead of the first round in the 2015 NFL Draft.
As expected some players did sit out today's work, while recovering from injuries in the 2014 season. Veteran offensive tackle Sam Baker, second year tackle Jake Matthews, center Joe Hawley, and center Peter Konz are in that group that are still working their way back.
Offensive Tackle Lamar Holmes was back and caught Quinn's eye from the standpoint of how lean he looks weight wise. This is something that this team is looking for out of their linemen, with the new zone-blocking scheme being put in for this offense.