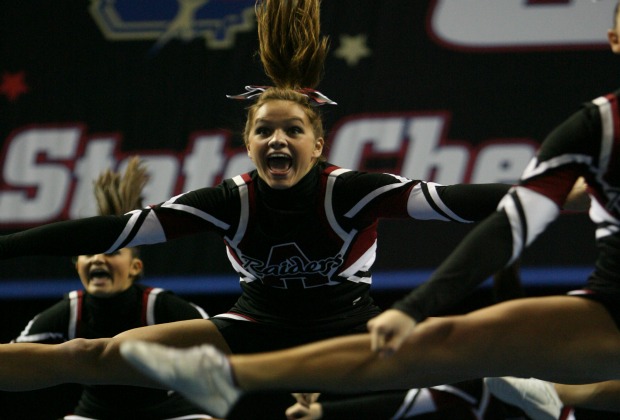 GHSA
While the casual sports fan many look at cheerleaders as simply young ladies surrounding the field of play while inspiring the crowd to root on their team along with creative chants, the true sports fan knows that cheerleaders are also incredible athletes. Competitive cheerleading has been a GHSA sport that dates back to the 1993-94 school year. Programs compete for state championships in either all female or coed categories with a number of amazing athletic tricks required for each routine that would make the biggest football player or the toughest basketball player wince and wonder, "How did they do that?"
RETURNING CHAMPS
This year's championship meet will be spread over two days in Columbus with many of the traditional powers back ready to claim more hardware. Northgate is seeking a sixth straight title after winning the last five Class AAAA crowns. Sarah Frazier has been at the helm for the titles and was recognized last year by the Georgia Cheerleading Coaches Association as the 2011-12 coach of the year. Northgate is primed for another title run.
Another team with some tremendous recent success has been Mill Creek. The Hawks have won three of the past four GHSA Class AAAAA titles and could win a second straight this year. Tori Forrister and Karly Whitehead are a pair of seniors on the varsity competition squad that have stood out thus far this year. Mill Creek has five seniors that offer leadership for coach Brenda Petty.
Peachtree Ridge won three straight Class AAAAA titles from 2005-06 through 2007-08 and then racked up back-to-back Co-Ed championships in 2009-10 and 2010-11 before Winder-Barrow ended the Lions' stranglehold on the Co-Ed championship. Winder-Barrow is coached by Jerri Hulsey, one of the winningest coaches in the state and a true pioneer in the Co-Ed division. Hulsey coaches the first Co-Ed team to compete at the state meet.
Meanwhile, Calhoun and Coosa have split the last six Class AA titles with Coosa winning in 2011-12 but Calhoun taking home four of the prior five. Coosa looks to be well on its way to another successful showing in Columbus after finishing second in the Region 7-AA competition behind Calhoun. Coosa recently captured first place at a meet at Carrollton High School, then placed first in its division at a competition at Central-Carroll. The two showings represented Coosa's third and fourth first-place finishes of the year. Despite losing a bevy of talent including six seniors from last year's title team, Charity McFather, Alex Cescutti, Josie Perry, Shannah Hammons, Debresha Haselrig, Carolina Hubbard, Raven Ayer and Hope Langston lead coach Beth Nichols' team.
NEW KIDS
Cedartown is a team trying to bust through for a GHSA cheerleading title. The squad recently finished ahead of Carrollton, Alexander and Shaw in an event at Central-Carroll High School and Brigitte Tillery's squad has improved in each and every event on this year's schedule. The biggest win came last week as Cedartown won the Region 7-AAAA title. Look for Taylor Ashmore, Payton Cox, Breanna Jones, Shayla Bijeaux and Mariah Longshore to help Cedartown chase the title in Columbus.
To watch the Saturday finals CLICK HERE