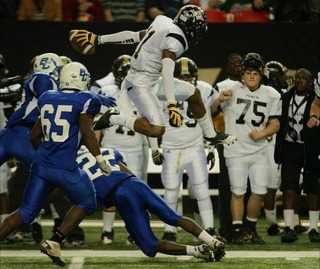 Rob Saye
Expectations are high once again for Peach County as head coach Chad Campbell prepares his Trojans for the upcoming season. After winning the 2009 Class AAA state championship, the Trojans reached the finals last year en route to a 13-2 season. It was the third straight year the team has reached at least the semifinal round.
"The key for our success has been to have confidence in winning," said Campbell. "We have to continue to put the athletes in the right places."
With the GHSA's reclassification, the Trojans will face several new region opponents, but a few familiar names will remain on this year's schedule.
"Our rival Perry (is on the schedule) and Baldwin, which is becoming a little rivalry," said Campbell.
Peach County will also face Warner Robins and Carver-Columbus in 2012.
Offense: Multiple I formation
Player to watch: Demarcus Robinson, SR,WR.
The 6-foot-2, 200-pound Robinson is one of the top offensive players in the country. Campbell says he has had an awesome spring.
"Demarcus provides a lot of mismatches," said Campbell. "We plan to move him around a lot. We are looking for a lot from him."
Robinson has multiple college offers including Alabama, Oregon, Florida, Auburn and Georgia.
Other Players to watch: Matt Winters, SR, C; Malcolm Colvin, SR, TE; Keyshawn Lowe, SOP, RB; Chavis Dickey, JR, OT; Greg Williams, JR, QB (returning from an ACL tear)
"We feel confident about the offensive line," said Campbell. "We have a lot of upcoming juniors and seniors." Campbell has four offensive linemen returning.
Other than Robinson, several sophomores will compete for additional wide receiver positions.
Defense: Three-Three Stack
Player to watch: Chris Jackson, SR, LB
"He has had a really good spring," Campbell said. "He's the leader of our defense."
Other players to watch: AJ Zanders, SR, DE; CJ Coleman, SR, DB.
AJ Zanders is one of their two returning starters. Campbell also says Robinson will play free safety in a few games.
This summer, the Trojans will work everyday on getting faster and stronger. Another thing they will focus on is team chemistry, according to Campbell.
"Team chemistry was a good part of our success last year," said Campbell.