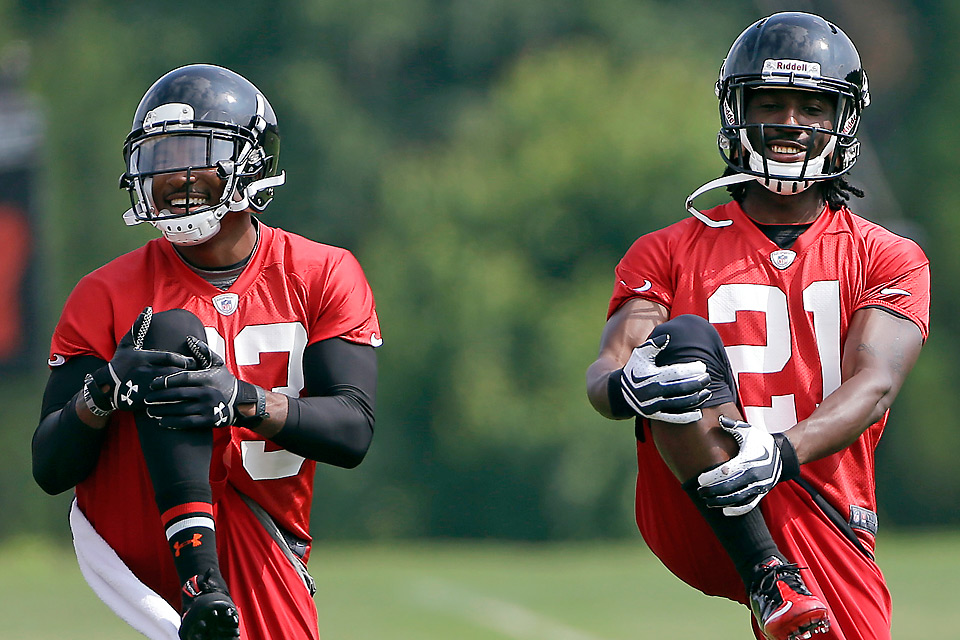 AtlantaFalcons.com
Falcons Training Camp is almost one week old in 2014, as the players enjoy a Wednesday day off. Second year cornerbacks Robert Alford/Desmond Trufant and offensive lineman Peter Konz are trying to take advantage of the reps this offseason.
Alford and Trufant were both thrust into action last season as part of a defense that surrendered an average of about 379 yards per game and tied with the Jacksonville Jaguars for 27th in the NFL for total defense. Both players combined for 110 tackles, 25 passes defended, and four interceptions in their rookie season. Now, they're trying to build on that says Trufant.
"You can't just be out there running around, you've got to be productive," Trufant said. "Breaking passes up, getting interceptions, and (making) tackles. Whatever I can do to help the team, that's what I'm trying to do."
Last season, Alford played most of the season in a reserve role and was learning from veteran cornerback Asante Samuel. When the season was all said and done, the cornerback from Southeastern Louisiana says the experience was valued.
"It was a learning experience," Alford said. "Coming from college, I was the man in college. I started all four years that I was at Southeastern Louisiana. Just coming in and being behind Asante, he's a future hall of famer. It was just a learning experience, even though I got to get in and play some games. I think it helped me out a lot."
Alford believes that year two of camp is now about him learning the finer points of this defense and doing more reacting. Last year he was trying to learn Mike Nolan's scheme and this year he's trying to add to what he knows.
"You've got to learn your plays," Alford said. "You've got to learn where your help is and if you don't have help, then you have to learn how to play the receiver. Pretty much it's just studying the guys you're going against and putting it to work on the field."
Trufant is getting another training camp to prepare for NFL games, by going up against one of the best in the league, wide receiver Julio Jones. The Falcons playmaking wide receiver is back from foot surgery on a limited basis during training camp and Trufant is happy to have him on the field.
"Me and 'Who' go at it every play and he's probably the best receiver I've seen so far," Trufant said. "Going against a guy like him every day, just gets me better. So I hope he feels the same way and I can give him a good look too."
So far during training camp, both these cornerbacks have looked good in individual and 11 on 11 drills. Both players had strong 2013 rookie seasons and now they've got a chance to improve in 2014 and beyond.
While Trufant and Alford are trying to improve, players like offensive lineman Peter Konz are trying to bounce back from a rough 2013 season.
Konz found himself as the starting center to begin 2013, taking over for veteran Todd McClure. As the season moved along, Konz would eventually lose the starting spot to veteran Joe Hawley. He ended up starting 15 out of the 16 games last season. He was bumped from the center position in week 10 against the Buccaneers on the road.
Konz believes that 2013 was a valuable learning lesson for his career. The 2014 offseason was a time to turn the page on how he prepares.
"I have really taken responsibility for all of my actions on and off the field," Konz said. "I started lifting in January, I saw a nutritionist, and saw a sports psychologist."
Konz says part of his new routine cut out processed carbohydrates and he got even further into the playbook. He also says that he's trying to win the center spot back from his good friend Joe Hawley.
"I just want to be the starting guy," Konz said. "That's it. With all that I've done, if I can push somebody to be better and they beat me outright, that's fine. I can be a team player. I can do everything else for this team. But I'm focusing right now on that starting spot and winning that spot over. That's it."
Konz is also hoping to benefit from the knowledge and coaching of his new position coach, Mike Tice. He says that Tice has already been a huge help to him.
"What he's done, is given me rock solid rules," Konz said. "Rules that I can rely on and rules that can get me better. (These are) things that you can't be wishy-washy about, there's no grey area. Do this or you're wrong. I appreciate that and it makes us better, because we know what the expectations are."
So far, Konz has mostly been working with the second team offense as the center. However, he is still going to get some work with the first team offensive line. As we found out last season, you need to have good players outside the starting 11.