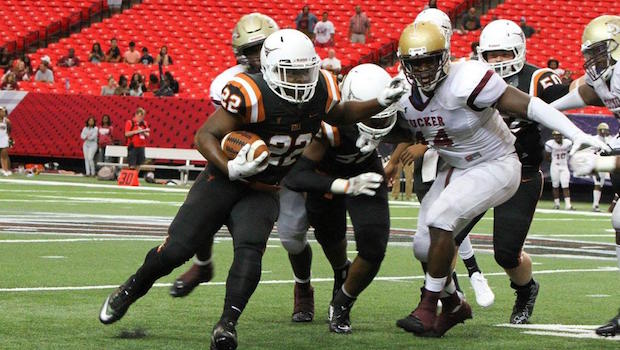 AJC
It took some extra time but in the end, a missed extra point was the difference as Tucker moved past Kell in overtime 28-27 at the MetroPCS Corky Kell Classic at Georgia State Stadium in Atlanta.
"The stadium is phenomenal and the venue is outstanding," Tucker head coach Bryan Lamar said. "It is always a great event, playing in the Corky Kell. We are just happy to get a win, one of our goals each year is to win game one. It was a hard-fought deal."
The teams went back and forth through the entire game. After going scoreless through the first quarter, the Longhorns took an 8-0 lead on a 26-yard pass from Evan Conley to Michael Luckie, with Conley running in the two-point conversion. With 6:14 left in the second quarter, Tucker answered with an 18-yard pass from Travon Ford to Josh Vann to cut into the lead, 8-7. Vann found an opening in the back right corner of the end zone and made an impressive one-handed catch.
Kell's Logan Flesher added two 30-yard field goals in the third quarter to take a 14-7 lead.  Tucker's Gerry Vaughn then tied the game at 14 on a 3-yard rush with 10:21 left in regulation. Kell answered as Vincent Dinkins put his team up on a fumble recovery, returning it 31 yards for a score with 5:01 left.
Tucker would respond quickly. A little more than a minute later, Ford found Vann again, this time on a 79-yard pass. The ensuing extra point tied the score at 21-21 where it would remain at the end of regulation.
In overtime, Vann, who finished the game with 157 yards receiving and three touchdowns, continued making an impact. The Tigers, starting from the 15-yard line, sent Vann on a fade route to the left pylon, and another perfect Ford pass found Vann's hands as he contorted his body to secure the ball and make the catch, rolling over the pylon and to the referee's feet as the referee signaled the catch is good. Ford finished the game 11-of-18 passing for 204 yards and three touchdowns.
"It set a good momentum shift," Vann said of his highlight-reel catch. "We had to score and get our points on the board. We have the best defense in Georgia so we knew they could stand their ground and keep us in it. I just kept my eye on the ball… . You know, low ball, high balls, I just keep my eye on it. I got these long arms, man, I've got to use them."
Lamar could not say enough of his 4-star recruit.
"That play is one we have worked on all year," Lamar said. "It is one of our goal-line deals. Josh Vann is one of the best players in the country. He has been doing it for four years for us. He has been starting as a punter and a receiver. He has tremendous hands, he is a gamer, he is going to make big catches in big-time situations and so we are really proud of him. But we still have a lot of work to do."
The two programs have been playoff mainstays, and a win over either is a feat. Last season, Tucker lost to Valdosta in the Class AAAAAA championship game, and Kell fell to Buford in the semifinals.
"We could have done better," Lamar said. "But I guarantee you that Kell will say they could have done better too. But we are talking about two teams that finish deep in the playoffs every single year. The kids are going to fight hard and compete hard and we are blessed to come out with a win."