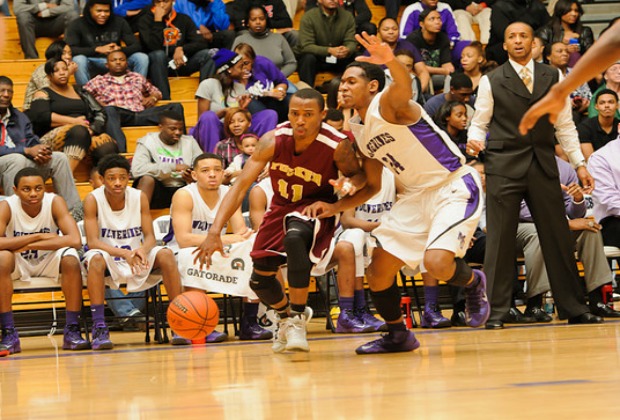 Ty Freeman
Many of the girls quarterfinals were played Tuesday night and Score Atlanta caught up with several of the teams involved. See our recaps to get up to speed with the night's action.
Class AAAAAA
Langston Hughes 57, Valdosta 56 F/OT: Langston Hughes went on the road to pick up a quarterfinal victory at Valdosta but not before needing overtime to finish off the Wildcats. Hughes held an early lead and took a 10-point advantage to halftime, only to see Valdosta claw back with an 18-8 third quarter. After the two teams each scored nine points in the fourth quarter, Borato Broughton's Panthers were able to slip past Valdosta in the extra frame 8-7.
North Gwinnett 55, Alpharetta 41: Host North Gwinnett held a 22-13 lead at halftime and held Alpharetta's Kylee Smith to just 13 points. Lexie Brown paced the Bulldogs with 17 points, four rebounds and five assists while Peyton Whitted scored 15 points and added 10 rebounds. Joshlyn Belcher scored eight points and Stephanie Amichia grabbed 10 rebounds for North Gwinnett.
Class AAAAA
Forest Park 51, Hardaway 44, OT: Forest Park led early at Hardaway, then watched as the hosts battled back to force overtime. Alexcia McNeal led Hardaway with 13 points while Kayla Potts led Forest Park with 17 points. Breasia McElrath had 13 points in the victory.
Southwest DeKalb 67, Stephenson 60: Sophomore guard Davion Wingate and sophomore forward Tynice Martin made back-to-back steals and baskets to help Southwest DeKalb break open a 59-59 game with less than a minute left. Martin led the visiting Panthers with 16 points and 10 rebounds while senior guard Miaya Crowder and Wingate each added 15. Stephenson led 34-32 at the half before Southwest DeKalb outscored the Jaguars 16-6 in the third.
Class AAAA
Columbia 68, River Ridge 27: Columbia dominated host River Ridge from the opening tip, running of a 16-4 lead before taking a 45-15 lead into intermission. Columbia would put 14 more on the board in the third quarter then throw the clamps on River Ridge, limiting the home team to just two fourth-quarter points. Yaktavia Hickson led Chantay Frost's team with 25 points while senior Miah Spencer scored 17 in the victory.
Mary Persons 75, Woodland-Henry 60: Host Mary Persons started sloppy offensively by committing six turnovers in the first quarter but held a 11-7 lead after one. The Bulldogs still led at the half 31-26, but would open up the second half with a 9-1 run. The Bulldogs would go on to outscore the Wolfpack 44-34 in the second half.
Sandy Creek 50, Redan 47: Sandy Creek fell behind at home early as Redan ran off to a 13-9 lead after the first quarter and held a 2-point edge at the half. Sandy Creek outscored Redan 23-8 to carry a 13-point lead into the final quarter. Redan pulled to within three, but Sandy Creek held off Redan to advance to the program's first semifinal berth.
Class AAA
Chapel Hill 58, Beach 53: Chapel Hill trailed at the half 31-24 and 43-37 at the end of the third period, but outscored host Beach 21-10 in the fourth. Erica Jones led Chapel Hill with 16 point and Earnicia Washington scored 14 points and had nine rebounds. Jasmine Lawrence scored nine and grabbed eight rebounds, also for Chapel Hill.
Dawson County 52, Decatur 47: Dawson County trailed 42-36 heading into the final quarter, but the host Tigers' defense held Decatur to just five points in the fourth quarter and outscored them 16-5. Sheyenne Seabolt finished with a game-high 17 points for Dawson County and had great support from teammates Carly Gilreath with eight points, Kacie Bearden with seven and Ashley Parker and Allie Costly who both finished with six each. Decatur had three players reach double figures as Jordan Dillard led with 14 points, Jayla Morrow added 13 and Kori Anderson had 12.
Class AA
Wesleyan 66, Calhoun 49: Wesleyan led throughout, including a 36-26 lead at the half. Senior guard Katie Frerking led the visiting Wolves with 26 points, five rebounds, six steals and four blocks. Senior point guard Brittany Stevens scored nine and had five assists, while sophomore guard Lauren Frerking and junior guard Landyn Duley each had eight.
Class A-Private
Calvary Day 61, Pace Academy 32: The host Cavaliers took a 28-11 lead into halftime and outscored the Knights 33-21 in the second half. Alexus Parker ended with a game-high 38 points.
Holy Innocents' 58, Atlanta International 43: Holy Innocents' sprinted out to a 16-4 lead after one quarter and led 33-16 at the half. Freshman center Erika Cassell led the Golden Bears with 16 points, 12 rebounds and four blocks, while senior power forward Reshaundra Owens had 11 points and senior guard McKenzie Bolden scored 10 points and had five assists. Senior Ekua Awotwi scored 16 to lead Atlanta International.
Southwest Atlanta Christian 57, George Walton Academy 29: Host Southwest Atlanta Christian pulled ahead 22-3 after the first quarter and reached halftime with a 41-9 advantage. Warrior center Kristin Carter dominated the paint and finished with eight points, 11 blocks and 10 rebounds. Junior guard Marquita Daniels dropped a game-high 27 points and teammate Amber Brown had 14 points as the Warriors cruised to victory.
Stephen Black, Fletcher Proctor and Craig Sager II contributed to this report.