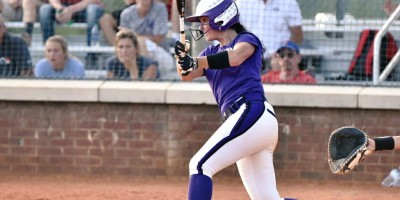 Todd Forrest Twitter
Region contests littered the state Tuesday night as teams begin to position themselves for postseason competition just around the corner.
On the diamond, Stockbridge got a come-from-behind victory over Dutchtown after being down 6-4 at in the top of the sixth inning. The tying run came on an RBI single by Verity Brock which brought Mikaylah Harris home and left runners at the corners. Breanna Thombs sacrifice-fly allowed the game-winning run across the play.
Logan Wright's RBI single in the bottom of the seventh inning earned Jackson County a 3-2 victory over Jefferson. Union County defeated Elbert County 9-7. Aladriel Arnold finished with three RBI's and two runs. Mary Wischmeyer had three RBI's and three runs. North Gwinnett outlasted Collins Hill 3-2.  Model got its first win of the season with a 12-2 rout of Coosa. Northside-Columbus won 11-0 over Shaw with a two-run homer from Jada Chadwick.
Sonoraville improved to 11-1 on the season and 8-0 in region play with its 5-3 victory over Ringgold. Kristen Davis's complete game allowed three runs, one earned. Sandra Beth Pritchett went 3-for-4 with a double and an RBI. Griffin Holden (3-for-4), Payton Townsend (2-for-4) and Haley Williams (2-for-4, one run), Karley Thomas (1-for-5, one run), Deya Irick (two runs) and Grace Crocker (one run) each factored for Sonoraville.
In Volleyball, Pope defeated Cambridge 2-0 on the back of a 25-14 second set after beating Dunwoody 2-1. The Lady Greyhounds won the first set 25-14 against Dunwoody before losing the second set 26-24 It's third-set victory 25-14 sealed the match. McIntosh defeated Northside-Columbus and Northgate, both 2-0, in front of a large student section. Sonoraville's volleyball team also favored well on the court by defeating Lakeview-Fort Oglethorpe (25-20, 25-19) and Southeast Whitfield in three sets (25-22, 23-25, 15-7).
Lassiter had a big night in both softball and volleyball. The Trojans outlasted Roswell 2-0 in a pitcher's duel in softball and won 3-0 over Etowah in volleyball.
(Photo courtesy of North Georgia News)
See the rest of the results below:
Softball 
Apalachee 1, Dacula 0
Archer 12, Newton 1
Baconton Charter 17, Calhoun County 0
Banks County 17, Rabun County 0
Berrien 17, Brooks County 6
Bremen 16, Jordan 0
Brookstone 7, Landmark Christian 5
Brookwood 15, Lakeside-DeKalb 0
Calhoun 17, Murray County 8
Campbell 17, Wheeler 3
Carrollton 16, Rome 1
Central-Carroll 11, Troup 1
Chapel Hill 8, LaGrange 1
Chattahoochee 7, Johns Creek 6
Colquitt County 5, Thomas County Central 4
Creekview 6, Harrison 2
Dodge County 12, East Laurens 0
Douglas County 12, New Manchester 1
Drew 30, Tucker 12
Dublin 17, Northeast-Macon 2
East Paulding 7, Kell 5
Echols County 9, Clinch County 0
Effingham County 17, Brunswick 5
Etowah 15, Walton 1
Evans 15, Grovetown 1
First Presbyterian 6, Academy For Classical Education 2
Forest Park 11, Lovejoy 3
Gainesville 5, Lanier 4
George Walton Academy 3, Commerce 1
Gordon Lee 4, Mt. Zion, Carroll 1
Hart County 11, Monroe Area 3
Hawkinsville 8, Manchester 0
Hawkinsville 8, Manchester 0
Heritage-Conyers 4, Lakeside-Evans 3
Hillgrove 1, North Paulding 0
Hiram 13, Cass 3
Irwin County 16, Turner County 6
Jackson 3, Jefferson 2
Johnson County 10, Montgomery County 0
Lamar County 13, Callaway 5
Lanier County 4, Wilcox County 3
Lassiter 2, Roswell 0
Lincoln County 14, Lake Oconee Academy 3
Lumpkin County 2, North Hall 1
Marion County 4, Schley County 2
Marist 7, Flowery Branch 2
Metter 10, Toombs County 1
Model 12, Coosa 2
Mt. Paran Christian 11, Fellowship Christian 0
Mt. Pisgah Christian 13, King's Ridge 3
Mt. Vernon Presbyterian 12, Chamblee 7
Mt. Zion-Jonesboro 31, Morrow 14
North Cobb Christian 5, Walker 3
North Gwinnett 3, Collins Hill 2
Northside-Columbus 11, Shaw 0
Oconee County 10, St. Pius X 2
Oconee County 10, St. Pius X 2
Parkview 4, Norcross 2
Peachtree Ridge 11, Duluth 3
Peachtree Ridge 11, Duluth 3
Pickens 7, Gilmer 6
Pope 18, Centennial 0
Rockmart 15, Dade County 3
Screven County 15, Westside-Augusta 0
South Forsyth 3, Lambert 2
Southeast Bulloch 22, Windsor Forest 0
Sprayberry 39, Osborne 0
Tattnall Square 15, Wilkinson County 0
Telfair County 10, Charlton County 0
Trion 2, Bowdon 1
Union Grove 12, Eagles Landing 0
Upson-Lee 6, Perry 1
Vidalia 15, St. Vincents 0
Ware County 2, Statesboro 1
Washington 16, McNair 8
Washington-Wilkes 21, Glascock County 2
West Forsyth 7, Forsyth Central 4
Wheeler County 7, Jenkins County 5
White County 6, Chestatee 5
Volleyball
Allatoona 2, Osborne 0
Allatoona 2, Sequoyah 0
Athens Academy 2, George Walton Academy 0
Athens Academy 2, Westminster Christian Academy 0
Buford 2, Cedar Shoals 0
Buford 2, Cherokee Bluff 0
Butler 2, Hephzibah 1
Calvary Day 3, Hilton Head, S.C. 0
Cedartown 3, Temple 0
Chamblee 3, Lakeside-DeKalb 1
Clarkston 2, McNair 0
Clarkston 2, Stone Mountain 0
Decatur 2, North Atlanta 0
Eagles Landing Christian 3, Stratford Academy 0
East Hall 2, Gilmer 0
East Hamilton, Tenn, 2, Coosa 0
Eastside 2, Alcovy 0
Fellowship Christian 2, Weber 0
Gordon Lee 2, Dade County 0
Habersham Central 2, East Hall 0
Hardaway 2, Jordan 0
Heritage School-Newnan 2, Our Lady of Mercy 0
Heritage-Catoosa 2, Coosa 0
Heritage-Catoosa 2, Griffin 0
Hillgrove 3, McEachern 0
Jackson County 2, White County 0
Kell 2, Wheeler 0
Landmark Christian 3, Tattnall Square 0
Lassiter 3, Etowah 0
Locust Grove 2, Ola 0
Locust Grove 2, Warner Robins 0
Lovett 2, North Atlanta 0
Mill Creek 2, Greater Atlanta Christian 1
Mill Creek 2, Loganville 0
Mill Creek 2, Parkview 0
Mt. Paran Christian 3, North Cobb Christian 2
Norcross 2, Duluth 1
Norcross 2, South Gwinnett 0
North Oconee 2, Madison County 0
North Oconee 2, Oconee County 0
Riverwood 2, Grady 0
St. Francis 0, Denmark 0
St. Pius X 2, Stephens County 0
Troup 2, Shaw 0
Villa Rica 2, Bremen 0
Walton 3, Roswell 0
Westminster 2, Riverwood 1
Woodland-Stockbridge 2, Salem 0
Woodland-Stockbridge 2, Stockbridge 0