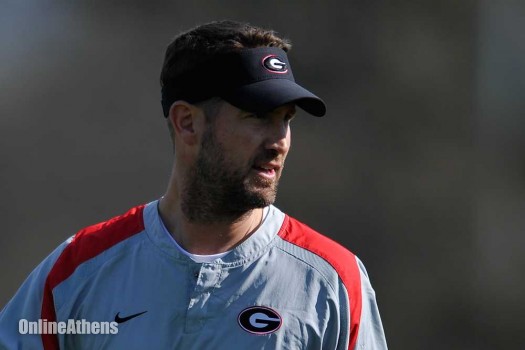 AJ Reynolds/ OnlineAthens.com
Last week news broke that Virginia Cavalier quarterback Grayson Lambert was contemplating a transfer to his home state school. Wednesday the news became official, when the Wayne County High School product tweeted out the news.
"Go Dawgs," Lambert tweeted.
The tweet also had a picture of the state of Georgia with Bulldog players in a huddle and the saying, "always remember where you're from" written underneath.
Lambert was a 2014 team captain for the Cavaliers as a sophomore and would throw for 1632 yards with 10 touchdowns in nine starts last season. He is a junior eligibility wise and because he will graduate from Virginia this summer, that makes him eligible to play right away.
Even before the news came out this afternoon about Lambert transferring to Georgia, offensive coordinator Brian Schottenheimer was asked about what bringing in the junior signal-caller would mean to the on-going quarterback battle.
"It speaks to the fact we're trying  to create competition," Schottenheimer said. "You're talking to a guy who's played the last two years in the NFC West with two and three different quarterbacks a year. Unfortunately injuries are part of the process, but doesn't matter whether its quarterback doesn't matter whether its offensive line, we're trying to create competition. Again we think that leads to guys raising their level of play, raising the standard. That's what we're trying to do."
Lambert was being looked at as well by Florida, Colorado State, Fresno State, and South Alabama to name a few of the potential landing spots for his services.
Schottenheimer Addresses Media
New Georgia offensive coordinator Brian Schottenheimer has been busy trying to get caught up in this offense, since he took the job this past January. Wednesday provided the first opportunity for him to address the media since taking the job.
Right off the bat, the first thing Schottenheimer was asked about what he's looking for out of the quarterback's during summer workouts.
"Looking for the leadership," Schottenheimer said. "Looking for these guys that are hungry, I want to see the guys obviously around the building, spending time and putting in the work. Obviously there's a lot of work to be done between now and the first game."
Schottenheimer also added during his availability that he and head coach Mark Richt are in agreement that they would like to find one quarterback to start for this team.
Another spot they're looking at, is trying to find a starting center. Schottenheimer says that he believes they have "a couple" of really good candidates in junior Brandon Kublanow and sophomore Isaiah Wynn. But just like the battle for starting quarterback, there's the same criteria for this starting spot.
"We're just kind of trying to mix/match things and find the right five (offensive linemen)," Schottenheimer said. "There's a lot of ground that can kind of be made up this summer and both those guys did a nice job this spring. But we want to get the term consistency. You're going to hear me say a lot throughout the course of the summer and even in fall camp."
Schottenheimer and his staff will have their first chance to work with the players on a full-time basis later next month when fall camp gets underway. As for right now, the players are working with head strength and conditioning coach Mark Hocke.
That said, Schottenheimer and the other coaches evaluating the offensive players will be keeping up to date with what's going on.