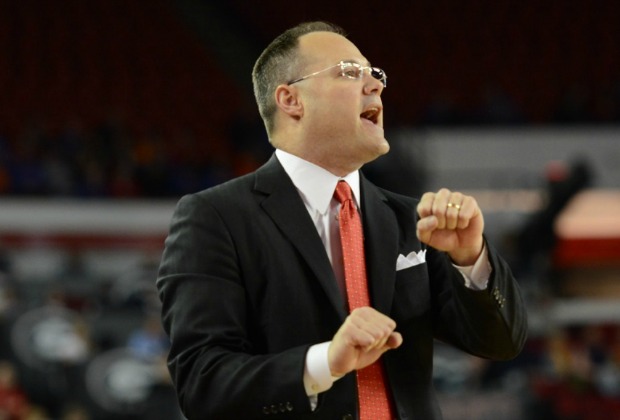 Photo by Jon Barash
It's time for the madness to ensue and for brackets everywhere to be nearly worn to shreds with the amount of filling in and erasing as the NCAA Tournament has finally arrived. This year's edition of March Madness has a clear cut favorite that the entire country feels is the team to beat with Kentucky entering undefeated at 34-0. In what has become a rarity; some local schools in Georgia have made the big dance and will try to become the latest Cinderella stories in Georgia and Georgia State. Let's take a quick preview of both games before setting our sights to the national stage.
No. 14 Georgia State vs. No. 3 Baylor
The Panthers won an ugly rubber match against Georgia Southern 38-36 to win the Sun Belt's automatic bid to the dance for its first appearance since 2001. If the Panthers want to have any chance at pulling off the upset, getting healthy would be a good start. Second leading scorer Ryan Harrow did not play in Sunday's championship after straining his hamstring. Harrow has missed six games and if you count games where he has left early the total is up to eight, but Georgia State is a perfect 8-0 in those injury-marred games. Another key injury occurred after the game on Sunday. Head Coach Ron Hunter tore his Achilles while celebrating the title and will be wearing a cast for Thursday's game.
As far as those who will be on the court Thursday, Baylor poses a tough test. The Bears are the best offensive rebounding team in the nation and are led by the burley Rico Gathers who averages 11.6 boards a night. It will be strength vs weakness as the Bears rank 13th in the nation in total rebounding while the Panthers come in at 247th.  Baylor is balanced on offense with six players averaging over seven points per game compared to just four from Georgia State. Junior forward Taurean Prince leads the way scoring 13.8 points on average. The backcourt duo of R.J. Hunter and Ryan Harrow will need to carry the load for the Panthers and do it in an efficient manner. Harrow finished the season shooting over 50 percent, but Hunter struggled at 39 percent. Hunter, Head Coach Ron Hunter's son, is the school's all-time leading scorer and has the ability to get hot. Before a 3-of-15 shooting performance in the Sun Belt final, Hunter scored 35 and 32 points in consecutive games. Georgia State will need its role players to shoulder the load in Kevin Ware and Markus Crider. Both schools have played Iowa State this year with Baylor beating them twice while Georgia State lost by 23.
No. 10 Georgia vs. No. 7 Michigan State
Michigan State has had a down year, but still the tough Tom Izzo coached bunch will be a tall task for the Dawgs who enter the tournament for the first time since 2011. Georgia hangs its hat on strong rebounding and balanced scoring. Five players average over nine points per game and give coach Mark Fox reliable options. Senior big men Marcus Thornton and Nemanja Djurisic are tough players inside that also have the ability to hit the open jumper. Junior guards Charles Mann and Kenny Gaines score in different ways. Gaines leads the team in 3-pointers made with 54 and Mann leads the team in free throws made with 141. Sophomore J.J. Frazier can be an x-factor if he gets hot. He dropped 37 in a win over Mississippi State on the road when he went 7-7 from beyond the arc.
The Spartans are an unselfish team that averages 17.1 assists per game, fourth in the nation. MSU had a chance to win the Big Ten tournament but collapsed down the stretch and fell to Wisconsin in overtime. Travis Trice and Denzel Valentine power the Sparty offense. Branden Dawson is a defensive stalwart and leads the team in rebounding at 9.1. Two key stats entering this game is the fact that the Spartans shoot just 63 percent from the line and UGA gives up no easy looks allowing just 39 percent shooting on the season. The Dawgs will have to grind out a physical game if they want to advance to the next round.