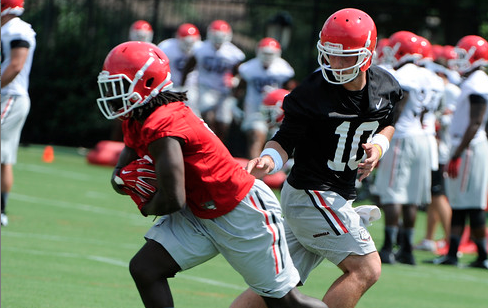 John Kelley/ Georgia Athletics
Players Know Where The Weight Room Is:
We heard all offseason how these workouts with new strength and conditioning coach Mark Hocke plus staff were very impressive. The high-intensity coach also got results out of the players. First glimpse of the players was on Tuesday and you could tell that many of them made the most of their time with the iron. Players like Jordan Jenkins, Lorenzo Carter and freshman wide receiver Terry Godwin were just some of the players I noticed individually. The entire offensive and defensive line groups look like they put on good weight over the last few months.
Competition Is The Name Of The Day:
We all know that playing time is up for grabs on both sides of the ball and players looked like they knew that too. They can't get into full pads until after five days of a "acclamation period," but players still were going all out. I'm talking players laying out for footballs, linemen shooting their hands and running backs running hard through their drills. On the quarterback front, all three candidates for the starting job seem genuine when they say they're in favor of whomever head coach Mark Richt chooses at the end of this fall camp to be the team's starter. Judging from comments made during his Tuesday press conference, it sounds like Richt does want to pick one starting quarterback.
Some Rust Needs To Be Knocked Off:
Junior quarterback Faton Bauta got the first team reps at quarterback on Tuesday and looked like he did some good things during the open periods to the media. He also did some things that I'm sure Mark Richt and new offensive coordinator Brian Schottenheimer will want to clean up. New transfer Grayson Lambert also had some throws that I'm sure he'd like to have back. Redshirt sophomore Brice Ramsey looked the most consistent of the three during Tuesday's work. This competition will likely go until the final week of practice. That should come as no surprise, because Mark Richt even alluded to as much at the end of spring practice.
Practice Was High Energy!:
Through the 10 periods we got to view as media members; there was plenty of coaches shouting instructions, giving individual attention to players, running from period to period and also players giving huge effort during the on-field work. We also saw Mark Hocke and his staff throwing their support to keep energy high during the on-field work. Coaching is not something that lack's on this Georgia staff.
–
It is pretty easy to say that Tuesday was a good start for the Bulldogs in their quest for the first SEC title in 10 years and very first berth into the College Football Playoff. Those goals are way off in the distance and aren't being thought about at the moment. However, Tuesday's practice had a little more juice than I've seen in my time covering this program. This could come off as a "Georgia-biased" piece, but the truth is that Tuesday was an impressive practice. Players and coaches seemed extremely eager to get back to work. They showed as much.