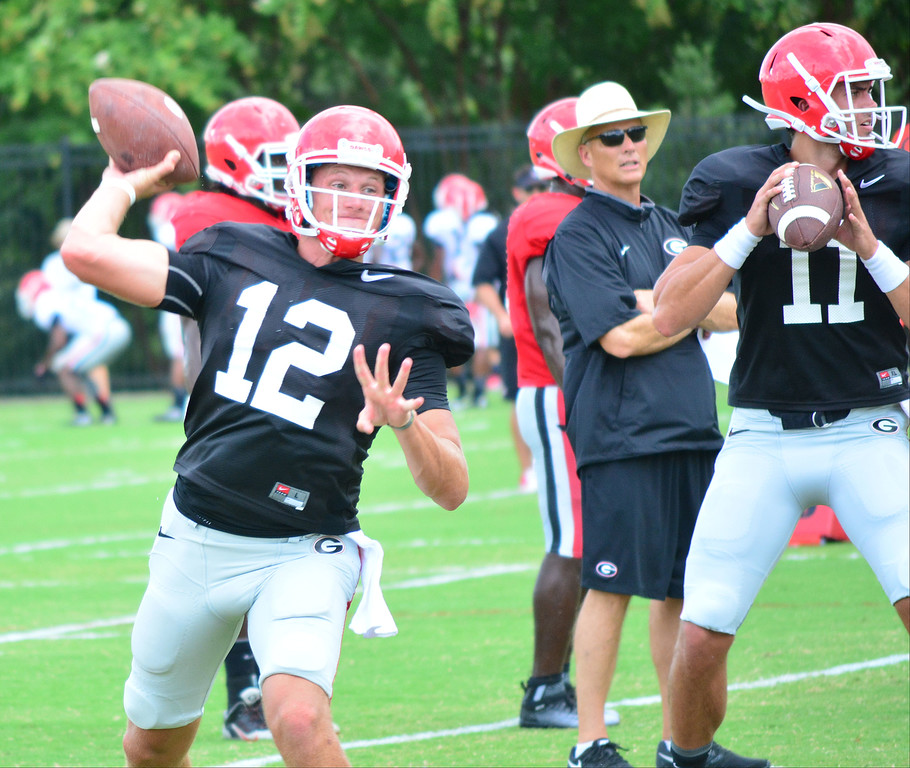 Steven Colquitt/ UGA Sports Communications
ATHENS, Ga.- – At least in the open viewing portion for media at Georgia football practice, we saw redshirt sophomore Brice Ramsey and transfer junior Grayson Lambert taking the first and second team reps at quarterback. On Monday Lambert got the first team work and today it was Ramsey.
What happens to junior Faton Bauta? At least on the outside, it looks like he's going to be the odd man out.
The media had about 14 minutes of open viewing on Tuesday and got to see the quarterbacks work with the running backs for a period. Then in the fourth and final open viewing period, the group worked with tight ends/wide receivers in the red zone.
This could mean that this Thursday's scrimmage could finally determine if indeed their will be a clear cut winner for the job. Up until this point, we have received no word on who did what or how they've done in regards to the quarterbacks during scrimmages.
When we last spoke with head coach Mark Richt, he said he wanted some "peace" before making the quarterback decision. He hasn't ruled out the chance that two quarterbacks could be used in the season opener, to determine who indeed will be the starter.
Richt did that back in 2001, when he went into the game trying to decide between David Greene and Corey Phillips. Greene eventually won out.
What we think we "know" right now, is that it will ultimately be up to Ramsey or Lambert for the starting job.
Continue to check ScoreATL.com to check for updates.