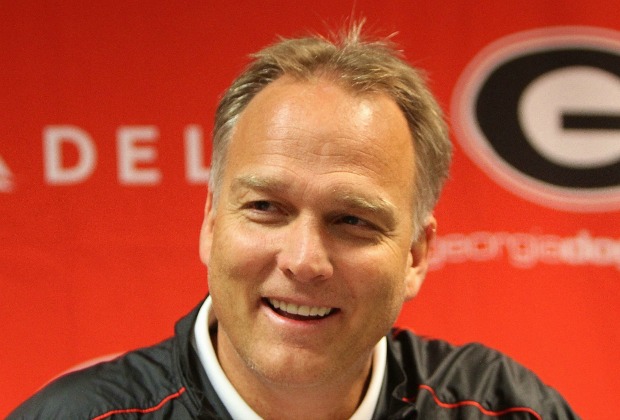 Photo by Rob Saye
News became official earlier this afternoon, with Georgia Athletic Director Greg McGarity announcing the home and home matchup with Notre Dame starting in 2017 and then wrapping up in 2019. This will be the first meeting between these two programs since they played in the Sugar Bowl back in 1981.
This was a rumored possibility back when Georgia was going through spring practice and until now was an on-going discussion. That is no longer the case, as Notre Dame will host Georgia in September of 2017. In September of 2019, Georgia will get their chance to bring the golden helmets of the Irish to Athens.
During a conference call this afternoon, Greg McGarity says the possibility was brought up during sports management meetings in January at the UGA campus.
"(Notre Dame Senior Associate Athletic Director) Mike Harrity was attending the meeting at that time and mentioned to me about the game and that they had an interest in playing us," McGarity said. "From that point, I've huddled with (UGA Assistant AD for Internal Operations) Josh Brooks and Josh really basically carried the ball from that standpoint, working with his counterpart from Notre Dame. I had mentioned it to Mark (Richt) months ago and he was fine with it."
McGarity says that another catalyst to get this series getting started, was current Notre Dame Head Coach Brian Kelly mentioning during a 2013 season media availability that a meeting with Georgia would seemingly be a natural matchup. Plus, an informal meeting with Irish AD Jack Swarbrick during athletic director's meetings in California was another motivating factor to make these games happen.
McGarity also mentioned during the conference call that neither side will get any extra benefit financially from this matchup. This is strictly a home and home matchup. Each school will get all revenue each year they play at their home stadium.
Many can guess why Brian Kelly wishes to play against an SEC opponent like Georgia. However, what does Georgia stand to gain?
"I think it just presents opportunities that the institution has never experienced before," McGarity said. "It's an opportunity for our fans and student-athletes to be able play in one of the most storied, traditional venues in college football. So I think that presents a level of excitement. On the flip side in 2019, to have Notre Dame in 'Between The Hedges' is something that has obviously never happened before."
McGarity anticipates that fans will have a chance to view the game on NBC in 2017, when these two storied programs play at Notre Dame Stadium. In 2019, it would be very interesting to see if CBS would pick the game up. It has been a long time since the network has showcased an SEC vs. non-conference opponent on their network. One matchup that comes to mind, is the Southern Cal and Auburn matchup in 2003.
In terms of whether or not we could see more blockbuster matchups like this happening with the creation of the new College Football Playoff, McGarity says that is anyone's guess.
"No one really knows," McGarity said. "Everyone's guessing at this point in time, because as we understand things the strength of schedule will really be determined by each (CFB Playoff) committee member. There's not a Sagarin ranking or anything that this committee will use a measuring tool."
Keep in mind, this new college football playoff is going to feature four teams to determine the sports national champion. That is why many would believe that strength of schedule could become more of an issue. That is especially given the fact that power conference continue to try and build in strength and get further away from the smaller conferences.