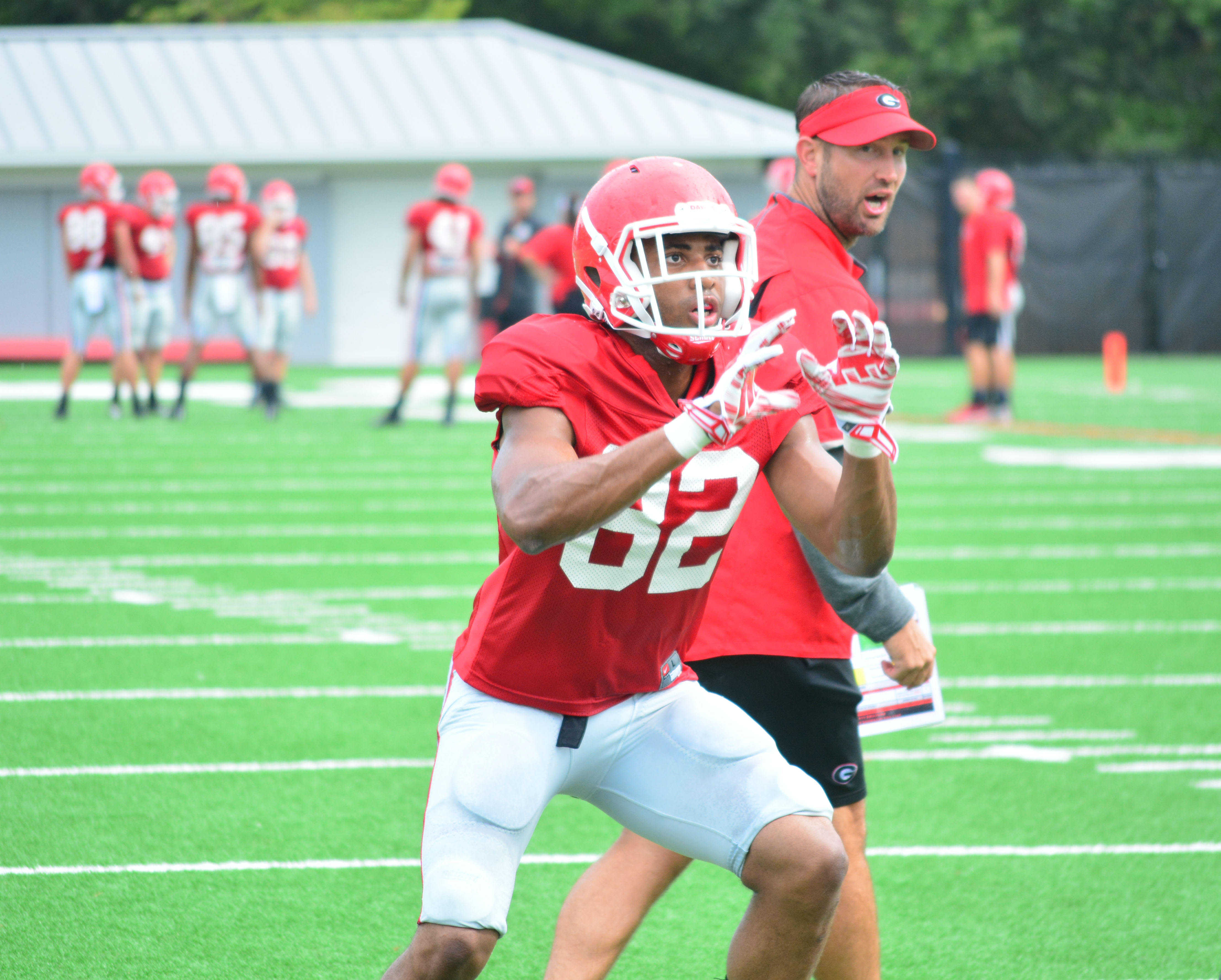 Steven Colquitt/ UGA Athletics
Today's freshman college football player has a lot to deal with, from when they hit campus to start summer workouts all the way to the start of classes this week at Georgia. You can add freshman wide receiver Michael Chigbu out of New Orleans, La. to that list.
The wideout has been thrust into competition for quick playing time, since fall practice got underway in the earlier part of this month. Whether it be from injuries in the unit or lack of depth? Chigbu could be one of the players forced into action when Georgia takes the field against ULM (Louisiana-Monroe) on September 5 at Sanford Stadium.
Luckily for Chigbu, he came in and embraced the fast-paced life that a college student-athlete can deal with. He spoke about it with dawgs247.com's Jake Rowe.
"Came in on June 1 and we started strength and conditioning," Chigbu said. We also had class and 7-on-7. The biggest thing for me was probably the 7-on-7s. I got to see how dynamic these athletes are in the SEC — how fast the are. There are linebackers just as fast as me and they are quick, too. Just the speed of it."
Chigbu is used to dealing with things happening quickly for him. In fact the 6-2, 216 wide receiver is about to play only his fourth season of organized football. Before then, Chigbu was mainly a basketball/baseball player before he went out for the team at Holy Cross School in the Big Easy.
The New Orleans flare can be heard in his voice when he speaks. He was asked by a reporter last week to repeat how he says the name of his hometown. "Nawlins" came next from Chigbu, which then drew laughs from those standing around him.
Chigbu found out pretty quickly that Athens is a little different than Southern Louisiana.
"They tell me that all the time," Chigbu said. "This girl asked me 'where you from?' I said New Orleans (laughter). I'm a New Orleans boy and I love my city."
Chigbu got little interest from the LSU Tigers and got his first offer from Georgia. He says he started following the Bulldogs a little and says he liked the scheme/family atmosphere that the Bulldogs stood for.
Now he gets to try and help make up for the production Georgia lost from last season, with receivers Michael Bennett and Chris Conley graduated. Even though he was a three-star signee, he thinks theres better things to come for him on the football field.
"My best football's ahead of me," Chigbu said. "I would assume my best football is ahead of me. I'm still learning every day. I'm getting better every practice.  I'm learning something new every practice. I feel like I can help Georgia in a big way someday."
Chigbu says that all the returning receivers have been a huge help to him trying to get on the football field from day one of his true freshman season. He will have less than three more weeks to prove that he is ready to go.
Until that time, Chigbu says there's only one thing he can do. That is to "compete" everyday for some of that playing time.
Chigbu is also in this same class with standout freshman Terry Godwin, who has also been getting accolades from the players and coaches. Only time will tell, if we see one or both players on the field in 2015.