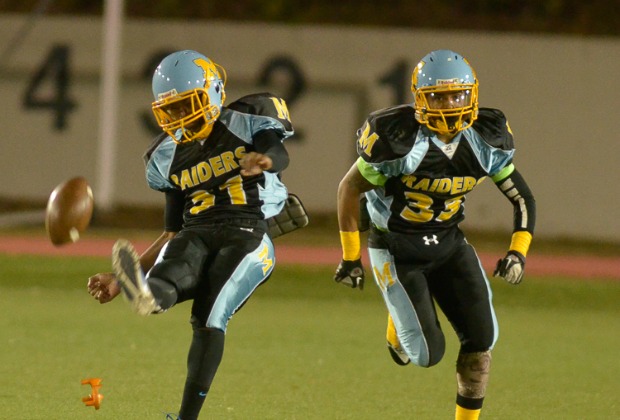 Terrance Johnson
Class AAAAAA second round
No. 6 Hillgrove at No. 1 Camden County
Hillgrove has travelled to South Georgia and pulled playoff upsets in the past and this is another opportunity for the Hawks to shock the state. The Hawks have an explosive offense, but were limited to 17 and 21 points, respectively, by North Cobb and Marietta. However, QB Elijah Ironside and RB Richardre Bagley give Hillgrove two productive options.
Camden County, however, counters with Alabama-commitments Kalvaraz Bessent and Chris Williams in the defensive backfield. The Wildcats also boast a powerful running attack led by RB Antonio Wimbush and FB Tyler Rauls.
Last year, the Wildcats eliminated Hillgrove 52-17 in Kingsland. But in 2010, the Hawks travelled to Camden and upset a highly-ranked Wildcats team. This is likely the best passing team Camden has seen since a season-opening loss to North Gwinnett.
Pick – Hillgrove 35, Camden County 28
Mays at Class AAAAA No. 2 Kell
This is an intriguing showdown between a city of Atlanta school (Mays) against a suburban school (Kell). One recent game similar to this at first glance was when Tri-Cities visited Pope in 2011 and beat the Greyhounds 35-0. Pope, with its high-powered offense, was picked by many going into the game, but Tri-Cities' fast and athletic defense was too much for the Greyhounds to handle.
Mays also has a tenacious and physical defense that will give Kell problems. If the Raiders can muster any offense against a Kell defense that is admittedly better than the previously-mentioned Pope team, Mays can pull off the upset. Mays held No. 1 Tucker to 16 two weeks ago and Stephenson to nine in beating the Jaguars.
Pick – Mays 14, Kell 13
St. Pius X at Class AAA No. 3 Cartersville
This could be called the Tale of Two Schedules, as the Golden Lions played one of the toughest slates in Class AAA while Cartersville skated past a relatively easy group of opponents. Last week the Purple Hurricanes struggled mightily in what looked like a fairly easy first-round game against West Hall.
St. Pius X, on the other hand, is battle-tested out of Region 6 and has played several playoff teams this season, both in the region and outside of it. The Golden Lions advanced last week with a 31-21 win over a solid Hart County squad. Cartersville QB Brooks Barden can sling it, but Pius can play defense.
The Golden Lions will likely control the tempo of the game with its powerful rushing attack and force Cartersville into playing slower than it is used to.
Pick – St. Pius X 24, Cartersville 21
Pierce County at Class AAA No. 5 Callaway
SMU-commitment Tyler Harris leads a high-scoring Pierce County bunch that has lost only to Appling County this season. However, the Bears were held to 15 by middling Johnson-Savannah and 24 by Bacon County.
LB KeShun Freeman and QB Tez Parks lead a balanced Callaway squad that has rolled past every team they've faced besides Harris County, which beat the Cavs in Week 2.
Pick – Callaway 24, Pierce County 20
Fitzgerald at Class AA No. 7 Benedictine
It's not Benedictine's fault its in a weak region. But this game is similar to the St. Pius-Cartersville matchup in that Fitzgerald has fought through a tough group of opponents while Benedicine has rolled past mostly weak competition.
However, the Cadets beat a solid Vidalia team 28-0 on Sept. 20. Fitzgerald (6-4-1) has quality wins over Monroe-Albany, Charlton County, Cook and Dublin while losing to teams like Thomasville and Brooks County.
Either way you lean in this one, it is another chance for Savannah-area football to prove itself against a tough South Georgia squad like the Fitzgerald Purple Hurricanes
Pick – Benedictine 24, Fitzgerald 14