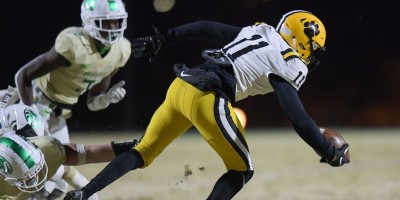 The Valdosta football program is widely recognized for having the most all-time wins and state titles in the entire nation, but specifically over the past two years, a growing cloud of controversies has overshadowed its sterling reputation. This tumult can be traced back to the end of the 2019 football season when head coach Alan Rodemaker was relieved of his duties following a controversial board vote that many speculated was unjust and in some circles was considered to be racially-motivated. Compounding the concerns over how his departure was handled was Rodemaker's success during his four years at the helm. Rodemaker's teams won 37 games and captured a state title and was fresh off back-to-back quarterfinals appearances when he was voted to be replaced.
Under normal circumstances, the Valdosta job would be one of the most sought-after in the state, but the way Rodemaker's situation was handled complicated the job search. That was until April 15, 2020 when Valdosta made more headlines with a 5-4 vote to hire former Colquitt County head coach Rush Propst to lead the program.
Valdosta made a run to the state semifinals this past season under Propst, but things soured shortly after the season. In February the Valdosta City School District began to investigate a myriad of concerns surrounding Propst and the Valdosta program. Ultimately, Propst was placed on administrative leave in March after a recording went public that the team's booster club director and Propst sought money to help transfer players with their expenses. There was also a $5,000 fine attached to the decision, which is the largest fine ever imposed by the GHSA.
Additionally, the GHSA ruled Valdosta would be placed on a one-year playoff ban for the upcoming season, multiple players are still expected to be ruled ineligible for the upcoming season and forfeits are likely to be applied to last year's 7-5 record that would wipe away some—if not all of the wins. As a result of all this, the Wildcats will miss out on the playoffs for the first time since 2008.
Valdosta has long been considered the gold standard of high school programs and the state will be watching to see how they bounce back from this rough patch in their long and celebrated history.