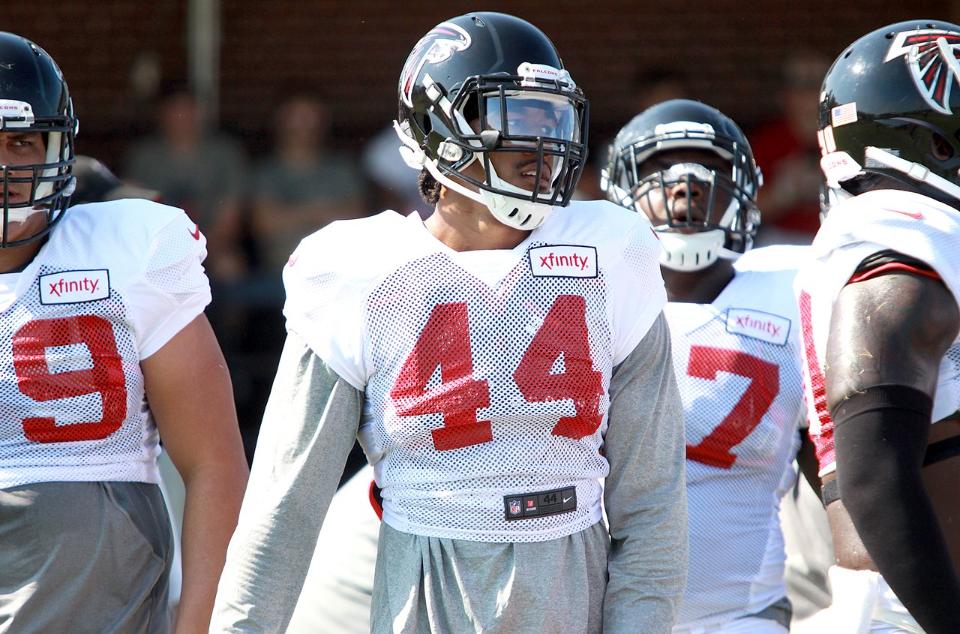 AtlantaFalcons.com
FLOWERY BRANCH, Ga.—It is no secret that pass rush has been a very inconsistent part of the Falcons defense over the last few seasons. Defensive end/linebacker Vic Beasley is one of the new guys that are being looked at to help make this a more consistent part of the team.
Beasley was one of the best to ever get after the quarterback in a Clemson Tigers uniform during his five years with the program. He racked up 32 sacks, with most of that production coming his way in the final two seasons.
Beasley seems to be a great fit for the "fast and physical" style that new head coach Dan Quinn is trying to bring to the team. He's even already on the path to playing on Sunday's; with his training camp battles on the line against last year's first round pick Jake Matthews.
Recently Matthews mentioned that going against Beasley will help prepare the young players for the week to week grind of the NFL. Beasley agrees.
"It's definitely mutual," Beasley said. "Jake's a great athlete and I think he's going to get me better each and every day as iron sharpens iron."
The compliment's from players doesn't end with Matthews, as young offensive tackle Ryan Schraeder added that Beasley was the "fastest defensive lineman he's ever faced."
All rookies face certain adjustments going from the college game to the highest level of play in all of football. In terms of learning one of the more complex parts of the game, Beasley says he's got a good grasp on the playbook.
"I played in a four down front at Clemson," Beasley said. "I think that's been the simplest thing for me in transitioning from college to professional football."
Dan Quinn mentioned that he felt like Beasley was capable of using his hands to shed blocks and be a more effective pass rusher when they selected him in the most recent draft. Another part of his game made him a quick fan of the young rusher.
"The one thing that I saw was his ability to beat a guy to the punch," Quinn said. "As a pass rusher, that's such an important thing when you can close the distance so fast. That's what I saw on tape and when you see it here, it was really clear how he can play."
The first test for Beasley and other young rookies for the Falcons is going to come next Friday night inside the Georgia Dome against the Tennessee Titans for preseason game number one. The job into quick game action is a little bit of an adjustment coming into the pros.
Beasley says he knows that and he's ready to get on an NFL playing field for the first time.
"It's quite different," Beasley said. "You're actually getting ready for a real game now and in college you're just getting ready for your teammates by going against them every day. So we're just preparing for Tennessee and getting ready for that first game."
Beasley like many other of the Falcons rookies will have ample opportunities to show that he can be a strong factor towards improving the defense in an area of struggle during the past few seasons. He so far has looked good in full pads against his own teammates.
Now, we'll just have to wait and see how he performs against the Titans blockers next Friday night.