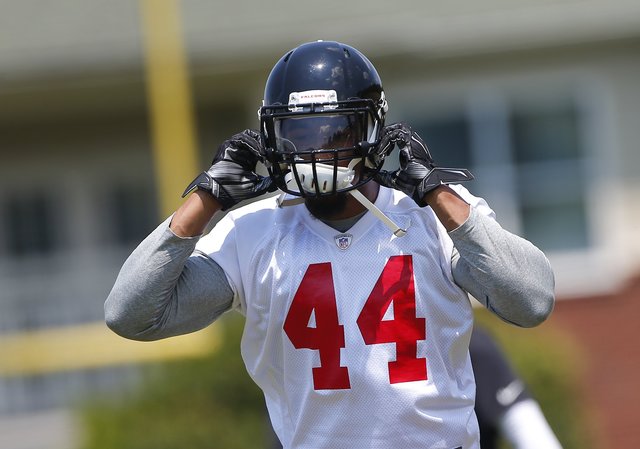 AtlantaFalcons.com
The Atlanta Falcons welcomed Vic Beasley Jr. into the professional limelight with the No. 8 overall pick of this year's draft. The pass rusher's record-setting career at Clemson, All-American accolades and freakish athleticism was admired before he arrived at pre-draft combines and the unanimity of his status as one of the most sought after prospects of this year's draft class was never in question. With extraordinary first-step quickness, speed and power, rushing the passer appears natural to Beasley. His football journey, however, reveals how impressive the 23-year-old's accomplishments and skillsets really are.
Every player that completes the climb to the prestigious platform of the NFL followed his own unique path that got him there. Beasley has had the dream of making it to the NFL since he was a kid, but even he could never have imagined it would unfold the way it has.
"I thought I was going to be some other position," admitted Beasley. "I wouldn't have believed that [I'd be a pass rusher] at all. I just knew I had the potential to play in the NFL and I never saw myself being here in Atlanta. Fortunately I was able to be here and it worked out for me. I'm glad to be here at home."
During his career at Adairsville High School, an hour north of Atlanta, Beasley carried the football and returned kicks while leading the defense in tackles. His athleticism attracted plenty of collegiate fan mail and after signing with Clemson without an established position, he had to pursue a role on the field that could take full advantage of his unique set of skills. After getting red-shirted his freshman year and trying everything from tight end to running back with the Tigers, he was finally slotted as a pass rusher going into his sophomore season. Using his athleticism to attack opponents' backfields paid off and Beasley wrapped up his career with back-to-back First Team All-American honors and an ACC Defensive Player of the Year award in 2014.
SHARPENING SKILLS…
Beasley's father, Vic Beasley Sr., played safety at Auburn from 1982-84 and set an example for a young and motivated Beasley Jr. as his high school football career took flight at Adairsville. As a senior, Beasley toted 120 carries for 828 yards and seven scores, added an 80-yard kickoff return for a touchdown and two punt return touchdowns. Defensively, he accumulated 102 tackles, 12 tackles for loss and an interception. Beasley excelled on the football field while averaging a double-double on the hardwood for his high school basketball team and in AAU for the Georgia All-Stars in the offseason.
These busy high school playing days mark when Beasley applied the importance of putting the team first and where he recognized the hard work and determination that he would need to make his dream of playing in the NFL a reality. He looked for anyway he could to help his team on the field and having a set position was the last of his concerns.
"In high school the most important thing I learned was just the grind of everything," explained Beasley. "The grind from high school into college really paid off."
The wide range of athletic skills and versatility to play almost any position earned Beasley's status as one of the top prep athletes in the nation before he narrowed down his college choices and signed with Clemson. As he arrived on campus in 2010, Beasley would have to find his niche. The fresh start forced Beasley to practice and study a variety of different positions and this challenged him in ways that continue to help him today as he adapts to a new role with the Falcons.
"Playing those different positions throughout my career in high school and college challenged me," admitted Beasley during mini-camp. "But as a result I'm adapting fast now [to the NFL] and can enjoy the process."
A DEFENSIVE DESTINY…
After giving running back, linebacker and tight end a try his freshman year, the Clemson coaching staff introduced Beasley to defensive end. He played special teams while seeing brief time in his new pass rushing role during that 2011 campaign. These reps came with valuable experience that sprouted his growth into complete pass rusher.
NFL talent surrounded Beasley throughout his college career. Beasley saw former and now current Falcons teammate Malliciah Goodman get drafted by Atlanta in 2013. In 2014, receiver Sammy Watkins joined Buffalo in the first round with the No. 4 overall pick and quarterback Tajh Boyd (now with Pittsburgh) was picked up in the sixth round. Beasley had the raw talent and ability, but his transformation into a top NFL prospect required a level of patience that his former college coach Dabo Swinney admires.
"With (C.J.) Spiller and Sammy (Watkins), it came fast," Swinney told Greenville Online right before this year's draft. "They were great right out of the gate; they got off the bus and were great, whereas for Vic…it was a different journey for him… I'm so proud of him because I know how far he's come and he deserves all the credit because of the work he's put in."
Beasley earned more playing time in the offseason leading up to the 2012 season and would take a dozen snaps in the season opener against Auburn (his dad's alma mater) on Aug. 1 in the Chick-Fil-A Kickoff Game. This showdown with ranked Auburn took place in Beasley's new home, the Georgia Dome, and it would prove to be a memorable day. On a critical third down during Auburn's last drive, Beasley registered his first career college sack on a scrambling Kiehl Frazier and shut down the potential game-tying drive as Clemson held on for a 26-19 victory.
The 2014 ACC Defensive Player of the Year would record 32 more sacks by the end of his career, finishing with a school-record 33. Along with his 33 career sacks, Beasley totaled 101 tackles, 52.5 tackles for loss, 29 quarterback pressures, 11 pass breakups, seven caused fumbles, two recovered fumbles and two touchdowns in 1,421 snaps over 48 games (25 starts). He posted at least one sack in eight consecutive games from the end of the 2013 season and into the start of 2014 and was involved in a tackle for loss in each of his last 15 games.
WELCOME HOME…
While the Falcons waited for the franchise's next great pass rusher to come along, Beasley's reputation as one the league's next class of elite pass rushers saw continual growth. Pre-draft analysis dissected his game. The technique and consistency he developed under his college position coach Marion Hobby was impressive but when coaches included the fact the Beasley was still relatively new to the position into their film study he was even more appealing.
His stock entering the 2014 draft was also at its peak because of a decision made before his senior season to not enter the draft when interests began to spring up following his All-American 2013 campaign. Beasley was committed to staying in school for his final year of eligibility and finishing his Sociology degree so he could graduate.
"Growing up, my mom and dad always pushed academics," Beasley said. "No one in our house had ever gotten a college degree and I wanted to be the first to do that. That was my main goal."
GEORGIA PRIDE…
Beasley was the first of 30 former Georgia high school football players that were taken in this year's draft, second only to Florida's 39. Being the first of these 30 players and getting to stay in-state and represent his home team will be a privilege Beasley is looking forward carrying into his professional career.
"Being from Georgia definitely means a lot," said Beasley. "There are a lot of expectations with me playing for Atlanta and I just have to do my best and play for this team."
The Falcons were able to add a second Georgia-product in the fifth round of this year's draft with defensive tackle Grady Jarrett. The Rockdale County alum is the son of Falcons legend and Ring of Honor member Jesse Tuggle. Like Jarrett, Beasley grew up a Falcons fan and the two became close friends while playing together at Clemson. Bringing in home-town guys is exciting for the fans of any franchise and head coach Dan Quinn is also looking forward to this.
"I think it's awesome to have a guy who grew up a Falcons fan and wants to be here," smiled Quinn.
Beasley recognizes the additional pressure some might see with his status as a first round pick and that he is playing for the team he grew up cheering for. However, he recognizes that the system that is in place in Atlanta and is confident that this environment provided to him will bring out his best.
"Dan Quinn is a defensive-minded coach and just having him in my corner is certainly a benefit of the team," said Beasley.
Football has always valued what the names, numbers and logos on a jersey represent much more than the physical digits, letters and designs themselves. Beasley will wear No. 44 with the Falcons, a number he picked to represent being the No. 8 pick of the draft (4+4=8). When understanding his journey to the Falcons, the No. 44 seen on the field reveals his story. It displays the hard work it took Beasley to grow into a top 8 pick. It shows a childhood dream coming true every time he takes the field and it shows the honor of playing for the team he grew up cheering for.