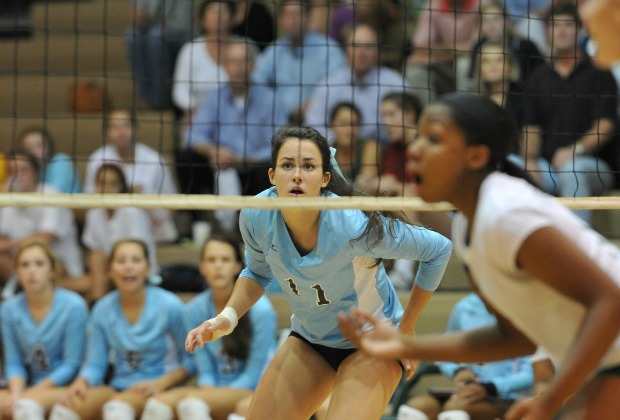 Photo by Walter Pinion
County tournaments highlight the end of September and Area tournaments are right around the corner, less than a month away. The biggest tournament of the season is a week from Saturday with theSouth Forsyth All City Play Day. Top programs, including South Forsyth,Harrison, Walton, Sequoyah and Blessed Trinity will go head-to-head and this weekend will give a great forecast on what to expect this postseason.
There have been some incredible individual achievements this season. Harrison's Caroline Ostman recorded her 1,000th career dig and kill on the same day and her head coach Clay Taylor presented the UGA-commit with a gold railroad spike and shovel. Ostman has 242 kills in 66 sets played this season and has 168 digs. Freshman Kaylee Morris has set up Ostman and the Hoyas this season and leads with an incredible 728 assists with just 49 errors. Only three of Harrison's matches have split sets, otherwise Morris' numbers could be even higher.
Walton captain Celeste Fitzgerald showcased her effective serve this past week in a 2-0 sweep over Pope. The junior served up 12 aces in just 14 serve attempts as the Raiders rolled to a 25-14, 25-9 victory.
The wealth of talent in the Peach State has gained a lot of momentum in the national polls this season. Harrison sits at No. 7 in the country in the Maxpreps national rankings and Sequoyah sits at No. 24. These two teams will play for the first time this season next Saturday in the South Forsyth All City Play Day. Blessed Trinity (No. 39), Marist (No. 49) and Woodward Academy (No. 50) are recognized in the nation's top 50 teams. Woodward Academy will visit Dorman, S.C. this weekend to play in an out-of-state tournament against the top teams from the Palmetto State.