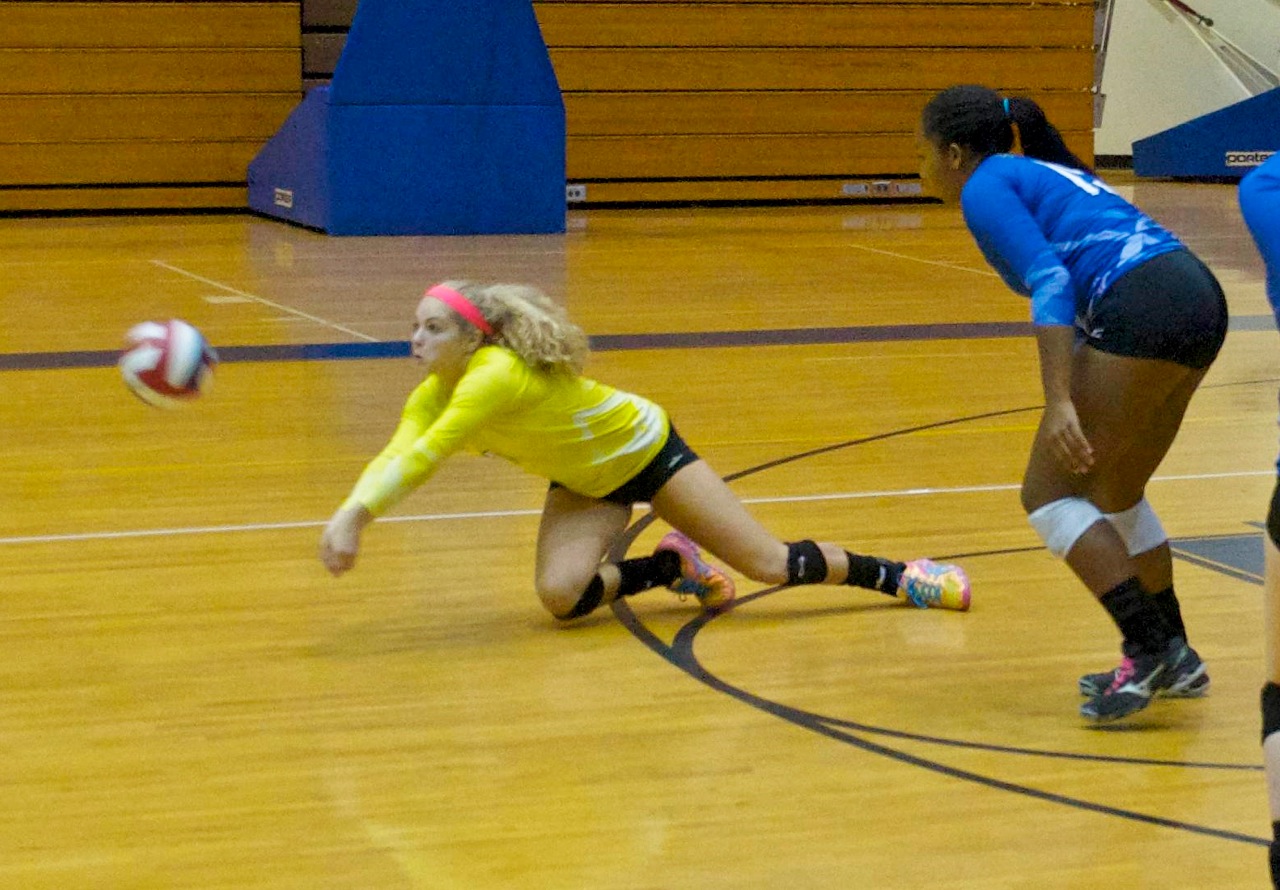 Lisa Kingree
Chattahoochee and Blessed Trinity vanquished region rivals while Columbus eliminated two-time defending state champ Sandy Creek in the Wednesday night semifinals.
See recaps of each semifinal below.
AAAAAA
Chattahoochee 3, Johns Creek 2: In the Class AAAAAA semifinals, Chattahoochee defeated neighborhood-rival Johns Creek for the third time this season, 25-12, 16-25, 26-24, 23-25, 15-13. The host Cougars trailed 13-11 in the final set, but clinched the match after a block by Lexi Kingree ignited a 4-point Chattahoochee rally.
"It's a huge win over a great team," said Chattahoochee coach Jennie Blevins. "It shows what you can do if you push yourself hard enough."
Setter Haley Templeton led Chattahoochee with 29 kills, 36 assists 23 digs while Reina Terry has 16 kills and Claudia Coco had 35 digs.
Walton 3, South Forsyth 0: Top-seeded Walton swept visiting South Forsyth 25-15, 25-15, 25-9. Sophomore Celeste Fitzgerald led the Raiders with 45 assists and Jessica Sloan posted a team-high 19 kills. Walton freshman Dalaney Hans and Lindsay Seagraves each served three aces and Kate Schwartz recorded 12 digs.
AAAAA
McIntosh 3, Northgate 0: Host McIntosh cruised into the finals with a 25-14, 25-13, 25-14 win. Rhegan Mitchell and Abbi Schelkopf led the Chiefs with 12 kills each. Defensively, Kassandra Robert paced McIntosh with 14 digs. Senior Rhana Mitchell added 13 digs.
Sequoyah 3, Dunwoody 0: Sequoyah won its 30th straight match with a 25-19, 25-16, 25-14 sweep. Dunwoody, in its first semifinals since 2005, jumped out to an early lead in the first set but the host Chiefs came back strong behind middle hitter Lauren Hartman.
AAAA
Columbus 3, Sandy Creek 2: Host Columbus topped defending champion Sandy Creek 25-19, 25-23, 22-25, 20-25, 15-8. Brianna Gogins had 17 kills, Ki'Anna Duncan tallied 20 digs, Madison Fleming recorded 40 assists and Shardonee Hayes had five blocks for Columbus.
Marist 3, River Ridge 0: Host Marist swept River Ridge 25-11, 25-20, 25-7. In the third game, Marist's Leila King won 11 points on her serve with five aces. Bailey Weiland led the War Eagles with 14 kills and freshman Alena Cashdan tallied 12 kills. Hannah Weiland added a game-high 16 assists.
AAA
Blessed Trinity 3, Woodward Academy 1: Senior Molly McAlvany, a University of Tampa commitment, led host Blessed Trinity with 19 kills and 12 digs and keyed an 8-point run in the second set at the service line. The Titans trailed 21-14 before McAlvany began her service rally. Morgan Stallcup added eight kills and three blocks while Maggie Ricks had 26 assists for Blessed Trinity, which won 25-18, 25-22, 23-25, 25-22.
St. Pius X 3, Buford 1: Senior outside hitter Leah Hardeman, a Coastal Carolina commitment, led the host Golden Lions with 26 kills, including the last two kills of the game. Buford lost in spite of freshman Gabby Curry's 13 kills and 21 digs. St. Pius X won 22-25, 25-17, 25-18, 28-26.
AA
Wesleyan 3, Lovett 1: The host Wolves came back from a 20-18 deficit in the final set to defeat defending state champion Lovett 25-18, 19-25, 25-23, 25-23. Lauren Frerking had 12 kills, Hannah Hoskin had 31 digs and Kendra Koetter tallied 38 assists for Wesleyan.
Westminster 3, Jefferson 0: Host Westminster swept Jefferson (25-13, 25-9, 25-15) after Wildcats junior Mackenzie Shannon recorded her ninth kill of the match on game-point. Teammate Kerrie Green contributed with 10 digs and eight kills and setter Ellie Hartman finished with 20 assists and seven aces.
A
Hebron Christian 3, Savannah Christian 2: Visiting Savannah Christian took a 2-sets-to-1 lead before the Raiders won 26-24, 22-25, 21-25, 25-16, 15-13. Eden Murray posted a game-high 20 kills and Bridgette Oduro added 14 kills for the Lions. Anna Katherine Wilson added 47 assists.
Holy Innocents' 3, Eagle's Landing Christian 2: The host Golden Bears ended the match on a kill by Julia Wright in Holy Innocents' 25-17, 17-25, 27-25, 18-25, 18-16 win. Sarah Porter had 53 assists, Haley Collins had 26 kills and Sarah Joe had 20 digs to lead the Golden Bears.