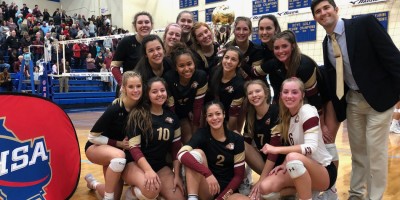 The Walton Raiders return to the Class 7A finals where the program will look for a 6th-straight title and a state-record 15th all-time championship. Walton has compiled a 19-0 record against Georgia opponents this season and Roswell is the only team that has won a set against the program. Alpharetta is 20-4 with its only losses coming to GAC (3-2), Westminster (2-0), Blessed Trinity (2-1) and Roswell. McIntosh's success this season has been the result of a healthy blend of experience and emerging talent. Senior Evoni Lemons is an outside hitter that committed to Georgia State on Oct. 21 and 6-foot-1 freshmen Logan Wiley and Jaden Nelson have stepped up as major contributors. In Alpharetta's 3-2 win over Lambert in the semifinals, Lemons (16), Wiley (12) and Nelson (9) combined for 36 of the team's 50 total kills. Lemons is a team captain with senior libero Lauren Boyles.
Class 6A
Buford (32-2) and Pope (31-1) have been on a collision course this season with both battle-tested programs carrying sterling records into their championship clash. Buford, which was classed up after formerly playing in Class 6A has been led by deep group of junior and sophomore talent. The Wolves' most recent victory was a convincing 3-0 (25-17, 25-12, 25-19) sweep over Kennesaw Mountain in the semifinals that saw sophomores Ashley Sturzouiu (8) and Sydney Austin (7) and juniors Mikayla Hayden (7), Camryn Carlton (6) and Kiana Polk (5) combine for 33 of the team's 34 total kills. Pope is coming off a dramatic five-set thriller (30-28, 16-25, 25-18, 20-25, 15-13) over Sequoyah in the semifinals. Junior Ayanna Rodgers led with a team-high 13 kills while senior Lily Harvey posted 12 kills. Harvey is a 6-foot-4 middle hitter that earned a place on the 2019 Class 6A All-State Team this past season.
Class 5A
Three-time defending champion McIntosh and reigning Class 4A state champion Blessed Trinity will meet in a battle of champions in this year's Class 5A finals. The two teams previously played on Aug. 13 and McIntosh scored a 2-0 victory. In that match, McIntosh 6-foot-2 junior Alexa Markley dominated with a team-high 16 kills. Markley headlines the attack with 6-foot-1 middle hitter Ngozi Iloh. In McIntosh's latest 3-2 win over St. Pius in the semifinals, Markley (18) and Iloh (28) combined for 46 of the team's 57 total kills. Senior Claire Lewis—who posted 21 assists in McIntosh's win over Blessed Trinity had a playoff-high 49 assists in the semifinals. Blessed Trinity has a deep cast of contributors leading the way that includes a trio of underclassmen. Juniors Cate Wright (12) and Taylor Esmie (8) and freshman Mia Hood (8) combined for 28 kills in the Titans' 3-0 win over Whitewater in the semifinals and Ashlynn Barnes posted a team-high 21 assists.
Class 4A
Marist will look for its first state title since 2017 and the program's ninth all-time championship against a Northwest Whitfield team that is one match away from capturing its historic first. The War Eagles looked exceptional in their most recent 3-0 (25-177, 25-13, 25-21) semifinal victory over Heritage-Catoosa. In the victory, senior Carli Bowen led Marist with a team-high 14 kills and also contributed a career-high 14 digs. Junior libero Hadlee Ackerman added a playoff-high 19 digs and junior setter Emerson Mazzone tallied a season-high 35 assists. Northwest Whitfield is loaded with talent—including 6-foot-1 junior Emma Allen. In the Bruins' 3-1 win over Jefferson in the semifinals, Allen posted a season-high 22 kills to go with her 17 assists, 13 digs and four blocks. Allen is flanked by junior Emma Hayes—who racked up 19 kills and four aces in the semifinal win. Also, senior Kiarah Hughes had a season-high 25 assists in the semis.
Class 3A
Westminster has an opportunity to snap a three-year title drought and take home the program's ninth all-time state championship against first-ever title hopeful Morgan County. The Wildcats have swept their way through the first four rounds of this year's playoffs while holding their opponents to just 11.25 points per set along the way. In Westminster's win over Sonoraville in the semifinals, junior Ashley Vincent had a season-high 19 kills and 6-foot senior captain Mary Emily Morgan posted 16 kills off of just 25 attempts. Senior setter Chloe Emch was also outstanding with five aces and 40 assists. Morgan County carries a 36-5 overall record into its historic run to the finals and played lights out in its 3-0 (25-9, 25-14, 25-22) sweep over Sandy Creek in the semifinals. Senior outside hitter Brooke Butler had season highs in kills (18) and digs (13) in the victory, sophomore Presley Hill matched her career-high with nine kills and senior Anna Cox posted a season-high 31 assists.
Class 2A/A-Public
Pace Academy has won three-straight Class 3A titles, prior to joining the newly-formed Class 2A/A-Public classification, and has obliterated its playoff competition to reach this year's finals. The Knights have held their playoff opponents to just 7.83 points per set. Gordon Lee carries an 18-match win-streak and has also performed well this postseason. The Trojans have only dropped one set through the first four rounds and have limited opponents to just 14 points per set. Junior outside hitter Brooklyn Hudson leads the Gordon Lee attack and had a playoff-high 17 kills in the semifinal sweep of Elite Scholars Academy (25-14, 25-18, 25-22). Junior Emoree Rogers also came up big with two blocks and a playoff-high 19 digs. Pace Academy faced Elite Scholars Academy twice in October—one of the few common opponents shared with the programs. The Knights took the first match 2-1 (22-25, 25-23, 15-6) and then swept the Royal Knights convincingly the following week 2-0 (25-11, 25-14).
Class A-Private
Holy Innocents' and Hebron Christian are Region 5 opponents that will square off in Saturday's winner-take all grand finale.  Holy Innocents' edged Hebron Christian for this year's region title, but the Lions are returning to the state championship stage after sweeping Walker for last year's title. Hebron Christian features 6-foot-2 senior Malia Fisher—who led the way with 10 kills in the Lions' 25-18, 25-11, 25-19 win over St. Francis in the state semifinals. Hollis Mazzawi came up big as well with her four aces and Carly Heidger chipped in with nine kills and two blocks. Holy Innocents' closed out a hard-fought 3-0 sweep over Athens Academy in the semifinals to return to the finals where they will look to take home the program's fourth all-time state crown. In the semifinal victory, the combo of seniors Paige Collins (18) and Renee Davis (17) accounted for 35 of the team's 44 total kills.
VOLLEYBALL STATE CHAMPIONSHIP SCHEDULE
Saturday, Nov. 7
At Champions Center
Court #8
11:00 am – 1A Private: Holy Innocents' vs. Hebron Christian
1:30 pm - 3A: Westminster vs. Morgan County
4:00 pm – 5A: McIntosh vs. Blessed Trinity
6:30 pm – 7A: Walton vs. Alpharetta
Court #17
12 noon – 1A/2A Public: Pace Academy vs. Gordon Lee
2:30 pm – 4A: NW Whitfield vs. Marist
5:00 pm – 6A: Buford vs. Pope