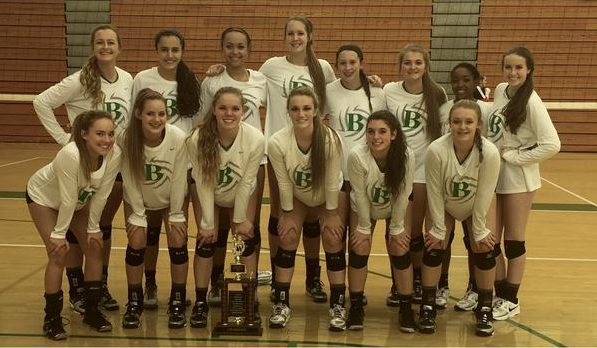 Buford Volleyball
In the state's highest classification, Walton sits a match away from capturing the program's tenth state title. Standing in the Raiders' way is South Forsyth, which has not faced Walton since the first match of the season. Walton took the season opener in a swift 3-0 sweep [25-13, 25-18, 25-13], but 41 South Forsyth wins later and a surging War Eagles team looks to bring home the program's first state title against the decorated Raiders. South Forsyth showed its resilience in the semifinals against Harrison after dropping the opening set 25-14. They answered with a 25-21 second set victory and then survived a 32-30 marathon in the third set. Harrison regained momentum in the fourth set [25-22] but South Forsyth clinched with a 15-11 fifth set. Senior Courtney Darling had a huge impact and posted 53 of the team's 56 assists.
In Class AAAAA, defending state champion Sequoyah faces two-time state champion Columbus (2007, 2013). The two teams squared off on Aug. 22 and Columbus swept the Chiefs in two sets [25-22. 25-14]. Sequoyah, however, enters the championship with plenty of confidence after a thrilling five set victory over Cambridge Wednesday night. After beating Cambridge 2-1 on Aug. 27, the Chiefs dropped two October matches to the Bears before the semis when they squared off for the fourth time this year. Cambridge had swept the Chiefs in the Area 7 tournament on Oct. 8 before winning a 3-1 match two days later for a top seed. Columbus cruised in its trip to the finals without dropping a set this postseason.
Athletic powerhouse Buford has a chance to bring home the volleyball program's first state title on Saturday against St. Pius, which captured its first volleyball state title in 2013. Buford has dominated this year's competition and sits a flawless 40-0. Only four of the 40 wins have seen the Wolves drop a set, but one came in Buford's 2-1 victory over the Golden Lions on Aug. 18. Buford opened this month with a trip to St. Pius, however and swept the Golden Lions 3-0 [25-17, 25-18, 25-20]. Abbey Adams is the only senior on Buford's roster as they look to establish another sports dynasty.
St. Pius might have dropped both matches to Buford this season, but its [14-25, 25-17, 24-26, 25-19, 16-14] semifinal win over seven-time state champion Marist is the most impressive victory of their season.
Defending Class AAA champion Blessed Trinity ended Oconee County's season for the sixth time since 2004 and the third time in the last four years with a semifinal sweep on Wednesday. The Titans await seven-time champion Westminster, which looks for its first title since 2008. Blessed Trinity swept Westminster in last year's state championship, but the teams have split this year's two meetings. Blessed Trinity swept the Wildcats on Sept. 15, but Westminster scored its own sweep [25-19, 25-18, 25-9] when the programs squared off Oct. 8 in the Area 2 tournament. Westminster aced the Titans nine times and junior Maya Longacre had 32 assists to the Titans' 16.
Holy Innocents' was the only team that successfully defended its state title last season, and the Golden Bears will look to make it a three-peat against 2012 state champion Lovett in the Class AA finals.
Lovett opened the year with seven straight losses, but the gauntlet of quality opponents prepared the Lions as they beat two of those same opponents in this year's playoffs and can make it a third with a win over Holy Innocents'. Junior Libby Lee is a 5-foot libero that leads a stout defense and junior Kirby Ellis and sophomore Ellie McCollam have stepped up as the team's polished assist duo.
In Class A, three-time state champion Landmark Christian (2001, 2003, 2012) used a fourth set to topple star-powered Savannah Christian in the semifinals and set up a showdown with No. 1 seed Calvary Day, which beat Savannah Christian in five sets to win the Area 1 championship this month. Calvary Day swept Brookstone and Paideia and came off an Elite 8 bye to top Athens Academy in five sets. This is the only championship matchup that is not a rematch from the regular season.
Landmark Christian's Cameron Dobbs is one of the most lethal outside hitters in the state and the junior notched her 500th kill of season against Mt. Pisgah in the opening round of the playoffs. Calvary Day outside hitter Claudia Chisolm and setter Hannah Carver earned spots on the All-Greater Savannah Volleyball First Team list as sophomores last year and have led the Cavaliers with the support from fellow junior and defensive specialist Southern Britt. Middle blocker Sara Daniels is this year's sophomore that stepped up for the Cavaliers and she carries 104 sets of experience this season into the finals as the team leader in blocks.