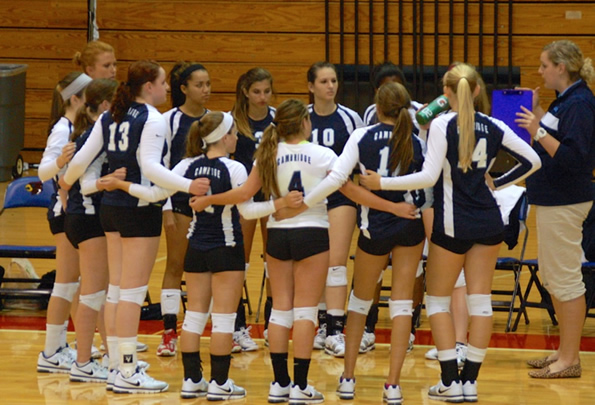 Photo by Cambridge Athletics
Class AAAAAA saw some major changes with North Gwinnett jumping to No. 2. Roswell fell out of the poll with an 0-5 start to the season and Norcross makes its debut at No. 10. Harrison lost to Cambridge and Johns Creek and dropped two places to No. 4.
Lassiter improved from No. 10 to No. 5 with a 7-0 start and Saturday victories over Oconee County (twice), Roswell, South Forsyth and Etowah in the Sequoyah Classic.
In Class AAAAA, Dunwoody moved to 7-0 this weekend and took over No. 1. Cambridge jumped Columbus for No. 2 after its impressive win over Harrison.
Class AAAA's top team, Buford, swept Wesleyan and Johns Creek last week and is proving to be arguably the top team in the state regardless of classification but No. 2 Marist is also making its case after a 5-0 start. Heritage-Catoosa debuts at No. 7 with its 6-0 start and Ringgold replaced Ridgeland and debuts at No. 10.
Class AAA No. 1 Blessed Trinity and No. 2 Westminster both suffered losses last week but remain at the top of the poll. Blessed Trinity lost to North Cobb and Sandy Creek and the Wildcats dropped matches to Marist and Holy Innocents'. Decatur moves to No. 3 after sweeping its first eight opponents this season.
In Class AA, Greater Atlanta Christian took over No. 2 with a 5-0 start and Wesleyan dropped to No. 4 after its gauntlet of ranked opponents dropped the overall record to 2-6.
In Class A, Prince Avenue Christian fell out of the rankings with its eighth straight loss and George Walton Academy made its debut after a three set victory over previously No. 2 ranked Hebron Christian.
Class AAAAAA
1. Walton
2. North Gwinnett
3. Johns Creek
4. Harrison
5. Lassiter
6. East Coweta
7. North Cobb
8. Etowah
9. South Forsyth
10. Norcross
Class AAAAA
1. Dunwoody
2. Cambridge
3. Sequoyah
4. Columbia
5. Ola
6. McIntosh
7. River Ridge
8. Northside-Columbus
9. Camden County
10. Starr's Mill
Class AAAA
1. Buford
2. Marist
3. St. Pius
4. Sandy Creek
5. North Hall
6. North Oconee
7. Heritage-Catoosa
8. Veterans
9. Carrollton
10. Ringgold
Class AAA
1. Blessed Trinity
2. Westminster
3. Decatur
4. Oconee County
5. Sonoraville
6. Jefferson
7. Morgan County
8. Rockmart
9. Savannah Arts
10. East Hall
Class AA
1. Holy Innocents'
2. Greater Atlanta Christian
3. Lovett
4. Wesleyan
5. Pace Academy
6. Gordon Lee
7. St. Vincent's Academy
8. Coosa
9. Darlington
10. Lamar County
Class A
1. Savannah Christian
2. Fellowship Christian
3. Athens Academy
4. Eagle's Landing Christian
5. Hebron Christian
6. George Walton
7. Walker
8. Landmark Christian
9. Mt. Paran
10. Calvary Day