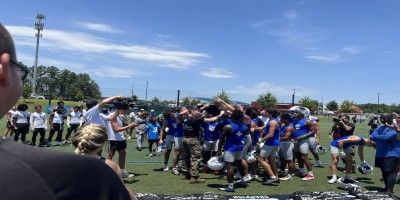 Walton won the National Go Hustle Up 7 on 7 Tournament in Hoover, Alabama this past weekend. It was another successful tournament for Georgia teams. Last year, Carrollton won it all and hoisted the trophy. This year three of the four teams that played in the final championship brackets came from Georgia which included Gainesville, Prince Avenue Christian, and Walton.
It was a dominant day for the Raiders as they were undefeated in the playoff tourney. In their run, they avenged their pool play 23-12 loss to Knoxville Catholic (Tennessee) and beat them in the first round 29-14. Walton would also face off against Carrollton in the second round. This is a familiar foe as they played in the state quarterfinals last season with the Trojans winning 52-27. Carrollton went into the playoffs as the No.1 overall seed in the tourney.
The No.8 Walton Raiders jumped out to an early 11-0 lead after scoring first and forcing a turnover. Carrollton would come roaring back and get within striking distance trailing by two points twice in the game. Alabama commit Caleb Odom was a mismatch in the game catching two touchdowns and giving the Walton secondary all they could handle.
Wake Forest commit Jeremy Hecklinski went on a game-sealing drive with less than four minutes to play in the game to give Walton a double-digit lead with very little time left. Star QB Juju Lewis answered late, but only 30 seconds remained in the game. Walton defeated Christian Academy (Kentucky) in the semifinals and scored 32 against their defense. The Raiders would cruise to a 26-18 championship victory against Spain Park (Alabama) as they held a double-digit lead throughout the game and put their reserves in late.
Star quarterback Hecklinski talked about a successful summer so far for Walton and where he has continued to improve his game.
"I feel good this is our fifth and final 7 on 7 tournament and we are 4 in 5 in championships. I would say arm strength for sure," said Hecklinski." "Placement on my balls are a lot better. I anticipate balls better. Training with my guys every day. I got the whole receiving core together and we ran routes. The summer is great for high school football because you are with them everyday and working on getting ready for fall ball."
In the other bracket was No.17 Gainesville vs No.23 Prince Avenue Christian a matchup Georgia rarely gets to see because of the classification the teams play in. Prince Avenue plays in Class A Div 1 and Gainesville is 6A. After both teams struggled some on Day 1, both the Wolverines and Red Elephants got hot during tourney time.
Prince Avenue won three straight games and knocked out fellow Cherokee (GA) in the semifinals to punch their ticket in the championship game. Gainesville and Coach Josh Niblett scored 20+ points in every game and beat his former team 25-24 to advance to the consolation championship game.
The game between both Georgia teams was intriguing. Georgia Tech commit Aaron Philo led the Wolverines on three scoring drives and was fitting the ball in tight windows and made a magnificent throw off the run for a touchdown. Despite his stellar play, Gainesville just had it going and ended with the ball last. The Red Elephants scored a game-winning touchdown as time expired in the corner of the endzone and won the consolation bracket.
No.19 Cherokee Warriors had a good Day 2 winning their final pool play game against Southside (Alabama) and scoring 36 points. Despite being a 19 seed in the playoffs, Cherokee made it to the semifinals of the tournament before falling short to Prince Avenue 22-20. No. 7 Benedictine Cadets proved they can play with anyone and continued their great play on Day 2. Their offense, led by Florida State commit Luke Kromenhoek, averaged 27 points per game. The Cadets would win two thrillers in the playoffs, a 36-35 win against Mary Montgomery (Alabama) and 26-25 victory against Benjamin Russell before falling short to Spain Park.
No.14 Tift County played against Spain Park in the first round and lost 28-13. No. 24 North Hall won their final pool game against Presbyterian Christian 24-15 but lost to Evangel Christian in the first round of the tournament.
Overall, it was an excellent tournament for Georgia teams who battled against stellar national competition and proved they can hang. For the second year in a row, a Georgia team (Walton) walked home with the championship trophy.