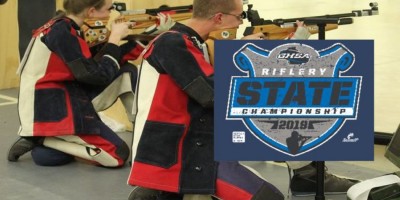 The 2019 GHSA Riflery State Championships took place at the Pool International Shooting Complex at Fort Benning in Columbus on Saturday where Ware County won its third-consecutive team riflery title with a team score of 1162-68, edging East Coweta by one point. The victory marked the fourth title for Ware – 1997, 2017, 2018 and this year.
Leading the Gators was its star shooter Laci Jewell who set a new individual state record with a near perfect 298 of a possible 300 points. Jewell shot a perfect 100 in the prone position while adding a 99 in standing and a 99 in kneeling in her record-setting run.
Ben Smith helped Ware with a 291, Tyler Hanson shot a 288, Howard Cole had a 285-point performance and Bryce Young finished with a 284. East Coweta finished second to the Gators with an 1161-62 score led by Kristen Kanaskie's 293 and Evelyn Reid's 292. The Indians were in the hunt for their second riflery title after winning in 2000 and 2016. East Coweta's effort in 2016 stood as a state record before Ware County claimed the record with last year's 1169-point performance.
Upson-Lee finished third with an team total of 1147 led by Ana Maldanado's 291 points. Grave Geldbach scored 290 points, Savannah Muse added 286 points, Eli Poddard finished with 280 points and Jackson Roddenbery had 274 points.
See the top-10 team results below.
GHSA State Rifle Championships Final Results
1. Ware County — 1162
Laci Jewell – 298 (State Record)
Ben Smith – 291
Tyler Hanson – 288
Howard Cole – 285
Bryce Young — 284
2. East Coweta – 1161
Evelyn Reid – 292
Kristen Kanaskie – 293
Kinsley Hannon – 288
Taylor Thom – 288
Bo Saavedra — 286
3. Upson-Lee – 1147
Ana Maldonado – 291
Grave Geldbach – 290
Savannah Muse – 286
Eli Poddard – 280
Jackson Roddenbery — 274
4. Woodward Academy – 1146
Sydney Hallas – 291
Jacob Workman – 288
Manaphy Wang – 290
Alex Threlkeld – 277
Jamison Connors — 255
5. Carrollton
Morgan Frank – 287
Taylor Berry – 286
Collin Grubbs – 285
Ben Bradley – 285
Thomas Harris – 281
6. North Gwinnett – 1143
Matthew Herrington – 298
Caitlyn Miller – 288
Corina Fluker – 283
Andreea Contis – 283
Shasta Robinson — 280
7. Georgia Military
Colin Haskins – 289
Stella Glover – 287
Luke Rutherford – 282
Caterina Knapp – 279
Johnathan Phillips — 270
8. Social Circle – 1132
Megan Townsend – 291
Ashley Clegg – 288
Ethan Baliles – 277
Jackson Davis – 276
Cole Thacker — 276
9. Northside-Columbus
Kaya Smith – 283
Brandon Nicolay – 284
Elijah Hawkins – 286
Matthew Smith – 279
Mendez Samuel — 274
10. Cherokee – 1132
David Snyder – 291
Connor Walsh – 289
Ayden Steen – 278
Lexie Harn – 273
Nathan Kelley — 272
*Top four scores in team final score
Individual Results
1. Laci Jewell, Ware County, 401
2. Anusha Pakkam, Roswell, 393.6
3. Moran Adams, Buford, 393.3