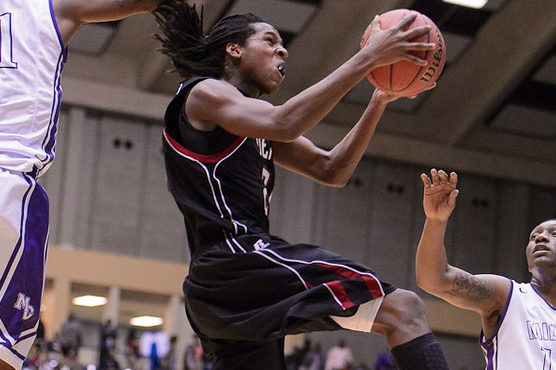 Photo by Ty Freeman
Warner Robins junior Marquez Callaway netted 17-of-17 free-throws and finished with a game-high 24 points as the Demons topped six-time defending champion Miller Grove 63-57 in overtime Thursday night to advance to the semifinals for the second straight year.
The game took place at Veterans high school in Warner Robins to hold the massive crowd in attendance and the packed house witnessed the Wolverines' 32-game playoff win-streak come to an end as Warner Robins was able to avenge its 70-43 loss to Miller Grove in the 2014 Class AAAAA title game. Miller Grove briefly took a 51-49 lead with 19 seconds left in regulation after Alterique Gilbert split a pair of free-throws, but Callaway's drive and score forced overtime 51-51.
In the extra period, Gilbert was called for a charge and fouled out and after Miller Grove took a 57-55 lead with two Lamont West free-throws, Callaway drew a foul on his three-point attempt and sunk all three to put the Demons up 58-57. Miller Grove turned it over on the ensuing possession and fouled the automatic Callaway, who would ice the game at the line. Donovan Brown also had a huge night for Warner Robins and finished with 18 points. Gilbert led Miller Grove with 20 points and West finished with 17.
Class AAAAA
Jonesboro 50, Johnson-Gainesville 35: Jonesboro knew heading into Thursday's matchup with undefeated No. 1 seed Johnson-Gainesville (29-1) that it would have to stop star guard Ty Cockfield. The senior entered the game scoring 28 points per game while swingman Rod English was good for 19 a night. As it has been all season long, No. 1 seed Jonesboro's calling card is its defense. The visiting Cardinals hounded Cockfield and English into tough shooting nights as Jonesboro (30-1) advanced to the semifinals. The Knights were harassed into 25 turnovers and could not find open looks all night. Johnson-Gainesville led 15-13 after one, but was outscored 14-7 in the second quarter to enter halftime trailing 27-22. Deantre Mack of Jonesboro banged home an early three pointer to start the third to set the tone the rest of the way. Mack finished with a game-high 15 along with teammate Tracy Hector Jr. as the Cardinals held the Knights to just 13 second half points. Stars Ty Cockfield and Rod English managed just 11 and 13 points, respectively. Cockfield shot 5-of-16 from the field. Jonesboro's balanced offense was the difference. Leading scorer James Walker Jr. was hampered with foul trouble after picking up two fouls in the first period. Instead of scrambling to find a go-to player offensively, Austin Donaldson ran the offense smoothly and found Mack for big three after big three to weather the storm.
Class AAAA
Carrollton 77, Upson-Lee 60: No. 1 seed Carrollton took a 37-26 halftime lead over fourth-seeded Upson-Lee and outscored the Knights 19-11 in the third quarter to increase the lead to 19 points (56-37) and cruise to its first-ever semifinals berth. Montae Glenn led Carrollton with 27 points and Cooper Criswell finished with 13 points, 15 rebounds and seven blocks.
Class AAA
Laney 92, East Hall 67: No. 1 seed Laney had three players in double-digits in the win against another top seed. Laney led 39-27 at the half and then put in a 31- point third quarter. Laney was paced by JaShawn Brooks, who scored 25 points while teammate Collin Young poured in 17 points and Jaylen Taylor scored 13. East Hall received 23 points from Jacquen Hopkins and Kyvon Davenport had 18.
Morgan County 78, South Atlanta 50: Tookie Brown exploded in the third quarter to lead No. 1 seeded Morgan County past No. 1 South Atlanta. The game was tied after one at 16 and Morgan County led 36-28 at the break. Brown then caught fire, scoring 17 of Morgan's 20 points in the third. He finished the game with 37 points. Morgan County also received 13 points from Jailyn Ingram and Al Reid had nine. South Atlanta was paced by Tyreek Baisden, who scored 10 points and Devontae Dean added eight.
Rutland 77, Cedar Grove 65: No. 1 seed Rutland had five players in double figures in the win against No. 2 Cedar Grove. Tylik Evans led the way scoring 18 points. He was followed by Jeremy Brazwell's 17 points while Timori Northcutt had 14,  Dallas Smith went for 12 and Trey Foster notched 11. Rutland took advantage in the third quarter, out-scoring Cedar Grove 15-9. Cedar Grove was led by Jacari Cross with 29 points, Chris Frederick had 11 and Kenny Lewis added 10.
Class A-Private
St. Francis 86, Aquinas 57: Top-ranked St. Francis took a 58-44 lead into the fourth quarter before outscoring No. 9 seed Aquinas 28-13 in the final frame. FSU-commit Malik Beasley led all scorers with 35 points. Teammate Kobi Simmons netted 27 while Kaiser Gates stuffed the stat sheet with 12 points, seven rebounds and seven assists. SanAntonio Brown (18) and Khamron Gordon (14) finished in double-figures for Aquinas.
Athens Christian 73, Landmark Christian 46: No. 3 seeded Athens Christian had three players in double-figures in the win over Landmark Christian. Chris Tate led the way scoring 21 points and grabbing eight rebounds. He was aided by teammate Demetrius Mc Whorter, who added 20 points and 17 rebounds and Will Jackson's 13 points with 13 assists. Landmark's Jackson Shultz scored 21 points.
Whitefield Academy 62, North Cobb Christian 58: No. 5 seed Whitefield Academy rallied in the second half to upset No. 4 seed North Cobb Christian. The score after one quarter was North Cobb 15-9, pushing it to 34-22 at the half. Whitefield then turned it on, controlling the third quarter 19-10 and the final frame 24-21. Isaiah Hart led the way with 19 points, Courtney Alexander finished with 16 points, Brendon Myles added 11 points and Norman Harris had 10. North Cobb's Mick Fleming finished with 23 points, Trey Kalina with 16 points and Jalen Dampier with 12.
GIRLS
Class AAAAAA
Norcross 51, Westlake 38: Host Norcross used a 21-7 scoring edge in the fourth quarter to advance to the AAAAAA semifinals for the fifth time in six seasons. Westlake led 24-18 at the half and held a 31-30 lead heading into the fourth before Norcross grabbed a 40-37 lead in the fourth quarter and and piled on an 11-1 run in the final 1:12 to close the game. Allison Johnson led the Lady Blue Devils with 16 points.
Class A-Private
St. Francis 62, Mt. Paran 48: No. 1 seed St. Francis opened up a 24-9 lead before taking a 36-20 halftime lead over No. 8 Mt. Paran. Nichel Tampa led St. Francis with 22 points while adding five rebounds and four assists. Maya Dodson added 12 points and six boards and Abby G