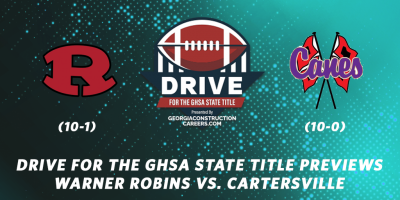 The twelfth televised game featured in the 'Drive for the GHSA State Title' series is a blockbuster 5A second round matchup between Warner Robins (10-1) and Cartersville (10-0) that will be broadcast on PeachtreeTV/CBS46 at 8 p.m. this Friday.
The programs have met just once — in the state championship game last season — and Warner Robins won 62-28 after losing in the state title game three seasons prior. The victory marked the program's fifth overall championship, and it is worth noting that Warner Robins won national championships in 1976 and 1981 under legendary head coach Robert Davis. Cartersville was trying for its fifth title before falling to the Demons last season.
Warner Robins is 10-1 with a loss to 5A No. 5 Ware County 29-21 on Oct. 15 and is coming off a 64-20 victory over Jonesboro in the first round. Cartersville has yet to drop a game and advanced to the second round after a 51-0 victory over Lithonia in the first round.
The Demons offense is outscoring opponents 567-207 and averages 249 rushing to 222 passing yards per game. Quarterback Christon Lane is 126-of-194 passing for 2,136 yards and 27 touchdowns while rushing for three touchdowns on 24 carries. Isaiah Canion has three touchdown passes and Jeff Davis has one touchdown pass.
Daveon Walker (12 TDs), Deuce Petty (9 TDs), DK Sturn (2 TDs), Cam Flowers (2 TDs) are favorite targets. Six other receivers have one touchdown reception. On the ground, Malcolm Brown – who has one touchdown reception – leads the way with 199 carries for 1,332 yards and 17 touchdowns. JaFrederick Perry has 12 touchdown runs while eight players have one touchdown run each.
On defense, Warner Robins is anchored by Jay Carter who has 62 solo tackles, 21 assisted tackles, 7.5 tackles per game, 19 tackles for loss and six sacks.
Cartersville quarterback Jake Parker is 86-of-154 passing for 1,149 yards and 16 touchdowns to lead a Hurricanes offense that averages 212 rushing to 133 passing yards per game. Jacob Ray (5 TDs), Brynen Wilkins (3 TDs), Collin Fletcher (2 TDs), Kendrick Price (2 TDs), Amari White (2 TDs) are favorite targets while three other players have one touchdown reception each.
On the ground, White leads the way with 95 carries for 894 yards and 10 touchdowns alongside Malachi Jefferies (86, 592, 12 TDs). Khristian Lando (3 TDs), Paul Gamble (3 TDs), Dorian Randle (2 TDs) and Keylan Carter (1 TD) also factor in the Cartersville running game. On defense, Jake Brasfield leads the way with 41 solo tackles, 18 assists and one interception returned for a touchdown.