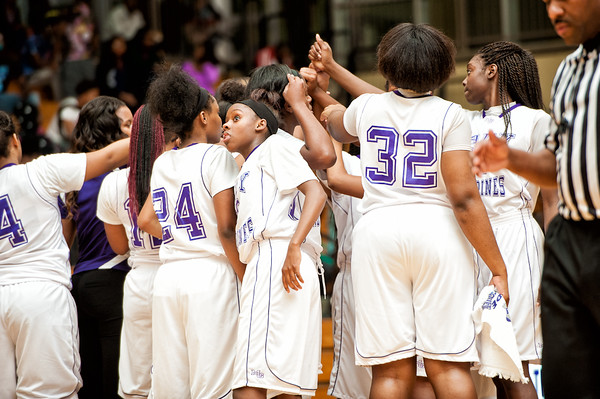 Photo by Ty Freeman
Second-seeded South Atlanta (27-2) entered the night hungry to get back on track after dropping their first game of the season in the Region 4-AAA championship, but Washington County (23-6) had plans of its own to continue dancing and did so after going on the road to upset the Hornets 57-54. The Golden Hawks controlled the game from the opening tip and never trailed.
Coach Sug Parker said that the team focused on defense primarily in the days leading up to the game. Washington County managed to keep the Hornets off balance all night by switching up its defense moving from man to zone to full court pressure, disrupting the high-powered South Atlanta offense that had carried the team to 27 consecutive victories at one point this season.
Washington County held a 15-8 lead after one and was the aggressor on offense. The Golden Hawks managed to get into the bonus early and baited South Atlanta into foul trouble while they connected from the line. Nia Johnson led the way for WACO with 19 points. Entering halftime, the Hornets trailed 36-21.
To South Atlanta's credit, it began to claw their way back into the game. Kierra Johnson-Graham finished the game with 19 points as the Hornets' second leading scorer on the season turned it on. While South Atlanta continued to inch closer, Coach Parker continued to preach playing as a team and to carry out their defensive assignments. Entering the fourth quarter, the score had tightened to 47-36, but the Golden Hawks still felt like they were in control of the game.
Washington County continued to switch up its defenses and forced South Atlanta to try and beat them playing one on one. The Hornets had a chance to tie the game in the final seconds. The Golden Hawks trapped the ball handler and a desperation heave was thrown to the rim but caromed off into a Washington County player's hands as the buzzer sounded to end the game. Coach Parker praised his team for playing as a unit the entire game and for staying tenacious on defense. Daknequa White pitched in 17 points for Washington County while freshman Nijeria Jordan added 12 points, seven above her season average of five per game. For South Atlanta, Lawrencia Simon netted 10. Erica Gibbons, the Hornets' leading scorer this season, who came in averaging 16.8 points per game, failed to crack double digits.
Class AAAAAA
Norcross 50, Shiloh 38: No. 1 seed Norcross (25-4) held off a game No. 4 Shiloh (14-15) to advance to round two in Class AAAAAA. Norcross led by just four points heading into the final frame, but outscored the visiting Generals 19 to 11 to put the game away. Allison Johnson led the Lady Blue Devils with 16 points while Racquel Cranston pitched in 13 to lead the Generals.
Archer 73, Duluth 40: No. 2 seed Archer led 42-27 at half and saw five players hit double-figures in its cross-county victory over No. 3 seed Duluth. Amber Skidgel paced Archer with 17 points and point guard Madison Newby finished with 15 points and nine assists while reaching a career milestone with her 1,500th point. The Tigers also got double-digit scoring from Linsey Marchese (14), Tatiana Wayne (12) and Autumn Newby (12)
Westlake 60, Hillgrove 49: The visiting fourth-seeded Hawks (15-13) held a 41-40 lead heading into the fourth, but the No. 1 Lions (27-2) managed to get to the basket and live at the foul line in the fourth quarter to avoid the upset. Westlake hounded Hillgrove into over 20 turnovers with its pressure defense. Anriel Howard led the charge for the Lions scoring a game-high 24 points. Ja'lyn Reese scored 19 and Tene Thompson added 12 in the loss for Hillgrove. Westlake advances to round two in Class AAAAAA and awaits the winner of Woodstock-West Forsyth.
Class AAAAA
Miller Grove 56, Hiram 53: No. 4-seeded Miller Grove trailed 29-23 at the half and faced a 49-41 deficit entering the fourth quarter but outscored No. 1 seed Hiram 15-4 in the fourth quarter to runaway with the opening round road victory. Junior Imani Richardson scored 13 of her game-high 20 points after halftime and her junior teammates Chrystal Ezechukwu (16) and Takeshia Williams (14) both finished in double-figures.
Salem 49, River Ridge 40: No. 1 seed Salem trailed visiting River Ridge 6-4 at the end of the first quarter but gained control with a 19-10 scoring edge in the second quarter that setup a 23-16 halftime lead. Salem's Ayanna Mitchell led the way with a game-high 27 points and teammates Shay Tarver (11) and Paris Scott chipped in with double-digit scoring. No. 4 seed River Ridge got a team-high 15 points from Leonor Nickell.
Southwest DeKalb 54, South Paulding 37: No. 2 Southwest DeKalb (22-7) rolled at home in round one play against No. 3 South Paulding (19-10). The Spartans had no answer inside for freshman Michaela Bennefield who posted a double-double with 12 points and 15 rebounds. Three other players scored in double figures for the Panthers with Daisa Alexander and Diamond Porter adding 11 apiece while Jada Walton chipped in 10. Kelsi Fizer netted 13 and Kayla Frey pitched in 11 in the loss for the Spartans.
Cross Creek 68, Columbus 67: No. 2 seeded Razorbacks (24-5) rallied from down seven entering the fourth to beat No. 3 Columbus (20-7) on an Alana Davis lay in as time expired. Davis dealt with foul trouble for most of the game, but Cross Creek's leading scorer and rebounder was able to finish the comeback with the last second layup off a Nya Daniels assist.
Class AAAA
Buford 70, Heritage-Catoosa 27: Host Buford built a 60-24 lead entering a shortened fourth quarter and outscored No. 4 seed Heritage-Catoosa 10-3 in the final frame. Chandler Hall paced No. 1 seed Buford with a game-high 19 points and teammates Camille Anderson (12), Katy Bisges (11) and Corey Staples also netted double-digit points.
Class AAA
Peach County 65, Savannah 31: No. 1-seeded Peach County (23-3) dispatched of the visiting No. 4 Bluejackets (15-15) thanks to 29 points from guard Nausia Woolfolk. The Trojans went to a 2-2-1 defense that effectively disrupted Savannah and led to over 20 turnovers. The Bluejackets were led in scoring by NaTeari Chaney and Milenah Doswell who scored seven and six points, respectively.
Calhoun 65, Haralson County 52: No. 1 seeded Calhoun (24-4) disposed Haralson County (21-7) thanks to a big game from Jana Johns. Johns finished with 28 points and 10 rebounds while teammate Tamia Wade notched a double-double of her own with 11 points and 11 rebounds. The Jackets will now face Washington County, who upset South Atlanta.
Class AA
Holy Innocents' 79, Bremen 25: No. 1 seeded Holy Innocents' opened up a 43-12 halftime lead over No. 4 seed Bremen cruised to victory as 10 Golden Bears finished with at least four points. Holy Innocents' junior Sydney Long scored a game-high 14 and sophomore point guard Khayla Pointer added 11. Kaila Hubbard and Aliyah Milord each scored nine points and Erika Cassell and Grace Asbury chipped in with eight apiece.
Lovett 45, Heard County 36: Visiting Lovett outscored Heard County 18-4 in the third quarter to grow its four-point halftime (22-18) lead to a 40-22 advantage entering the final quarter. No. 3-seeded Lovett got double-digit scoring from Te'Erica Eason (18) Jenna Brown (13) and Quinn Barry (12). No. 2 seed Heard County was led by Jordan Watson's team-high nine points and impressive 17-rebound performance.
Vidalia 55, Early County 42: No. 1 seed Vidalia went into the half tied 27-27 with No. 4 Early County but built a 39-35 lead entering the fourth quarter and closed the game with a 16-7 scoring advantage in the final frame. Senior Chynna Hodge led Vidalia with a game-high 26 points and senior teammate Chambria Harrison netted 13 points.
Wesleyan 64, Bowdon 38: Host Wesleyan clung to a 20-18 halftime lead before exploding for a 44-20 scoring advantage in the second half. Wesleyan sophomore Jameson Kavel scored a team-high 15 points and kept the No. 2 seeded Wolves in the game with No. 3 Bowdon in the first half with four made three-pointers. Wesleyan senior Nikki McDonald also came up big and finished with 12 points and eight rebounds.
-By Kyle Sandy and Craig Sager II