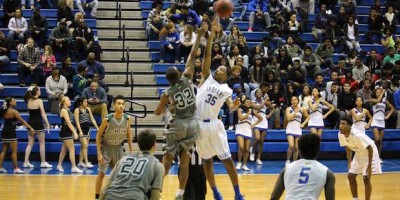 Both McEachern teams are No. 1 in 7A.
In boys hoops, McEachern owns the top spot in Class AAAAAAA and solidified its hold on No. 1 with a 71-59 win over Wheeler to start the season. Norcross and Meadowcreek earned quality wins on Saturday to start their seasons off strong, including the Mustangs' blowout win over defending champion Tift County.
Gainesville returns every major player from a year ago and has exceptional depth atop Class AAAAAA. Defending champ Langston Hughes checks in at No. 2.
In Class AAAAA, last year's champion Buford rules the class with strong Cedar Shoals and Warner Robins teams back in the top five. Miller Grove isn't the juggernaut of years past and took a 26-point loss to Norcross to start the season.
Upson-Lee is another defending champ that has remained stacked, leading Class AAAA. Defending AAA champ Pace Academy loses the top power forward in the 2017 class, Wendell Carter, to Duke but starts the season at No. 1.
The 2016-17 Class AA champion, South Atlanta, loses a lot of talented players but opens up at No. 1 in front of the team it cruised past in the title game, Swainsboro.
Class A-Private No. 1 Greenforest Christian lost its coach to Wheeler but opened the season with a one-point win over AAAAA Lithonia, which ended last season ranked. The title-game participants in Class A-Public, Wilkinson County (defending champ) and Calhoun County, open up at 1 and 2, respectively.
Class AAAAAAA
1. McEachern
2. Norcross
3. Meadowcreek
4. Wheeler
5. Shiloh
6. Grayson
7. Duluth
8. Newton
9. Mountain View
10. Berkmar
Class AAAAAA
1. Gainesville
2. Langston Hughes
3. Dacula
4. Tucker
5. Jonesboro
6. Tri-Cities
7. Alpharetta
8. Allatoona
9. Brunswick
10. South Paulding
Class AAAAA
1. Buford
2. Cedar Shoals
3. Warner Robins
4. Columbia
5. Eagle's Landing
6. Miller Grove
7. McIntosh
8. Starr's Mill
9. Southwest DeKalb
10. Riverwood
Class AAAA
1. Upson-Lee
2. Sandy Creek
3. St. Pius
4. Baldwin
5. Westover
6. Mary Persons
7. Salem
8. Henry County
9. Woodward Academy
10. Cartersville
Class AAA
1. Pace Academy
2. Morgan County
3. Westside-Macon
4. Johnson-Savannah
5. Cedar Grove
6. Jenkins
7. East Hall
8. Greater Atlanta Christian
9. Liberty County
10. Calhoun
Class AA
1. Swainsboro
2. South Atlanta
3. Dublin
4. Josey
5. Laney
6. Butler
7. Glenn Hills
8. Banks County
9. Early County
10. Thomasville
Class A-Private
1. Greenforest Christian
2. St. Francis
3. Southwest Atlanta Christian
4. Lakeview Academy
5. North Cobb Christian
6. Wesleyan
7. Aquinas
8. Whitefield Academy
9. ELCA
10. Holy Innocents'
Class A-Public
1. Wilkinson County
2. Calhoun County
3. Macon County
4. Treutlen
5. Clinch County
6. Turner County
7. Taylor County
8. Central-Talbotton
9. Montgomery County
10. Manchester
GIRLS
In Class AAAAAAA, McEachern leads another competitive field of teams that will challenge the Indians' four-year reign as state champs in Georgia's highest classification. Collins Hill edges Westlake for No. 2 and Norcross and Newton round out the top 5. Rivals North Forsyth and Lambert come in at No. 8 and No. 9, respectively and Gwinnett County's Brookwood and Mill Creek also crack the top 10.
Class AAAAAA is led by Northview and Winder-Barrow, which will build off of their breakout seasons a year ago. Defending state champion Buford is still the team to beat in Class AAAAA, but region rival Flowery Branch debuts at No. 2 and could be one of the Wolves' biggest obstacles this season.
Class AAAA opened up with the departure of Columbus' Tatyana Wyatt and Ariyah Copeland, and No. 1 Carver-Columbus is the benefactor with a solid core returning and the addition of 6-foot-3 Hardaway transfer Olivia Cochran.
Beach is back at No. 1 after taking the AAA crown with a 29-2 season, its first championship since 2000. Laney is once again the favorite in Class AA after dominating the newly reclassified field with a 31-1 season and state crown.
Wesleyan, Holy Innocents' and St. Francis headline a talented and top-heavy Class A-Private field and defending Class A-Public state champion Pelham returns as No. 1
Class AAAAAAA
1. McEachern
2. Collins Hill
3. Westlake
4. Norcross
5. Newton
6. Colquitt County
7. Brookwood
8. North Forsyth
9. Lambert
10. Mill Creek
Class AAAAAA
1. Northview
2. Winder-Barrow
3. Harrison
4. Lovejoy
5. Mays
6. Creekview
7. Douglas County
8. Sequoyah
9. Alpharetta
10. Forest Park
Class AAAAA
1. Buford
2. Flowery Branch
3. Carrollton
4. Southwest DeKalb
5. Eagle's Landing
6. Jackson-Atlanta
7. Arabia Mountain
8. Villa Rica
9. Warner Robins
10. Griffin
Class AAAA
1. Carver-Columbus
2. West Hall
3. Jefferson
4. Spalding
5. Henry County
6. Northwest Whitfield
7. Madison County
8. Luella
9. North Oconee
10. Sandy Creek
Class AAA
1. Beach
2. Greater Atlanta Christian
3. Johnson-Savannah
4. Haralson County
5. Central-Macon
6. Hart County
7. Lovett
8. Dawson County
9. Monroe
10. Peach County
Class AA
1. Laney
2. Rabun County
3. Model
4. Fitzgerald
5. Dodge County
6. Vidalia
7. Banks County
8. Bryan County
9. Swainsboro
10. Hapeville Charter
Class A-Private
1. Wesleyan
2. Holy Innocents'
3. St. Francis
4. Stratford Academy
5. Pinecrest Academy
6. Landmark Christian
7. Prince Avenue Christian
8. Calvary Day
9. Lakeview Academy
10. Fellowship Christian
Class A-Public
1. Pelham
2. Telfair County
3. Wheeler County
4. Woodville Tompkins
5. Marion County
6. Treutlen
7. Greenville
8. Wilcox County
9. Macon County
10. Hancock Central