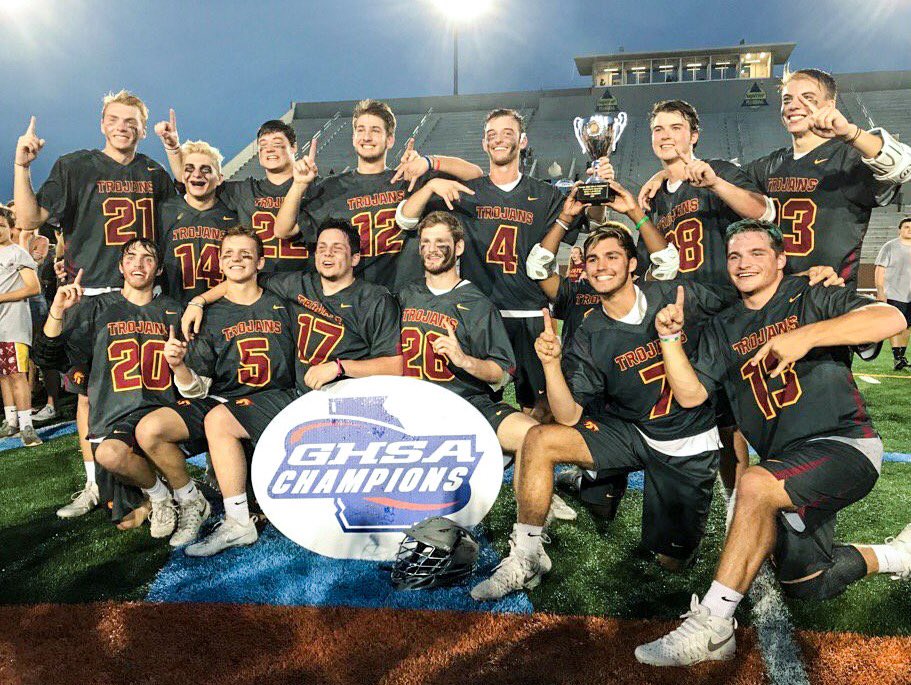 The season has just started, but teams have already begun racking up signature victories as the Week 1 rankings aim to reflect. Defending boys Class 6A-7A state champion Lassiter retains its No. 1 status and scored a big 10-2 victory over Milton to open its season. No. 2 Lambert has an 18-0 win over North Forsyth and a 17-1 win over Alpharetta on its early résumé and Pope sneaks in at No. 3 after edging Allatoona 12-11 in overtime and holding off Westminster 9-7 to maintain a 2-0 record. Centennial debuts at No. 4 and North Gwinnett rounds out the top 5 after opening the season with wins over Creekview (15-3) and Cambridge (14-3). Walton debuts at No. 6 after impressive wins over Cambridge (8-7 OT) and Milton (15-6) to open its season.
In the Class A-5A poll, defending champion Lovett debuts at No. 1 and Westminster takes No. 2. Greater Atlanta Christian, Marist and Kell load up the top 5, while Woodward Academy debuts at No. 10 after opening its season with strong wins over Buford (6-2) and McIntosh (16-8).
BOYS
Class 6A-7A
1. Lassiter
2. Lambert
3. Pope
4. Centennial
5. North Gwinnett
6. Walton
7. Allatoona
8. Mill Creek
9. Peachtree Ridge
10. Cambridge
Class A-5A
1. Lovett
2. Westminster
3. Greater Atlanta Christian
4. Marist
5. Kell
6. Starr's Mill
7. Blessed Trinity
8. Wesleyan
9. Whitefield Academy
10. Woodward Academy
Defending Class 6A-7A girls state champion Milton opened the year with a 16-6 win over Walton and debuts as Class 6A-7A No. 1. Lassiter earned No. 2 with a 12-8 win over Mill Creek and a 20-0 win over Woodstock, while No. 3 North Gwinnett started its season with a convincing 22-4 blowout victory over Archer. Cambridge takes No. 4 over fifth-ranked Mill Creek, which lost to previously-mentioned No. 2 Lassiter 12-8.
The top 3 in Class A-5A shouldn't come as much of a surprise. Since the GHSA split and began rewarding state titles to two different girls classifications in 2010, it has been either Westminster, Kell or Blessed Trinity hoisting the hardware in the lower classification. Additionally, the last four finals have featured two teams from this decorated trio. This year, it is two-time defending state champion Blessed Trinity leading the pack, with Kell coming in at No. 2 and Westminster rounding out the top 3. Wesleyan takes over No. 4 after opening the year with a 22-14 win over No. 7 McIntosh and a 22-6 win over No. 8 St. Pius. No. 5 Starr's Mill won't open its season until Feb. 27, but Marist has earned the No. 6 spot with a 14-0 win over Holy Innocents'.
GIRLS
Class 6A-7A
1. Milton
2. Lassiter
3. North Gwinnett
4. Cambridge
5. Mill Creek
6. Lambert
7. Chattahoochee
8. Kennesaw Mountain
9. Northview
10. Walton
Class A-5A
1. Blessed Trinity
2. Kell
3. Westminster
4. Wesleyan
5. Starr's Mill
6. Marist
7. McIntosh
8. St. Pius
9. Lovett
10. Woodward Academy