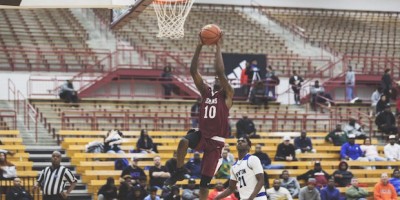 Class 5A No. 1 Warner Robins lost to Class 7A No. 6 Newton on Monday.
McEachern and Norcross again take losses to strong out-of-state competition, but the top three teams don't move in Class AAAAAAA. Peachtree Ridge defeated Collins Hill for the second time this year and shoots ahead of the Eagles. No. 9 Meadowcreek lost to undefeated Morgan County in overtime but earned a 12-point win over Wheeler, which is hanging on at No. 10. No. 6 Newton impressed with a 15-point win over Class AAAAA No. 1 Warner Robins.
The top seven in Class AAAAAA remain the same as last week's ranking, but Bradwell Institute moves one spot ahead of Creekview from No. 9 to No. 8. Despite a loss to Stephenson (just outside the Top 10) to even those teams' season series, Jonesboro stays in the final spot with a bigger win in the series.
Warner Robins reclaimed No. 1 in Class AAAAA after a 65-64 loss to unranked Cedar Shoals dropped Buford to No. 2. Miller Grove retained its spot at No. 3 after holding off No. 4 Southwest DeKalb 63-58 in overtime and defeating No. 5 Lithonia 47-34. Stockbridge's 76-69 win over Woodland-Stockbridge jumped the Eagles to No. 8.
In Class AAAA, defending champion Upson-Lee and No. 2 St. Pius continue their dominance over region competition and one-loss Mary Persons rounds out the top three. No. 4 Americus-Sumter held off No. 5 Carver-Columbus 125-122 in a six-overtime thriller last Friday and wasn't punished for its loss to Westover the next night. The win did, however, extend Westover's winning streak to 11 games, and as a result Westover jumped to No. 6.
Morgan County (17-0) has yet to be dethroned as the top-ranked team in Class AAA. Jenkins is a close contender after beating No. 9 Windsor Forest 61-57. Johnson-Savannah is coming off a 92-77 victory over No. 9 Windsor Forest as well.
Glenn Hills (16-0) is still the team to beat in Class AA. Washington County made the big slide this week after falling to Dodge County 65-59 and Southwest 47-45.
Manchester bested previous second-ranked Central-Talbotton to continue its control of Class A-Public. Calhoun County's 31-point win over Seminole County helped it sneak into this week's No. 2 spot. Lanier County's sound victories over Telfair County and Atkinson County put it in the top three after being ranked No. 4.
St. Francis remains at the No. 1 spot after 79-35 and 70-33 wins over Mt. Paran Christian. Aquinas increased its win streak to seven and remains at the No. 2 spot. Eagle's Landing Christian, which defeated Strong Rock Christian 96-15, checks in at No. 3.
Class AAAAAAA
1. McEachern
2. Pebblebrook
3. Norcross
4. Mountain View
5. Peachtree Ridge
6. Newton
7. Collins Hill
8. Grayson
9. Meadowcreek
10. Wheeler
Class AAAAAA
1. Brunswick
2. Gainesville
3. Langston Hughes
4. Cambridge
5. Tri-Cities
6. Douglas County
7. Lanier
8. Bradwell Institute
9. Creekview
10. Jonesboro
Class AAAAA
1. Warner Robins
2. Buford
3. Miller Grove
4. Southwest DeKalb
5. Lithonia
6. Jackson-Atlanta
7. Villa Rica
8. Stockbridge
9. Eagle's Landing
10. McIntosh
Class AAAA
1. Upson-Lee
2. St. Pius
3. Mary Persons
4. Americus-Sumter
5. Carver-Columbus
6. Westover
7. Cartersville
8. Sandy Creek
9. Salem
10. Baldwin
Class AAA
1. Morgan County
2. Jenkins
3. Johnson-Savannah
4. Greater Atlanta Christian
5. Westside-Macon
6. Cedar Grove
7. Central-Macon
8. Dawson County
9. Windsor Forest
10. Pace Academy
Class AA
1. Glenn Hills
2. Thomasville
3. South Atlanta
4. Laney
5. Dublin
6. Washington County
7. Banks County
8. Bleckley County
9. Swainsboro
10. Elbert County
Class A-Public
1. Manchester
2. Calhoun County
3. Lanier County
4. Central-Talbotton
5. Georgia Military
6. Woodville-Tompkins
7. Pelham
8. Montgomery County
9. Wilcox County
10. Wilkinson County
Class A-Private
1. St. Francis
2. Aquinas
3. Eagle's Landing Christian
4. Christian Heritage
5. Stratford Academy
6. North Cobb
7. Holy Innocents'
8. Walker
9. Lakeview Academy
10. Savannah Christian