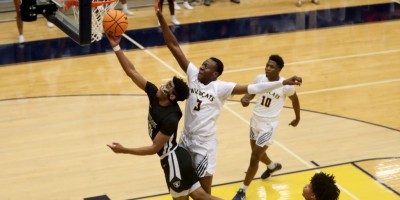 In Class 7A, Pebblebrook rose to No. 1 following an 80-59 win over Newton. The Rams entered the game shorthanded with multiple starters unavailable, but nonetheless dropped to No. 2 following the loss and the fact that Pebblebrook has now won nine-straight games. Also, Archer replaced South Gwinnett at No. 10 following the Comets' 53-51 loss to unranked Parkview. The Class 6A poll shifted with Shiloh and Osborne jumping Buford and sending the Wolves down to No. 4. Also, River Ridge replaced Alexander in the poll and debuts at No. 7 following its 56-55 win over No. 8 Centennial.
In Class 5A, Jonesboro moved up to No. 3 and Tri-Cities fell two slots to No. 5 behind No. 4 Chapel Hill. Jefferson improved to No. 3 in Class 4A and Marist and Druid Hills returned to the poll. Lakeview-Fort Oglethorpe debuted in the poll last week and jumped Groves for No. 9 following its 15-1 start to the season.
The Class 2A poll saw Vidalia climb two slots to No. 5 and Northeast-Macon debuts at No. 10 following Putnam County's four-game losing streak and departure from the poll. In Class A Private, First Presbyterian Day used its eight-game winning streak to debut at No. 9 in place of Heritage. In Class A Public, Warren County jumped Portal for No. 9 and Mitchell County replaced Chattahoochee County at No. 10.
Class 7A
1. Pebblebrook
2. Newton
3. Milton
4. Berkmar
5. North Gwinnett
6. Norcross
7. Grayson
8. McEachern
9. East Coweta
10. Archer
Class 6A
1. Wheeler
2. Shiloh
3. Osborne
4. Buford
5. Westlake
6. Tucker
7. River Ridge
8. Centennial
9. Kell
10. Habersham Central
Class 5A
1. Eagle's Landing
2. St. Pius
3. Jonesboro
4. Chapel Hill
5. Tri-Cities
6. Southwest DeKalb
7. Lithonia
8. Woodland-Stockbridge
9. Walnut Grove
10. Lithonia
Class 4A
1. McDonough
2. Monroe
3. Jefferson
4. Spencer
5. Westover
6. Baldwin
7. Bainbridge
8. Druid Hills
9. Fayette County
10. Marist
Class 3A
1. Sandy Creek
2. Windsor Forest
3. Americus-Sumter
4. LaFayette
5. Salem
6. Cross Creek
7. Thomson
8. Greater Atlanta Christian
9. Lakeview-Fort Oglethorpe
10. Groves
Class 2A
1. Columbia
2. Pace Academy
3. Westside-Augusta
4. Washington County
5. Vidalia
6. Thomasville
7. Butler
8. Rabun County
9. Chattooga
10. Northeast-Macon
Class A Private
1. Greenforest Christian
2. King's Ridge
3. Galloway
4. Mt. Pisgah
5. Christian Heritage
6. Darlington
7. North Cobb Christian
8. Walker
9. First Presbyterian Day
10. Providence Christian
Class A Public
1. Drew Charter
2. Social Circle
3. Dublin
4. Manchester
5. Calhoun County
6. Lanier County
7. Turner County
8. Warren County
9. Portal
10. Mitchell County