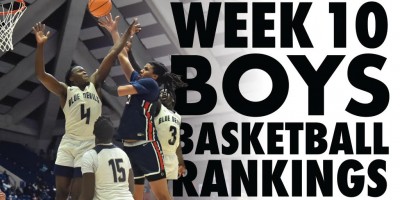 In Class 7A, Wheeler returned to No. 1 and replaced Norcross after the Blue Devils' dropped a 69-57 loss to Pebblebrook. Norcross slid to No. 5 and Pebblebrook ascended to No. 2 from its previous spot at No. 6. The moves also resulted in Grayson falling one slot to No. 3 and Milton moving up in the poll to the new No. 6. Additionally, Cherokee replaced Buford in the poll and comes in at No. 9 following the Warriors' strong 16-2 run this season. In Class 6A, No. 4 Marist made a statement with a 60-38 win over Blessed Trinity and South Paulding replaced the Titans at No. 10 in the poll as a result. Grovetown moved up a spot to No. 6 and Hughes jumped from No. 10 to No. 8.
The Class 5A poll saw Mays and Dutchtown each move up a slot in the poll after Jones County slid from No. 4 to No. 6. In Class 4A, No. 1 McDonough earned a 70-61 win over No. 2 Pace Academy to retain its status as the top team in the classification. The two teams will meet for a rematch at Pace Academy this Saturday.
In Class 3A, Monroe Area moved up to No. 4 and Cedar Grove slid to No. 5 and Dougherty replaced Oconee County at No. 10. In Class 2A, Spencer moved up a spot to No. 4 and the Class A Division I poll saw Woodville-Thompkins replaced Tallulah Falls in the poll and earn the No. 8 spot. Additionally, Social Circle moved up to no. 4 in the Class A Division I poll. In Class A Division II, Chattahoochee County returned to the poll at No. 10 in place of Telfair County.
Class 7A
1. Wheeler
2. Pebblebrook
3. Grayson
4. McEachern
5. Norcross
6. Milton
7. Newton
8. Archer
9. Cherokee
10. Carrollton
Class 6A
1. Alexander
2. Jonesboro
3. Lanier
4. Marist
5. Etowah
6. Grovetown
7. St. Pius
8. Hughes
9. Woodward Academy
10. South Paulding
Class 5A
1. Eagle's Landing
2. Kell
3. Hiram
4. Mays
5. Dutchtown
6. Jones County
7. Chapel Hill
8. Tri-Cities
9. Tucker
10. Lithonia
Class 4A
1. McDonough
2. Pace Academy
3. Southwest DeKalb
4. Bainbridge
5. Madison County
6. North Oconee
7. Fayette County
8. Lovett
9. Westover
10. Miller Grove
Class 3A
1. Sandy Creek
2. Beach
3. Johnson-Savannah
4. Monroe Area
5. Cedar Grove
6. Calvary Day
7. Monroe
8. Cross Creek
9.White County
10. Dougherty
Class 2A
1. Westside-Augusta
2. Columbia
3. Providence Christian
4. Spencer
5. North Cobb Christian
6. Thomson
7. Drew Charter
8. Putnam County
9. Windsor Forest
10. Model
Class A Division I
1. Mt. Vernon
2. Mt. Bethel
3. Mt. Pisgah
4. Social Circle
5. King's Ridge
6. Darlington
7. Woodville-Thompkins
8. Savannah
9. Dublin
10. Paideia
Class A Division II
1. Greenforest Christian
2. Christian Heritage
3. Portal
4. Mitchell County
5. Charlton County
6. Calhoun County
7. Wilkinson County
8. Macon County
9. Manchester
10. Chattahoochee County