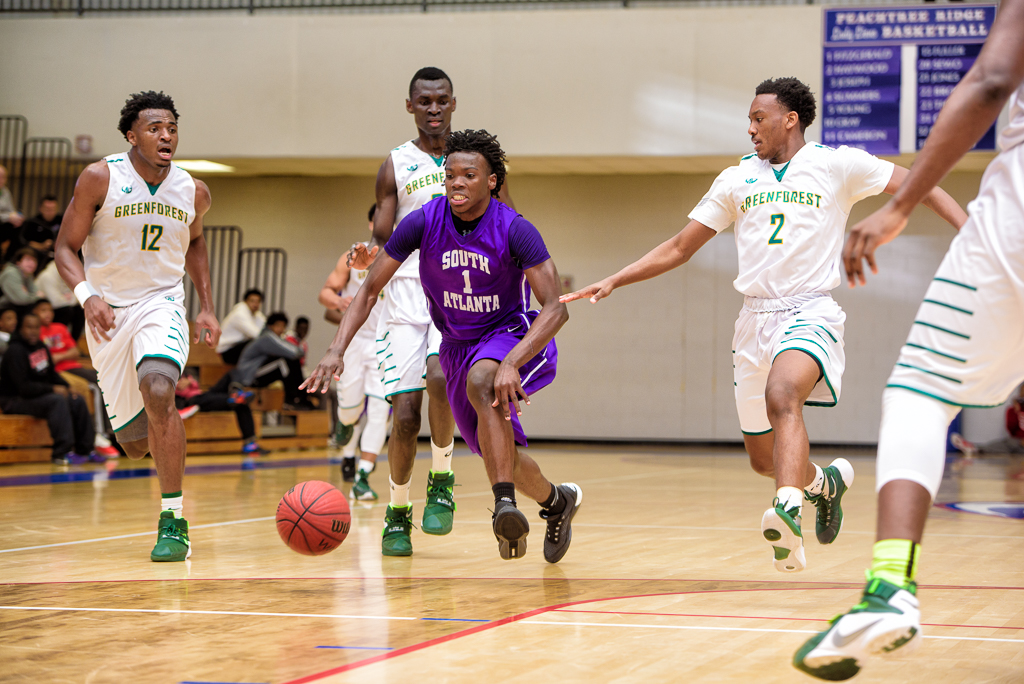 Photo By Ty Freeman
Snow and ice wrecked most of the week's action, but that still didn't stop Class AAAAAA from seeing some major changes. It had been over five years since No. 8 Shiloh had lost back-to-back region games before the Generals were shocked by Central Gwinnett 61-58 on Tuesday. They have now fallen six spots in the past two weeks. No. 5 Newton is the main beneficiary of the movement, as the Rams continue to rise. No. 4 Tift County suffered a major blow with leading scorer and rebounder Preston Horne tearing his ACL and now being out for the year. Fred Lloyd has stepped up in his absence. No. 2 Norcross caught a raw deal because of the weather, having to miss their own tournament the Peachtree Corners Invitational and see its field of games shrink from five games to two and have the tournament be held at St. Pius instead. The Blue Devils did however pick up a big win on Tuesday, surviving at home against Collins Hill (16-3), 50-48, in the process knocking the Eagles out of the top ten. Rayshaun Hammonds once again caused problems for Collins Hill, posting 20 points and 11 rebounds. Kenny Stanciel gave the Eagles a big lift with a career-high 20 points while TeShaun Hightower (3) and Kai Lambert (1) were held to a combined four points. Coming off a 76-74 win over Berkmar, No. 10 Grayson finds itself back in the poll.
Everything went chalk for the most part in AAAAA. No. 8 Warner Robins used a Jacolbey Owens three-pointer at the buzzer to knock off rival Northside-Warner Robins 60-57 and hand Coach Jamaal Garman his 100th career win. No. 10 Effingham County continued to make a statement in Region 3 with a 72-66 win over defending state champion Brunswick. The Pirates had won 9-straight before the loss. No. 3 McIntosh held off Morrow 68-63 behind Jordan Lyons' 25 points. No. 1 Miller Grove's DeKalb County rematch with 4ANo. 2 Lithonia was snowed out and will not be made up.
No. 7 Upson-Lee took care of business against Perry 72-62, to take a share of first-place in Region 2-AAAA and advance its winning streak to 10 games. Senior O'Qualon Harris (17.2 ppg) and sophomore Ty Fagan (17.9 ppg) have powered the Knights this season. No. 9 Worth County earned another good win against Westover, 70-63. Walnut Grove (17-3) slips out of the top ten after a two-game losing streak, the Warriors' most recent loss coming to Henry County 84-68. Replacing them is No. 10 Sandy Creek, who defeated Woodward Academy 70-54 last week.
AAA saw a state title contender emerge as No. 2 South Atlanta led wire-to-wire against 1A-PrivateNo. 1 Greenforest at the Blue Collar Basketball MLK Showcase, earning a 62-57 win. Jenkins falls three spots to No. 5 following a 66-59 loss to Johnson-Savannah, who debuts in the polls at No. 10. No. 4 Laney moves up a spot with an 80-60 beat down of Westside-Augusta, who now tumbles out of the top ten.
Class AA's most dynamic player, Jordan Harris (UGA) of No. 2 Seminole County, went off for 47 points, 12 rebounds, 8 assists, 5 steals, 3 blocks and six three-pointers and six dunks in a 86-62 win over Berrien. Without teammate Anfernee King suited up to play, Harris had no problem taking full control of the game. No. 5 Vidalia lost 62-58 to new No. 10 Swainsboro and falls two slots. Pace Academy now holds the No. 4 ranking and is only one game over .500, but has won 7-straight. GAC just misses staying in the top ten following a 42-39 loss to Pace. No. 7 Dublin has quietly worked its way up the rankings and has won 10-straight.
If there were ever a chance for a team to unseat No. 1 Greenforest in Class A-Private, it would have been after the Eagles loss to South Atlanta, but that did not happen. No. 5 Whitefield Academy finally slayed the dragon that is their arch-nemesis No. 4 St. Francis, 75-73. Isaiah Hart and Brendon Myles had monster games for the Wolf Pack. Hart finished with 37 points, five assists and two blocks while Myles went for 25 points, 14 rebounds and five assists. St. Anne-Pacelli (13-7) finally slips out of the top ten after holding strong the first nine weeks. Losses to Marion County 76-64 and Central-Talbotton 88-79 did the Vikings in. Both they and Hebron (14-6) fall out. The Lions only lasted one week in the poll before being thumped by No. 6 Lakeview Academy 65-48 and Tallulah Falls 67-53. No. 9 King's Ridge and No. 10 Walker make an appearance in the top ten. Walker returns for the first time since Week 3 when it started 5-1. King's Ridge debuts and has played well this year. The Tigers have won 4-straight and still have 7-foot center Tolu Jacobs waiting in the wings to become eligible and potentially change the landscape of A-Private.
In Class A-Public, No. 1 Hancock Central completes its ascension to the top of the state following No. 3 Treutlen's 66-51 loss to No. 7 Calhoun County, knocking the Vikings from their perch. After a 5-5 start, Coach Tasha Kimble's No. 4 Turner County Rebels are red-hot, winning 11 in a row including demolishing Hawkinsville 70-48 and No. 6 Atkinson County 82-46.  The Rebels have won their last five games by an average of 33.8 points. No. 9 Central-Talbotton enters the top ten for the first time following wins over Hawkinsville and St. Anne-Pacelli.
Class AAAAAA
1. Westlake (14-2)
2. Norcross (17-2)
3. Wheeler (15-5)
4. Tift County (19-2)
5. Newton (17-2)
6. Pebblebrook (13-7)
7. McEachern (16-3)
8. Shiloh (14-4)
9. Dacula (14-4)
10. Grayson (16-3)
Class AAAAA
1. Miller Grove (19-2)
2. Allatoona (19-0)
3. McIntosh (17-2)
4. Gainesville (13-4)
5. Cedar Shoals (20-2)
6. Riverwood (20-1)
7. South Paulding (16-3)
8. Warner Robins (13-2)
9. Southwest DeKalb (18-3)
10. Effingham County (18-3)
Class AAAA
1. Jonesboro (17-3)
2. Lithonia (15-4)
3. St. Pius (17-3)
4. Grady (18-2)
5. Liberty County (17-1)
6. Eagle's Landing (19-1)
7. Upson-Lee (16-3)
8. Thomson (14-3)
9. Worth County (15-3)
10. Sandy Creek (14-5)
Class AAA
1. Morgan County (15-4)
2. South Atlanta (16-4)
3. Calhoun (18-0)
4. Laney (18-2)
5. Jenkins (16-3)
6. Central-Macon (18-2)
7. Westminster (17-2)
8. Callaway (11-3)
9. Banks County (18-2)
10. Johnson-Savannah (15-5)
Class AA
1. Thomasville (20-1)
2. Seminole County (15-4)
3. Crawford County (17-2)
4. Pace Academy (9-8)
5. Vidalia (18-3)
6. Lovett (13-4)
7. Dublin (17-3)
8. Chattooga (19-1)
9. Holy Innocents' (14-5)
10. Swainsboro (12-6)
Class A-Private
1. Greenforest (18-2)
2. North Cobb Christian (15-3)
3. SWAC (12-8)
4. St. Francis (13-7)
5. Whitefield Academy (13-7)
6. Lakeview Academy (17-4)
7. Our Lady of Mercy (14-3)
8. Stratford Academy (13-4)
9. King's Ridge (12-5)
10. Walker (12-5)
Class A-Public
1. Hancock Central (13-4)
2. Wilkinson County (14-5)
3. Treutlen (16-2)
4. Turner County (16-5)
5. Taylor County (14-6)
6. Atkinson County (15-4)
7. Calhoun County (12-8)
8. Randolph-Clay (15-7)
9. Central-Talbotton (13-8)
10. Lincoln County (11-5)