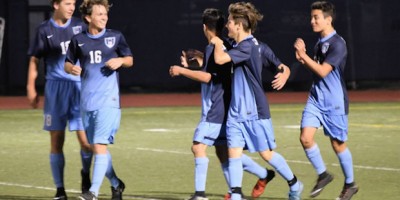 Courtesy of Cambridge HS
Walton leads the state's highest classification and is riding an eight-game winning streak into the playoffs. No. 2 Norcross took a 2-0 victory over Duluth to close its regular season ahead of No. 3 Grayson, No. 4 Lambert and No. 5 Collins Hill.
Top-ranked Cambridge has not lost since March 16, and since then the Bears have won five straight including a 3-1 victory over Chattahoochee to close their regular season. No. 2 Dalton is coming off a 4-0 victory over Southeast Whitfield on April 20 as it moves into the playoffs.
Cross Keys takes the No. 1 ranking this week as it hasn't lost since its opening game on Feb. 9. Since then Cross Keys has tied once, on Feb. 13, before reeling off 15 victories in a row. No. 2 Decatur got back on track with a 2-1 victory over Woodward Academy after a 1-1 tie with Blessed Trinity. Carrollton, Johnson-Gainesville and McIntosh round out the top five.
Top-ranked Marist is the team to beat entering the playoffs. Following its 2-1 loss to Woodward Academy on April 6, Marist has won two games, a 7-2 victory over Cristo Rey Atlanta Jesuit and a 3-1 victory over St. Pius. No. 2 Woodward, No. 3 Chestatee, No. 4 Druid Hills and No. 5 Southeast Whitfield round out the top five.
Westminster is poised for yet another soccer title as the Wildcats lead Class AAA again this week. Westminster has won 17 games, lost none and tied once on the season. No. 2 Windsor Forest, No. 3 East Hall, No. 4 North Murray and No. 5 Savannah Arts are chasing.
Putnam County is No. 1 in Class AA with defending champion Benedictine a close second. Putnam has won eight games in a row following its 2-2 tie to First Presbyterian on Feb 28. No. 2 Benedictine is coming off a 2-0 victory over Effingham County to close its regular season. Harlem, Thomasville and Model round out the top five.
Top-ranked Atlanta International has not lost since falling to Whitefield Academy on Feb. 22. Since then, Atlanta International tied once before winning 10 games in a row. No. 2 Paideia is coming off a 6-0 victory over Holy Innocents' and a 5-0 victory over Weber. Defending champion Whitefield Academy is ranked third with Pinecrest Academy and Athens Academy rounding out the top five.
Class AAAAAAA
1. Walton
2. Norcross
3. Grayson
4. Lambert
5. Collins Hill
6. South Forsyth
7. Lakeside-DeKalb
8. Roswell
9. Hillgrove
10. Pebblebrook
Class AAAAAA
1. Cambridge
2. Dalton
3. Gainesville
4. Chattahoochee
5. Alpharetta
6. Sprayberry
7. Dacula
8. Greenbrier
9. Allatoona
10. Glynn Academy
Class AAAAA
1. Cross Keys
2. Decatur
3. Carrollton
4. Johnson-Gainesville
5. McIntosh
6. Clarkston
7. Clarke Central
8. Rome
9. Veterans
10. Starr's Mill
Class AAAA
1. Marist
2. Woodward Academy
3. Chestatee
4. Druid Hills
5. Southeast Whitfield
6. Blessed Trinity
7. Upson-Lee
8. Columbus
9. Northwest Whitfield
10. Richmond Academy
Class AAA
1. Westminster
2. Windsor Forest
3. East Hall
4. North Murray
5. Savannah Arts
6. Greater Atlanta Christian
7. Lovett
8. Stone Mountain
9. Coahulla Creek
10. Calhoun
Class AA
1. Putnam County
2. Benedictine
3. Harlem
4. Thomasville
5. Model
6. Jefferson County
7. Pepperell
8. Westside-Augusta
9. Lamar County
10. Callaway
Class A
1. Atlanta International
2. Paideia
3. Whitefield Academy
4. Pinecrest Academy
5. Athens Academy
6. Wesleyan
7. Savannah Country Day
8. Brookstone
9. St. Anne-Pacelli
10. Fellowship Christian