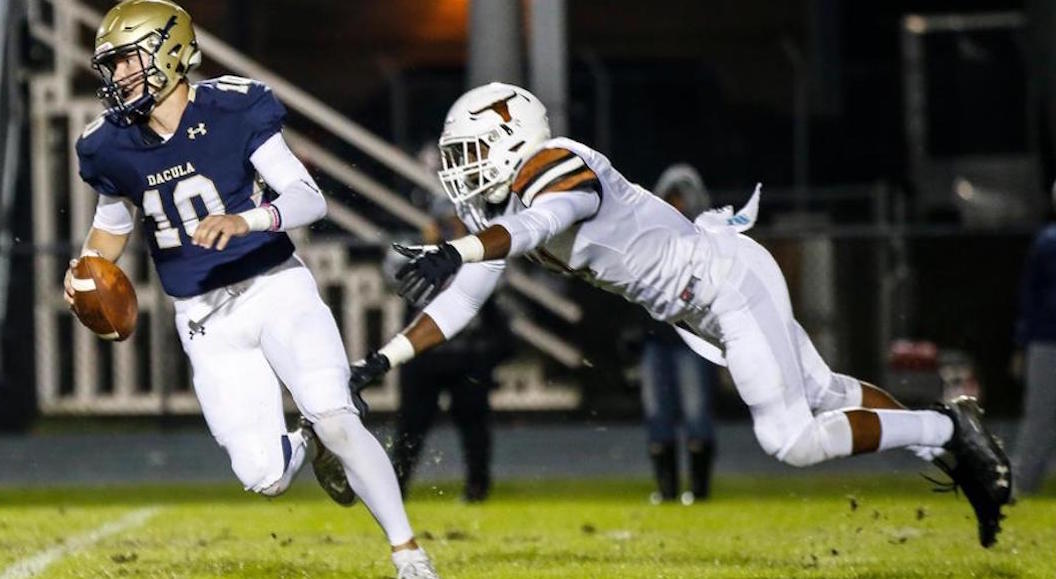 Top-ranked Lowndes moved to 8-0 with its 28-0 win over Tift County on Friday. No. 2 McEachern held off Marietta 14-12, and sent the Blue Devils down from No. 5 to No. 7 with the defeat. North Gwinnett moved up to No. 5 in this week's poll after a strong showing in its 23-8 win over Collins Hill.
In Class AAAAAA, No. 1 Dacula scored a 43-0 win over Apalachee to remain unbeaten. Also, Dalton was replaced in the poll with Mays, who is debuting at No. 10.
In Class AAAAA, Buford leads a top-5 that did not shift. Kell fell from No. 7 to No. 9 and Ware County entered at No. 10 after Bainbridge fell out.
In Class AAAA, Carver-Columbus replaced Denmark and makes its debut at No. 10. In Class AAA, Hart County fell out of the top-10 after a loss to Monroe Area this week, 28-21. Liberty County also fell from No. 5 to unranked after a loss to then-No. 6 Appling County. This freed up space for No. 9 North Murray and No. 10 Jenkins to enter the fray.
Rockmart is at the top of Class AA again this week. Union County climbed from No. 9 to No. 7 with a 14-7 victory over Banks County. Fitzgerald fell from No. 7 to No. 10 after a loss to Thomasville 20-14.
Aquinas fell from No. 6 to No. 10 this week in Class A-Private after an overtime loss to Hancock Central 22-14 to mark the biggest shift in this week's poll. Christian Heritage moved up one spot to No. 9. North Cobb Christian moved from No. 9 to No. 8 and Wesleyan climbed from No. 8 to No. 6.
Class AAAAAAA
1. Lowndes
2. McEachern
3. Colquitt County
4. Grayson
5. North Gwinnett
6. Hillgrove
7. Marietta
8. Parkview
9. Archer
10. Camden County
Class AAAAAA
1. Dacula
2. Valdosta
3. Harrison
4. Lee County
5. Lanier
6. Coffee
7. Johns Creek
8. Allatoona
9. South Paulding
10. Mays
Class AAAAA
1. Buford
2. Jones County
3. Carrollton
4. Dutchtown
5. Warner Robins
6. Rome
7. Wayne County
8. Veterans
9. Kell
10. Ware County
Class AAAA
1. Marist
2. Cartersville
3. Woodward Academy
4. Blessed Trinity
5. Sandy Creek
6. Flowery Branch
7. Burke County
8. North Oconee
9. Oconee County
10. Carver-Columbus
Class AAA
1. Peach County
2. Cedar Grove
3. Pierce County
4. Greater Atlanta Christian
5. Appling County
6. Crisp County
7. Jefferson
8. Lovett
9. North Murray
10. Jenkins
Class AA
1. Rockmart
2. Dublin
3. Hapeville Charter
4. Callaway
5. Rabun County
6. Swainsboro
7. Union County
8. Bleckley County
9. Washington County
10. Fitzgerald
Class A-Private
1. Athens Academy
2. Holy Innocents'
3. Darlington
4. Eagle's Landing Christian
5. Fellowship Christian
6. Wesleyan
7. Prince Avenue Christian
8. North Cobb Christian
9. Christian Heritage
10. Aquinas
Class A-Public
1. Irwin County
2. Clinch County
3. Pelham
4. Wilcox County
5. Mitchell
6. Bowdon
7. Commerce
8. Lincoln County
9. Manchester
10. Turner County