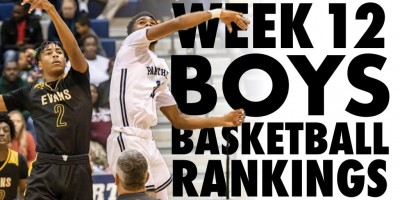 In Class 7A, No. 1 ranked Wheeler maintained its perfect in-state record on Monday with a 79-60 win over Newton in a nationally-televised showcase. South Gwinnett moved up from No. 10 to No. 8 with its 65-55 win over Parkview, Cherokee fell from No. 9 to No. 10 and Buford returned to the poll at No. 9 after Carrollton dropped out after suffering a 58-51 loss to Westlake. Grovetown moved up from No. 6 to No. 4 in Class 6A and Woodward Academy also jumped two slots to No. 6. Additionally, South Paulding replaced Lee County at No. 10 and returned to the poll with its 18-6 record.
The Class 5A poll saw Tri-Cities move up from No. 6 to No. 4 ahead of No. 5 Mays and No. 6 Dutchtown and Maynard Jackson and Winder-Barrow debuted in the poll after replacing Lithonia and Jones County. Westside-Macon replaced Lovett at No. 8 after the Lions dropped a slot to No. 9.
Johnson-Savannah used an emphatic 76-50 win over Beach to take over No. 1 in Class 3A—sending Sandy Creek down to No. 2 and Beach down two slots to No. 4 behind No. 3 Monroe Area and Calvary Day fell two spots to No. 10. Drew Charter replaced Providence Christian at No. 5 in Class 2A and Mt. Vernon returned to No. 1 in Class A Division I after scoring a 61-46 win over formerly top-ranked Mt. Bethel. Also, Darlington moved up to No. 5 after stacking up a 21-3 overall record. Additionally, in Class A Division II Macon County moved up from No. 8 to No. 5 after extending its win-streak to 20-straight games.
Class 7A
1. Wheeler
2. McEachern
3. Newton
4. Grayson
5. Norcross
6. Pebblebrook
7. Archer
8. South Gwinnett
9. Buford
10. Cherokee
Class 6A
1. Alexander
2. Jonesboro
3. Lanier
4. Grovetown
5. Etowah
6. Woodward Academy
7. Marist
8. St. Pius
9. Hughes
10. South Paulding
Class 5A
1. Kell
2. Eagle's Landing
3. Hiram
4. Tri-Cities
5. Mays
6. Dutchtown
7. Tucker
8. Chapel Hill
9. Winder-Barrow
10. Maynard Jackson
Class 4A
1. McDonough
2. Pace Academy
3. Southwest DeKalb
4. Bainbridge
5. Madison County
6. North Oconee
7. Fayette County
8. Westside-Macon
9. Lovett
10. Westover
Class 3A
1. Johnson-Savannah
2. Sandy Creek
3. Monroe Area
4. Beach
5. Cedar Grove
6. Cross Creek
7. Monroe
8. Wesleyan
9.  Dougherty
10. Calvary Day
Class 2A
1. Westside-Augusta
2. Columbia
3. Spencer
4. North Cobb Christian
5. Drew Charter
6. Putnam County
7. Providence Christian
8. Windsor Forest
9. Thompson
10. Butler
Class A Division I
1. Mt. Vernon
2. Mt. Bethel
3. Mt. Pisgah
4. Social Circle
5. Darlington
6. King's Ridge
7. Paideia
8. Dublin
9. Woodville-Thompkins
10. Savannah
Class A Division II
1. Greenforest Christian
2. Christian Heritage
3. Portal
4. Wilkinson County
5. Macon County
6. Calhoun County
7. Manchester
8. Mitchell County
9. Charlton County
10. Chattahoochee County