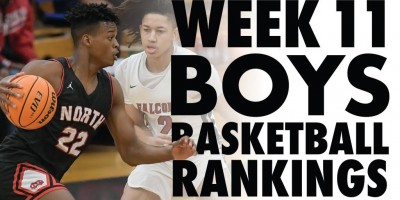 In Class 7A, Wheeler is holding on strong to the top spot with a 13-6 record that contains no in-state losses. The Wildcats are 5-0 in Region 5 and picked up their fourth-straight victory last Friday in a 68-61 win over North Cobb. McEachern used its eight-game win-streak to move up from No. 4 to No. 2 and Newton moved up four slots to No. 3. After Pebblebrook's 75-72 loss to Westlake sent the Falcons down to No. 6. Milton's three-game losing streak sent the Eagles out of the poll and South Gwinnett makes its debut at No. 10 with a 14-7 overall record.
In Class 6A, Lee County replaced South Paulding in the poll and debuts at No. 10 after a strong 21-2 start to the season. Additionally, No. 9 Hughes scored a 73-58 win over South Paulding to fuel their exit. Eagle's Landing (21-1) dropped its first game of the season to Dutchtown (54-52) in Class 5A and Kell takes over No. 1 as a result. Eagle's Landing comes in at No. 2 and Dutchtown's win lifted the Bulldogs one spot to No. 4. Jones County fell to No. 10 after a recent skid.
Class 4A No. 1 McDonough split its regular season series with No. 2 Pace Academy following last Friday's loss, but retains the top spot. No. 4 Bainbridge picked up a 55-47 win over No. 10 Westover last Friday and remains unbeaten within Class 4A with its 21-1 overall record. No. 3 Southwest DeKalb is also undefeated in Class 4A with its to losses coming to Eagle's Landing and Columbia and the Panthers ride a five-game win-streak to fuel their 17-2 overall record. Also, Westside-Macon replaced Miller Grove at No. 9 after the Wolverines' 53-48 road loss to Druid Hills last Friday.
In Class 3A, Monroe Moved up a spot to No. 6, Wesleyan replaced White County at No. 9 and Cross Creek climbed a slot to No. 7. The Class 2A poll saw Spencer replace Providence Christian at No. 3 and Putnam County climb to No. 7. Additionally, Butler re-entered the poll at No. 10 in place of Model. Mt. Bethel used its five-game win-streak to take over No. 1 in Class A Division I and formerly to-ranked Mt. Vernon fell to No. 2 ahead of their Region 6 showdown this Friday at Mt. Bethel. Finally, in Class A Division II Calhoun County and Charlton County shifted up to No. 4 and No. 5, respectively.
Class 7A
1. Wheeler
2. McEachern
3. Newton
4. Norcross
5. Grayson
6. Pebblebrook
7. Archer
8. Carrollton
9. Cherokee
10. South Gwinnett
Class 6A
1. Alexander
2. Jonesboro
3. Lanier
4. Marist
5. Etowah
6. Grovetown
7. St. Pius
8. Woodward Academy
9. Hughes
10. Lee County
Class 5A
1. Kell
2. Eagle's Landing
3. Hiram
4. Dutchtown
5. Mays
6. Tri-Cities
7. Tucker
8. Chapel Hill
9. Lithonia
10. Jones County
Class 4A
1. McDonough
2. Pace Academy
3. Southwest DeKalb
4. Bainbridge
5. Madison County
6. North Oconee
7. Fayette County
8. Lovett
9. Westside-Macon
10. Westover
Class 3A
1. Sandy Creek
2. Beach
3. Johnson-Savannah
4. Monroe Area
5. Cedar Grove
6. Monroe
7. Cross Creek
8. Calvary Day
9. Wesleyan
10. Dougherty
Class 2A
1. Westside-Augusta
2. Columbia
3. Spencer
4. North Cobb Christian
5. Providence Christian
6. Drew Charter
7. Putnam County
8. Windsor Forest
9. Thomson
10. Butler
Class A Division I
1. Mt. Bethel
2. Mt. Vernon
3. Mt. Pisgah
4. Social Circle
5. King's Ridge
6. Darlington
7. Padeia
8. Dublin
9. Woodville-Thompkins
10. Savannah
Class A Division
1. Greenforest Christian
2. Christian Heritage
3. Portal
4. Calhoun County
5. Charlton County
6. Mitchell County
7. Wilkinson County
8. Macon County
9. Manchester
10. Chattahoochee County