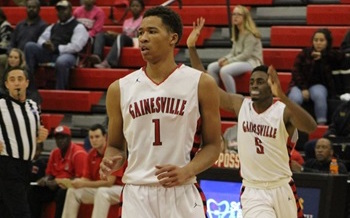 Gainesville has roared to 15 straight wins and the 6A No. 1 spot.
The top four from our last poll stay the same in Class AAAAAAA, but Peachtree Ridge jumps Mountain View after a head-to-head win. Grayson also falls from No. 7 to No. 9 after losing to 10-13 Shiloh. Meadowcreek just missed an upset over Norcross as the Mustangs fell by a point. Collins Hill also lost a close one to Mountain View, by three points. Wheeler keeps its hold on the final spot despite an 11-point loss to Pebblebrook on the last Friday of the regular season.
In Class AAAAAA, Gainesville extends its winning streak to 15 heading into the final week of the regular season. Cambridge moves up to No. 3 with Brunswick's surprising loss to Liberty County, and Bradwell Institute and Jonesboro also rise in the rankings. Tri-Cities falls from No. 6 to out of the rankings with losses to New Manchester and Douglas County. Stephenson and South Cobb enter the Top 10 at No. 8 and No. 10, respectively.
In Class AAAAA, Eagle's Landing jumped two spots to No. 4 and Columbia's 59-39 win at Lithonia on Jan. 23 was enough to lock the Eagles in at No. 5. Clarke Central replaced Jackson in the poll and makes its debut at No. 10.
Upson-Lee holds down No. 1 in Class AAAA with its flawless 24-0 record, while St. Pius remains solid at No. 2. Americus-Sumter's strong run in Region 1 has the Panthers at No. 3 and Baldwin beat out No. 5 Sandy Creek for No. 4.
Entering the region tournaments, Morgan County is the team to beat after dropping just one game all season. Two Savannah schools are vying for the top spot in No. 2 Johnson and No. 3 Jenkins. GAC's 14-game win streak has them in the fourth spot at the end of the regular season.
Glenn Hills holds the top spot entering the Region Tournaments with a new No. 2, Dublin, making its debut at the top. Laney is third and Thomasville debuts in the top five at fourth. South Atlanta fell to fifth in this week's poll.
Manchester continues to dominate since taking over the No. 1 spot in Week 7. Lanier County's 61-50 loss to Clinch County drops it out of the top three, making way for Woodville-Tompkins to take the No. 3 spot. Wilkinson County launched itself to the No. 5 spot after solid wins against Stratford Academy and Macon County.
St. Francis continues to have control of Class A-Private, remaining undefeated in the region. Eagle's Landing Christian suffered a 69-56 loss to No. 8 Greenforest, making way for North Cobb Christian to sneak into the No. 2 spot. Aquinas suffered a 53-43 loss to Georgia Military. Stratford Academy's 57-38 loss to Wilkinson County moves it down to the No. 7 spot.
Class AAAAAAA
1. McEachern
2. Pebblebrook
3. Norcross
4. Newton
5. Peachtree Ridge
6. Mountain View
7. Meadowcreek
8. Collins Hill
9. Grayson
10. Wheeler
Class AAAAAA
1. Gainesville
2. Langston Hughes
3. Cambridge
4. Bradwell Institute
5. Jonesboro
6. Brunswick
7. Douglas County
8. Stephenson
9. Creekview
10. South Cobb
Class AAAAA
1. Buford
2. Warner Robins
3. Miller Grove
4. Eagle's Landing
5. Columbia
6. Lithonia
7. Statesboro
8. Stockbridge
9. Villa Rica
10. Clarke Central
Class AAAA
1. Upson-Lee
2. St. Pius
3. Americus-Sumter
4. Baldwin
5. Sandy Creek
6. Mary Persons
7. Salem
8. Carver-Columbus
9. Westover
10. Cartersville
Class AAA
1. Morgan County
2. Johnson-Savannah
3. Jenkins
4. Greater Atlanta Christian
5. Cedar Grove
6. Central-Macon
7. Westside-Macon
8. Windsor Forest
9. Pace Academy
10. Pierce County
Class AA
1. Glenn Hills
2. Dublin
3. Laney
4. Thomasville
5. South Atlanta
6. Chattooga
7. Swainsboro
8. Therrell
9. Elbert County
10. Dodge County
Class A-Public
1. Manchester
2. Calhoun County
3. Woodville-Tompkins
4. Lanier County
5. Wilkinson County
6. Georgia Military
7. Macon County
8. Central-Talbotton
9. Montgomery County
10. Pelham
Class A-Private
1. St. Francis
2. North Cobb Christian
3. Aquinas
4. Eagle's Landing Christian
5. Christian Heritage
6. Holy Innocents'
7. Stratford Academy
8. Greenforest
9. Lakeview Academy
10. Walker