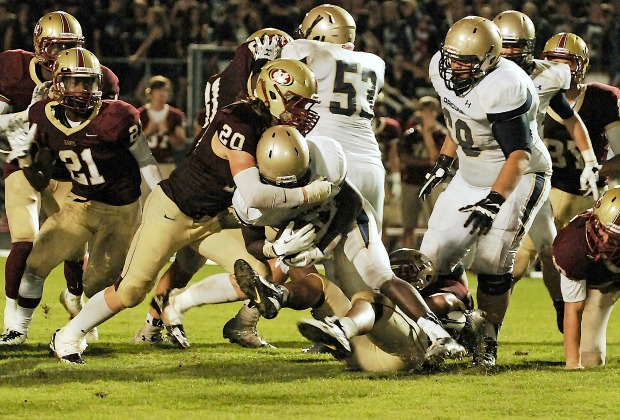 Photo by Sonny Kennedy
In a do-or-die game to capture the fourth and final playoff spot in Region 7-AAAAAA, visiting Norcross defeated Collins Hill 20-17 in overtime after the Blue Devils blocked a 46-yard field goal attempt. Blake Bingham's 23-yard field goal on the first possession of OT was the game winner, leaving Collins Hill fifth in the region and out of the postseason. Norcross, the defending two-time Class AAAAAA state champions, was down 17-0 at halftime but got on the scoreboard in the third quarter when Griffin Barker found Jared Pinkney on a four-yard touchdown pass. A Bingham field goal later in the third cut it to 17-10, and a six-yard touchdown run from Necholas Sermons early in the fourth quarter tied the game.
Alpharetta 34, North Forsyth 14: Austin King threw three touchdown passes in the first half to pace host Alpharetta to an early 20-0 lead. King found James Marbaugh for two of the touchdown passes and connected with senior wideout Rustin Suter on a 60-yard catch and score. North Forysth's first score was answered with a Lemuel Cobbs touchdown run and Cam Adams added a fourth quarter touchdown to make it a 34-7 Alpharetta lead.
Archer 49, Brookwood 31: Gabe Tiller completed 13 of 16 passes for 295 yards and five touchdowns as visiting Archer amassed 514 yards of total offense at Brookwood's expense. The Tigers briefly trailed 14-7 in the second quarter but took a 28-14 lead by halftime. Tiller's scoring strikes went to Dylan Singleton, Sloan Huff, Kyle Davis and two to Jamyest Williams. Tiller tossed all five of his touchdowns in the first three quarters before Singleton capped off Archer's scoring with a 30-yard run in the fourth. This was the last game for retiring Brookwood head coach Mark Crews.
Dacula 35, Parkview 0: Host Dacula opened its scoring with a 96-yard touchdown run by Kelan Fraise and quarterback Giovanni Lugo threw a touchdown pass to Jonathan Gant before the half to fuel a 21-0 lead. In the third quarter, Ty Harris recovered a blocked punt for a Dacula touchdown and Fraise ran in another touchdown with six minutes left to push the lead to 35-0 and force a running clock in the final quarter.
Duluth 41, Meadowcreek 26: In a battle of one win teams, the visiting Wildcats were able to claw their way to win number two to end the season. Duluth led 13-7 heading into the second quarter in what looked to be a close game throughout; Thad Bell however, had other ideas. Bell tossed a pair of touchdowns in the second quarter and had four passing touchdowns heading into the half up 28-7. Bell kept the pedal to the metal and threw another touchdown making it five on the night as the Wildcats cruised into the fourth up 34-14 running away with the game.
Etowah 40, Walton 13: Etowah jumped to a 26-7 lead at the half after outgaining host Walton 390 to114 in total yardage. Etowah's Stanlee Logue scored his second rushing touchdown in the second half and Trey Moore extended the lead to 40-13 with a 7-yard touchdown run. Tyray Devezin and Robbie Knox each ran in Etowah touchdowns and Knox tossed a touchdown pass to tight end Patrick Oliver before the half.
Hughes 28, Newnan 22: Hughes' Montavious Atkinson returned the opening kickoff for a touchdown and visiting Newnan trailed 19-7 at the half. A JK Britt touchdown run and Bailey Bryant touchdown pass to Frankie Williams briefly put Newnan ahead 22-19 but Hughes rallied back and Daryl Weems forced a safety that pushed Hughes' lead to 28-22 and kept the football out of Newnan's possession. Isaiah Green paced Hughes with a rushing touchdown and a passing touchdown to Kenyan Houston.
Lambert 40, South Forsyth 7: Lambert got off to a slow start but outscored visiting South Forsyth 34-0 in the second half to secure the second seed out of Region 6-AAAAAA. Trevor O'Brien rushed for two scores and threw a halfback pass to Tanner Hall for another touchdown. The Longhorns also got a scoring run from Hunter Shepherd and a touchdown pass from Drew Cole to Eric Kohlins. The defense's shutout effort in the second half included an interception return for a score by Patrick Noble.
Marietta 38, Harrison 35: The visiting Blue Devils escaped Harrison with a win after rallying late and playing without running back Kirvonte Benson who was lost to injury late in the first half. Brenton Martin hit Benson on a 35-yard touchdown pass to tie the score at seven in the first quarter. Benson broke off a 40-yard touchdown run to re-tie the game at 14 in the second quarter, but later got injured and did not return. Martin found Jordan Dukes from 21 yards out to give Marietta a 21-14 halftime lead. Ian Shannon added a 46-yard field goal early in the third to go up 24-14. Harrison came roaring back to take the lead 28-24 heading into the final frame. The Hoyas held onto a 35-31 lead in the fourth quarter, but Brenton Martin was able to lead the Devils down the field and grab the victory 38-31.
Milton 35, Wheeler 9: Running back Micco Brisker carried the load in the first half for visiting Milton, scoring three touchdowns as the Eagles built a 21-3 lead over Wheeler. Another Brisker score, his fourth of the game, combined with an 85-yard touchdown pass from quarterback Austin McCloud to Obi Fortune sealed the deal as Milton clinched their first region title since 1952. McCloud had a flawless night passing as he completed 5-of-5 for 118 yards and a touchdown.
Shiloh 14, South Gwinnett 3: Visiting South Gwinnett gained the early lead following a 31-yard field goal, but Shiloh answered with a touchdown reception by Cameron Stewart to go into halftime leading 6-3. Running back Charles Shavers would cap off a tremendous performance with a four-yard touchdown run to seal the Shiloh victory. Shavers finished with 150 yards rushing. Stewart caught three passes in the contest for 99 yards on his way to setting a school record for receiving yards in a season with 1,060. Shiloh totaled over 400 yards of offense but had trouble scoring once reaching the South Gwinnett red zone
Westlake 42, Campbell 8: Westlake trailed 8-7 in the first quarter but ended the game by scoring 35 unanswered points to overwhelm host Campbell. Dakota Rocker had an 18-yard touchdown scamper and tossed scoring strikes to Ronnie Blackmon, Hasaan Patterson and Malik Willis. The Lions kicked off the scoring with a four-yard touchdown run by Jorden Thomas and they got a 33-yard touchdown on the ground from Justin Broughton in the third quarter.
CLASS AAAAA
Alexander 35, New Manchester 26: Caleb Freeman rushed for 148 yards on 30 carries and scored two touchdowns as Alexander knocked off visiting New Manchester. Alexander quarterback Baylor Whitfield went 22-of-34 for 289 yards and two touchdowns. Whitfield also ran for a score. Isaac Zico caught 9 balls for 150 yards while Mikell Lands-Davis caught eight for 109 yards and one score. New Manchester ran for 197 yards and two scores in the loss. Jaguar quarterback Tabashi Thomas threw for 195 yards and two touchdowns.
Gainesville 49, Flowery Branch 7: A three-man scoring trio overpowered host Flowery Branch. Mikey Gonzalez threw four touchdown passes with two going to Chris Williamson. Williamson scored on receptions of 57 yards, 53 yards, and also a 1-yard run. Michael Byrd scored on runs of one yard, 45 yards and also caught a four-yard touchdown from Gonzalez. Rodney Lackey caught a four-yard touchdown from Gonzalez. The Falcons' lone score came from a Jeremiah Goss run.
Jones County 31, Warner Robins 21: Bradley Hunnicutt completed two touchdown passes to lead Jones County past Warner Robins and into the state playoffs. Hunnicutt completed a 28-yard touchdown pass to Nygel Lewis and a 56-yarder to Nick Singleton in the third quarter that put Jones County ahead for good. The Greyhounds also got a 16-yard touchdown run from Chandler Ramage, a one-yard touchdown run from David Price and 26-yard field goal from Wade Carr. Warner Robins got touchdown runs from Jacquan Burns (23 yards), Terry Harris (seven yards) and Ivan Corbin (19 yards). Corbin's run, coming with 7:54 remaining in the third quarter, tied the game at 21.
Mays 29, Miller Grove 6: Asahnia Aderhold threw a 44-yard touchdown pass to Tyshawn Brown and rushed for a 12-yard score for host Mays. Charlie Patrick led the Raiders on the ground with 15 carries for 110 yards and a three-yard touchdown, and Kesselly Tyler added 27 yards rushing and an eight-yard touchdown run. Shiheem Rutherford, Juwan Williamson and Bobby Spence each had an interception for Mays.
Northgate 31, Luella 6: Behind three Kyle Cater touchdowns, Northgate shook off a slow start to defeat Luella in a cross-over game. The first of Cater's three scores came with 6:08 left in the first half on a three-yard run to give the host Vikings a 7-0 lead. James Skalski booted a 40-yard field goal to make it 10-0 at the half. Cater added a pair of two yard touchdown runs in the second half and Ton Evans tacked on a 24-yard rushing score to close out the game.
Northside-Warner Robins 34, Houston County 33: Northside scored two touchdowns in the final 5:04 to come from behind and defeat cross-county rival Houston County. The difference came after Houston County missed a point-after kick following Kory Engram's 21-yard touchdown run with 10:07 remaining in the game. Northside's Willie Jordan scored the game-winning touchdown with 49 seconds remaining. Justin Alonso, who had field goals of 34 and 33 yards, added the game-winning PAT. Northside's comeback offset a strong performance by Houston County quarterback Jake Fromm who had three touchdown passes — 71 yards to Darion Anderson and 15 and 43 yards to Kenny Gant. Northside quarterback Tobias Oliver also had a good night with touchdown passes of 43 yards to Jurmon Weaver and 11 yards to T.J. Anderson. Houston County kicker Jordan Strevig also had two field goals of 23 and 24 yards.
Paulding County 40, Lithia Springs 15: Marquis Tre'von Lewis helped Paulding County clinch its first non-losing record in 11 years, finishing at 5-5. The visiting Patriots racked up 447 yards of total offense. Lewis went 14 of 20 for 228 yards and 2 touchdowns while also rushing for 94 yards and one score. Mike Lovejoy II was Lewis' main target catching five balls for 113 yards and two touchdowns. Dionte Ruffin caught a 58-yard touchdown on the night.
Stockbridge 53, Drew 26: Stockbridge captured with Region 4-AAAAA championship after beating Drew. Artemus Mitchell carried the ball four times for 123 yards and three touchdowns in the first seven minutes of the third quarter, turning the Tigers 19-13 lead into a 39-13 advantage. Mitchell finished with 220 yards rushing on 21 carries and five rushing scores. He also added a two-yard touchdown on a pass reception. Drew finished with the No. 2 seed in the region.
Villa Rica 14, East Paulding 10: Defense saved the ball game for the visiting Wildcats. Holding a tight 14-10 lead with under a minute remaining, Malik Thompson sealed the game with an interception, the third turnover of the ball game for East Paulding, as Villa Rica was able to wind down the rest of the clock. Yassar El-Amin was on the receiving end of both Wildcat touchdowns by quarterback Noah Smith, including one for 75 yards as the wideout recorded five catches for 150 yards. Villa Rica outgained the Raiders in total yardage 230-194.
CLASS AAAA
Buford 56, Stephens County 0: Visiting Buford scored three times in the first three minutes of the game to set the tone. Quarterback Luke Humphrey went 7-of-8 for 116 yards and three touchdowns. Shug Frazier returned a fumble 13 yards as a part of three first-quarter turnovers that were cashed in for points. Josh Thomas and Martin Mangram added rushing scores of 17 yards and 28 yards. Brett Shepherd, Isaac Nauta, and Aaron Auer all caught touchdowns. Xavier Gantt scored on a 91-yard kick return and Anthony Grant pitched in a rushing score.
Eagles Landing 43, Spalding 36: Trailing 30-18 going into the fourth quarter, the host Eagle's Landing exploded with a 25-point final frame behind the right arm of Mac McDonald. The Eagles quarterback passed for four touchdowns in the quarter with his final one being a 70-yard strike to Andy Constant for the 37-36 lead with 2:27 remaining. However, Spalding looked to answer with a winning score on the following possession but a pick-six by Anthaun Sherrod capped off the ball game. The quarterback McDonald completed 19-of-29 for 380 yards and six touchdowns in the high-scoring affair. The Spalding offense finished with 281 total yards in the ballgame but had five turnovers.
Griffin 48, Eastside 28: Defending Class AAAA champion Griffin captured the Region 4-AAAA title at Eastside. The Bears faced deficits of 14-0 and 21-7 but scored 29 unanswered points to take control midway through the third quarter. Malik Miller rushed 31 times for 310 yards and two touchdowns and he also threw for a score on a halfback pass to Keyston Fuller. More traditional touchdowns through their air went from quarterback Tylan Morton to Fuller and from Morton to Chris Owens from 51 yards out in the second quarter.
Locust Grove 14, Jonesboro 13: Caleb Huntley ran for 92 yards on 15 carries helping Locust Grove knock off Jonesboro in a tight game.  Champ Leddon scored on a 39-yard run and quarterback Cameron Maddox added a one-yard run to give the Wildcats their only scores of the game coming in the first quarter. The Cardinals inched closer after a 12-yard touchdown pass to James Walker Jr. cut the lead to 14-7 heading into the half. Calvin Durham totaled 11 tackles and one sack in the win as Locust Grove held on.
St. Pius 45, Redan 13: St. Pius outgained Redan by a total of 457 to 36 yards and did all of its scoring in the first half as the visiting Golden Lions coasted to a victory. Reed Egan completed just two passes, but both went for touchdowns—one to Cameron Fannin and another to Grant Holloman. Joey Connors carried twice for 92 yards, including an 83-yard touchdown jaunt. St. Pius also got a 65-yard fumble return for a score by Brian O'Reilly.
Walnut Grove 32, Riverdale 13: T.J. Little rushed for 86 yards and two touchdowns as host Walnut Grove took care of Riverdale for its first winning season in school history. The Warriors took control early and led 20-6 at halftime. Tucker Laughlin completed 12 of 19 passes for 130 yards and two touchdowns in the victorious effort. Walnut Grove also got 109 rushing yards from Dakota Owens on nine carries.
Woodward Academy 10, Carrollton 0: Visiting Woodward Academy took a 10-0 halftime lead and completed its shutout to clinch the Region 5-AAAA title. William Collins booted a 20-yard field goal to give Woodward Academy a 3-0 lead with 3:08 left in the opening quarter. Woodward missed a 24-yard field goal in the second quarter but were able to add to the lead with 24 seconda left in the half on 3-yard touchdown run by junior Elijah Holyfield.
CLASS AAA
Jackson-Atlanta 32, Washington 29: A battle for the fourth and final seed in Region 4-AAA saw visiting Jackson-Atlanta edge Washington. Filling in for an injured starting quarterback, Quintavious Monday accounted for all five of the Jaguars' touchdowns as they racked up more than 500 yards of total offense. Their first drive resulted in a 70-yard scoring strike from Monday to Lorenzo Smith. Jackson-Atlanta trailed 21-18 going into the fourth quarter but surged ahead 32-21 before running out the clock with Washington just three points behind.
Westminster 48, North Clayton 25: Cole Haverty caught four touchdown passes from Rankin Woley in the first half as Westminster used a fast start to get past visiting North Clayton and clinch a playoff spot out of Region 4-AAA. Woley set a career-high in passing yards in the first half alone, with all 183 of those yards going to Haverty. Zay Malcome ran for a 63-yard touchdown on Westminster's first play from scrimmage and the Wildcats also got scoring runs from Merrick Sims and Joe Egan.
CLASS AA
Greater Atlanta Christian 41, Wesleyan 0: GAC held host Wesleyan to just two first downs and 38 total yards. Davis Mills threw a 17-yard touchdown pass to Justin Phan, who also blocked a punt, and four different Spartans — Jaelen Venable, Paul Carothers, Josh Pickens and Marcus Young — all scored on short touchdown runs. Will Kenworthy connected on field goals of 35 and 31 yards.
CLASS A
Eagles Landing Christian Academy 56, Mount Vernon 0: ELCA wrapped a perfect region record as the Chargers trounced visiting Mount Vernon. The Chargers exploded to a 22-0 after the first quarter thanks to touchdowns by Trevor Gear, DJ Hammond, and Cam Merritt. Gear reached the end zone three times in the ball game, while freshman Josh Mays tacked on two scores of his own. Sophomore Kenny Cochran capped off the one-sided affair with a one-yard touchdown run.
Mount Paran 35, Mount Pisgah 21: Visiting Mount Pisgah erased a 14-point deficit and tied it at 21-21 before Mount Paran's Dorian Walker added his third and fourth rushing touchdowns and stamped the win and Region 6-A title. Mount Pisgah quarterback Aaron Winchester completed 6-of-8 passes for 78 yards and a touchdown and added 20 carries for 115 yards and a rushing score. Taylor Trammel gave Mount Paran its early 21-7 lead with his second-quarter touchdown run.