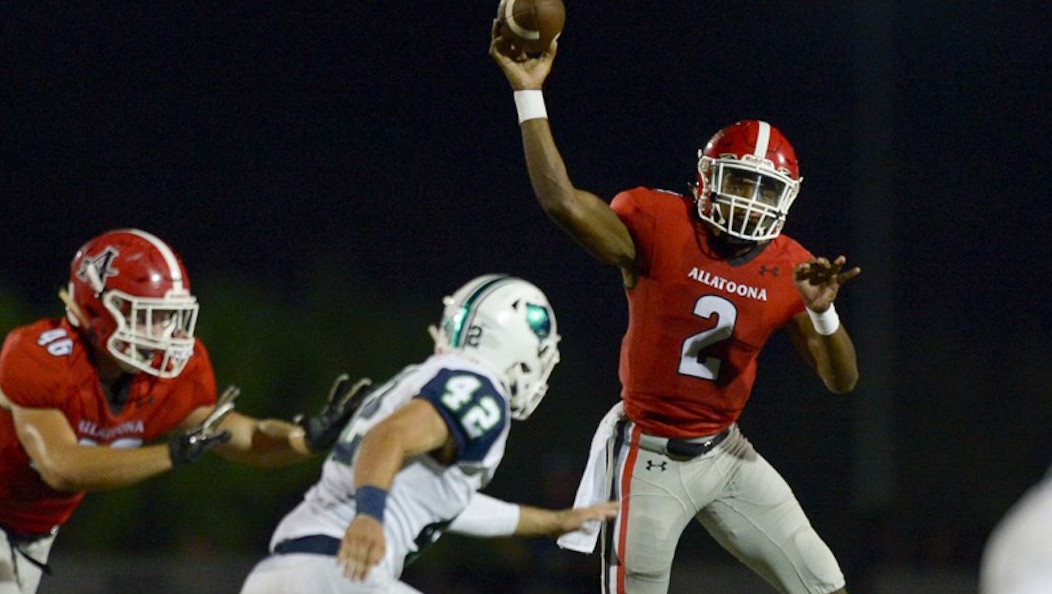 Allatoona held a narrow 7-6 lead after a closely contested first half before the Buccaneers, led by senior quarterback Dante Marshall, pulled away with four straight touchdowns for a 35-12 road win over Sequoyah. Marshall's first touchdown came on a 15-yard pass to Bennett Christian on Allatoona's opening drive, but the Chiefs kept the Buccaneers out of the end zone throughout the remainder of the opening half. Myles McGee's 35-yard reception from Colin Koprowski put Sequoyah on the board in the second quarter (the PAT was no good) before the Chiefs saw an opportunity to take the lead fall flat with a missed field goal as the clock expired. Koprowski finished the first half 7-of-12 for 167 of Sequoyah's 200 total yards on offense.
Sequoyah's opening drive after the break was cut short with Blomquist Brett's interception of Koprowski that set up a touchdown run from senior back Alex Wilson. Marshall added touchdowns on quarterback keepers with 4:23 remaining in the third and 9:21 left in the fourth to expand the Buccaneers lead to 28-6, then put the game away with an 8-yard strike to Asante Das. Koprowski found McGee for an 80-yard touchdown with 5:14 to play, but the game—and any hope of a playoff berth for Sequoyah—were already out of reach.
Allatoona secured the No. 2 seed in Region 6-AAAAAA with a 17-14 victory against Dalton in Week 11, and the Buccaneers improve to 7-2-1 (7-1 in region play) with the Week 12 win over Sequoyah.
Class AAAAAAA
Woodstock 30, Walton 29 (OT)
With the game tied at 22-22 after regulation, Walton scored first in overtime on a 6-yard rush by Kenny Djaha, and the Conor Cummins extra point put the Raiders up 29-22. Woodstock then converted two fourth downs on its possession, including a 1-yard rush by quarterback Robbie Roper, despite what appeared to be a delay-of-game penalty after the play clock ran out. The touchdown stood, however, after discussion by the officials, and Roper found Shaun Spence near the sideline in the end zone on the two-point conversion to win the game. Woodstock misses the playoffs by finishing fifth in Region 4-AAAAAAA, and Walton retains the No. 2 seed in the region.
The Raiders got on the scoreboard first with a safety at 9:46 in the first quarter after an errant Woodstock pitch in its own end zone. Cummins hit a 27-yard field goal at 9:23 in the second quarter to make it 5-0 Raiders, and Walton quarterback Zak Rozsman rushed for a 4-yard touchdown to make it 12-0 and found Teagan Bierria for a 6-yard pass to make it 19-7. Woodstock's Andrew Bartolero had a 2-yard touchdown run for the Wolverines' first score in the second quarter. Walton led 19-7 until Woodstock scored at 9:24 of the fourth quarter on a 2-yard slant from Roper to Carson Pickens. The Wolverines took their first lead of the game, 22-19, with 2:42 remaining in the fourth quarter on a 21-yard Roper pass to Spence and a two-point conversion on a Roper pass to Pickens. Cummins tied the game for Walton on a 31-yard field goal with 25 seconds remaining.
Parkview 38, Central Gwinnett 14
The Region 7-AAAAAAA champion Parkview Panthers coasted to a home victory over Central Gwinnett for a 9-1 record and Coach Godfree's 100th career coaching win. The Panthers defense was suffocating in the first quarter; Navy-commit Tony Ward intercepted Black Knights quarterback Skylar Adams on the opening drive to set up the first of Tyler Curtis' scores—a 21-yard run—before Central Gwinnett was held to a three-and-out. Curtis scored again with a 44-yard run on the first play of the next Parkview drive, and the Panthers defense closed out the opening frame with a 47-yard pick-six by Kobe Wilson and a sack from Mason Huntley that forced a turnover on downs by Black Knights. Curtis, who finished with 156 yards on 11 carries, completed the hat trick with his third score early in the second quarter. Nolan McCord's 23-yard field goal gave Parkview a 31-0 lead with 4:52 to go before the break, and Jasir Smith added a 43-yard touchdown run less than a minute into the third quarter. The Black Knights finally got on the board with an 88-yard, 12-play drive ending in a 20-yard touchdown completion from Adams to Justin Wilkins, who scored again for the 38-14 final following Eldrick Johnson's fumble recovery.
Brookwood 54, Lakeside-Dekalb 0
The Brookwood Broncos finished the regular season 4-2 in region play with a 54-0 shutout—their first of 2019—over host Lakeside-Dekalb to secure the No. 3 seed in Region 7-AAAAAAA. Manny Ramirez provided a hat trick for the Broncos, scoring the first of his touchdowns midway through the opening frame to put Brookwood on the board first. Dylan Lonergan's 31-yard strike to TJ Burdjan later in the frame and a touchdown run by Tyler Knight early in the second extended the Broncos lead to 20-0, and Jack Spyke closed out the half with touchdowns on a 12-yard pass to Caleb Cummings and a 10-yard keeper for a 34-0 advantage at the break. Ramirez added his second and third touchdowns in the third quarter, and Taylor Bell capped off the scoring with 8:20 remaining on the fourth-quarter running clock.
Grayson 35, South Gwinnett 7
The Rams jumped ahead quickly, scoring on their first play from scrimmage with a 58-yard reverse from junior Jamal Haynes to junior Jaden Smith. Smith found paydirt once more in the first half, and senior running back LaFayette Gurvin also racked up a pair of scores to help build a 35-0 lead at the break. South Gwinnett finally put points on the board with a fourth-quarter touchdown, but failed to score again. The 35-7 win gives the Rams a 9-1 regular-season record as they prepare to host Mountain View in the first round of the playoffs.
Roswell 48, Etowah 14
The Roswell Hornets secured their second-straight Region 4-AAAAAAA title with a 48-14 victory, pulling away from visiting Etowah with 20 unanswered points and three consecutive fourth-quarter interceptions. The Eagles struck first with an 11-yard touchdown pass from Dalton Miller to Jackson Manns with 4:37 left in the first, capitalizing on a short Roswell punt and 20 yards in penalties on the Hornets. John Copenhaver tied the game midway through the second quarter with a 36-yard scamper down the sideline, and Marquis Willis added a touchdown run with 0:24 left in the half for a 14-7 Roswell lead. Savion McCrary and Nnamdi Orjiorke each added rushing scores in the third before Etowah made it a two-possession game with a 4-play, 77-yard drive capped off with another Miller-to-Manns completion. Copenhaver then took a quick pass from Ethan Roberts 75 yards to the end zone with 1:18 left in the third for a 35-14 edge, and the Eagles were held scoreless for the remainder of the game thanks to interceptions from Doneiko Slaughter, Dillon Holifield and Evan Plunkett. Slaughter and Plunkett each returned their picks for touchdowns of 37 and 75 yards, respectively. Roswell successfully converted 7 of 14 third downs in the game, compared to 1 of 12 by Etowah.
McEachern 49, North Paulding 19
McEachern capped off its first undefeated regular season since 2009 with an emphatic road win over North Paulding. Bryce Archie replaced injured starting quarterback Carlos Del Rio-Wilson in the first half and finished the night 9-of-9 for 227 yards and four touchdowns. Jordon Simmons rushed 18 times for 158 yards and one score. Bookend plays in the opening half proved to be crucial for the Indians; Simmons went 84 yards to the end zone on their first play from scrimmage, and Archie threw a 22-yard touchdown pass to Dacari Collins on the final play before halftime. Christian Mason added a 29-yard touchdown run to give McEachern a 21-0 first-quarter lead before North Paulding briefly got back in the game at 21-12.
Cherokee 38, Lassiter 10
An interception by Ty Swanson in the first quarter helped set up a 34-yard touchdown pass from sophomore AJ Swann to senior Patrick Dahlen to give the Warriors an early lead. Sophomore running back Keith Adams Jr. capped off another first-quarter Cherokee drive with a 2-yard rush into the end zone to increase the lead. Adams picked up his second score of the night off an 11-yard rush in the second, and a field goal from junior Luis Mijangos put Cherokee up 24-0 at the half. The Warriors kept their foot on the gas in the third, scoring twice more with a 29-yard pass from Swann to Adarrius Harshaw and a third score for Adams Jr. off an explosive 44-yard run. Senior Devin Ellison ended the game with 139 yards on 8 receptions.
Archer 42, Shiloh 14
The Archer Tigers secured the No. 2 seed in Region 8-AAAAAAA with a 42-14 road win over host Shiloh. Senior quarterback Carter Peevy led the Tigers to a 14-0 first-quarter lead with touchdown passes to Renoldo Spivey Jr (45 yards) and Trey Messer (38 yards) before Jordan Swain added an 11-yard rushing score early in the second. Shiloh quarterback Vince Goffney found Joshua Lee with a 42-yarder to put the Generals on the board before the break, and Arthur Rodgers Jr followed an 80-yard, first-half performance (on 14 carries) with an 18-yard touchdown run early in the third quarter to cut the Tigers' lead to 21-14. Archer kept Shiloh out of the end zone for the rest of the night, however, and added rushing scores from Swain, Spivey and Schmari Campbell by the 7:13 mark in the fourth quarter for the game's final tally.
Norcross 37, Meadowcreek 7
The Norcross Blue Devils came away with a convincing 37-7 victory over visiting Meadowcreek, ending a regular-season campaign that started with four straight losses with a four-game win streak and their 13th playoff appearance in 14 seasons. Jahni Clarke took a 67-yard trip to the end zone on the opening play from scrimmage, and Michael Porter's 10-yard rushing score put Norcross up 14-0 with only 2:20 off the clock. Mason Kaplan then connected with Jaylen Green with a 66-yarder before the end of the first quarter for the pair's first touchdown of the game. Harris Celata extended the Blue Devils' lead to 28-0 in the second with a short run before Meadowcreek got on the board with the Mustangs' only touchdown of the game—a 76-yard rushing score from Rock Gaither before the break. A 39-yard Kaplan-to-Green completion and a 24-yard field goal by Carter Hale brought the score to its final tally before the end of the third quarter.
Class AAAAAA
Dalton 61, Osborne 0
Dalton jumped out to a 47-0 halftime lead and cruised past host Osborne to close out a 7-3 regular season. Tyson Swope got the Catamounts on the board with a fumble recovery touchdown and then the state's leading rusher, Jahmyr Gibbs took over. The Georgia Tech commit rushed for five touchdowns (21, 19, 35, 15 and 30 yards) before the first half ended. Quarterback Bakari Allen also found Hunter Nolan for a 26-yard score in the first half. Maurice Howard grew the lead to 54-0 with a 25-yard touchdown run in the third before freshman Luke Blanchard capped the scoring with a 75-yard rushing touchdown.
Evans 28, Grovetown 21
Region 3-AAAAAA champion Evans outscored Grovetown 28-14 in the second half to deny the Warriors a potential playoff berth. Grovetown went up 7-0 at the half following a 24-yard rushing touchdown by quarterback Kori Bryant. Evans punted three times and turned it over on downs twice in its five first-half possessions. The Knights' defense, however, got them on the board for the first time as Cortavious Catchings returned a fumble 40 yards to even it up 7-7. Bryant answered with a 4-yard touchdown run with 28 seconds left in the third quarter to put Grovetown back up 14-7. Evans' Jofranstar Graham provided a game-tying 37-yard touchdown run in the opening seconds of the fourth quarter and then gave the Knights' a go-ahead 15-yard touchdown minutes later. Bryant accounted for his third Grovetown touchdown on a 33-yard touchdown pass to knot it up 21-21. Evans was later stopped and forced to punt with the game still tied, but a costly roughing-the-kicker penalty with just 1:55 left in the game kept the drive alive. Caleb Jackson found Victory Garces for the 24-yard game-winning touchdown pass with just 39 seconds left.
Lanier 41, Gainesville 38
The Lanier Longhorns bested the Gainesville Red Elephants in a thrilling 41-38 victory on the road. The first touchdown of the night came from Lanier with a pass from Andrew Blackford to Tyler Washington, and Cole Thornton completed the two-point conversion. A touchdown from Gainesville's Dez Brown made it an 8-7 game. The scoring was back and forth in the second quarter; Gainesville's Gionni Williams had a 3-yard rush, Lanier's Tyler Washington scored off a pass from Blackford, Giovanni Martinez completed a field goal for Gainesville, and Blackford found Thornton for a Lanier touchdown for a 21-17 Longhorns advantage. Gainesville outscored Lanier 14-0 in the third quarter with two rushing touchdowns by Williams to hold a 31-21 lead going into the final frame. A 60-yard rushing touchdown from Lanier's Taj Barnes cut the Gainesville lead to 3, but a touchdown by Gionni Williams put the Red Elephants up 34-24. Blackford threw two touchdown passes in the final three minutes of the contest to give Lanier the win—one to Thornton and the final to Washington with just 1:23 left in the game.
Johns Creek 49, Dunwoody 14
The Region 7-AAAAAA champion Johns Creek Gladiators ended the regular season with a dominating win over the Dunwoody Wildcats. Two touchdown passes from Ben Whitlock to Dalton Pearson gave Johns Creek a 14-0 lead first-quarter lead, and Josh Davis' interception return and a touchdown reception from Garett Gauthreaux put the Gladiators ahead 28-0 before Dunwoody finally found the end zone. The Gladiators outscored the Wildcats 21-0 in the third quarter with a touchdown catch by Justin Campbell, a rushing touchdown by Jon Ross Maye, and an interception return by Jake Beck. Overall, Johns Creek's defense had four interceptions.
Alpharetta 20, Cambridge 0
Alpharetta completed its third shutout of the season with a road victory over Cambridge. The Raiders were up 3-0 at the half after a 43-yard Bryce Troutt field goal. Senior quarterback Will Gerdes threw a touchdown pass to Cameron Foster before Troutt tacked on his second made field goal, and Alpharetta went into the final quarter with a 13-0 lead. An interception by junior Nick Haven set up Gerdes for a touchdown pass to junior Jaden Slocum that put the Raiders up 20-0.
Class AAAAA
Clarke Central 31, Buford 28
Host Clarke Central shocked Buford to win the Region 8-AAAAA title and knock the Wolves to the No. 2 seed. The Gladiators jumped out to a 14-0 lead on two long touchdown passes from Isaac Ward, the first an 80-yard pass to A.J. Jewell on the game's first play from scrimmage and the second a 43-yard pass to Jairus Mack. Clarke Central led 21-7 after the first quarter after a 43-yard touchdown run from Buford's Gabe Ervin Jr. and another touchdown from Ward to Mack, this time from 2 yards out. An 84-yard touchdown run from Buford's Elijah Turner in the second quarter made it 21-14 at halftime.
The Wolves muffed a punt inside their 10-yard line early in the third quarter, leading to a 19-yard Christian Bryan field goal to make it 24-14 Clarke Central at 8:51 in the third. Buford pulled to within three points with a 5-yard Ervin touchdown run at the 9:21 mark in the fourth, but a 2-yard touchdown run from Clarke Central's O'Brien Barnett gave the Gladiators a 31-21 lead with 4:44 remaining. A 54-yard touchdown pass from Evans to Jake Pope again made it a three-point game just one minute later, and Buford got the ball back and drove inside the Gladiators' 20-yard line. But Clarke Central intercepted a pass in the end zone, returning it to its 18-yard line, and kneeled once to run out the clock. Barnett rushed for 130 yards to lead Clarke Central; Ervin rushed for 140 yards and Turner rushed for 121 yards for Buford.
Kell 51, Woodland-Cartersville 7
Tyler Barrett rushed for four touchdowns for visiting Kell as the Longhorns jumped out to a 30-0 halftime lead. Barrett scored on rushes of 5 and 2 yards in the second quarter and on a 3-yarder in the third before capping the scoring on a 65-yard run in the fourth quarter. David Mbadinga started the scoring in the first quarter on a 1-yard run, and Corbin LaFrance found Jaylon Brown on a 21-yard touchdown pass to make it 14-0 in the first. Colby Kerns kicked a 44-yard field goal on the last play of the half, and LaFrance rushed for a 7-yard touchdown in the third quarter to give the Longhorns a 37-0 lead.
McIntosh 27, Whitewater 21
A 1-yard plunge into the end zone by Ben Anderson gave the Chiefs a 7-0 lead in the second quarter. Whitewater tied the game later in the frame, but McIntosh was quick to reclaim the lead with a 51-yard touchdown pass from Andrew Villiger to Joseph Pressell. A blocked Whitewater punt by Burton Hahn set up a last-second field goal to extend the Chiefs lead to 17-7 at the half. In the middle of the third, Whitewater's Austin Williams scampered in from 3 yards out to make it a 3-point game. McIntosh quickly distanced themselves again with a rushing touchdown from Hayes Herzog set up by a 41-yard rush by Anderson. A second field goal from William Mason in the fourth put McIntosh up 27-14. Whitewater managed to score once more, but failed to surpass the Chiefs lead.
Starr's Mill 49, Fayette County 7
The Starr's Mill Panthers are Region 3-AAAAA champions for the fourth year in a row after a dominant win over the Fayette County Tigers in which each Starr's Mill touchdown came from a different player. The Panthers jumped out to a 21-0 lead after the first quarter. Ben Bonde and Kalen Sims each had rushing touchdowns, and quarterback Hunter Lawson connected with Owen Phillips for a 40-yarder. Brandon Mathis scored on the ground in the second quarter, making it a 28-0 lead at the half. The third quarter ended with Starr's Mill on top 42-0 after two rushing touchdowns—one by Karsen Kalen, and the other by Ardit Hoti—and Jimy Elling scored Starr's Mill final touchdown in the fourth quarter. Fayette County's only score came in the final frame.
Carrollton 50, Hiram 26
The Trojans broke open a 14-7 first-quarter lead with a 23-point second quarter to put the game out of reach and finish the regular season 10-0. Quarterback Myles Morris was 15-of-27 passing for 193 yards and two touchdowns, both on completions (32 and 18 yards) to Terrell Carmichael. Carmichael also added a 65-yard touchdown pass to Melvin Edwards. Carrollton got touchdowns on the ground from four different players—Brandon Marenco, Shyquan Johnson, Mecose Todd and Morris— while amassing 201 total rushing yards to Hiram's 29. Marenco led with 122 yards on 17 carries. Carrollton bested Hiram through the air as well by a margin of 258 yards to 140.
Southwest DeKalb 28, Columbia 18
Southwest DeKalb won back-to-back Region 5-AAAAA titles with a 28-18 victory at Godfrey Stadium, its first consecutive region championships since 1999-2000. Panthers quarterback Rion White threw touchdown passes to Khoreem Miller, Aquil Muhammad and Robert Grady, and Seoul Newton rushed for a touchdown for Southwest DeKalb. Columbia scored its final touchdown as the clock ran out.
Class AAAA
Heritage-Catoosa 30, Northwest Whitfield 22 
Heritage-Catoosa held off host Northwest Whitfield to secure the No. 2 seed out of Region 6-AAAA. Northwest Whitfield opened up a 6-0 lead with a 19-yard touchdown pass from Owen Brooker to Cooper Pardee. The Generals answered with an 8-yard touchdown run by Nick Hanson and then forced a turnover at midfield, setting up Gabe Ogle touchdown run that put Heritage up 14-6 at the end of the first. Northwest Whitfield orchestrated a scoring drive that was capped with a 45-yard touchdown pass from Booker to Callen Nealey, but the potential game-tying 2-point conversion attempt failed, keeping the Bruins down 14-12. Hanson dialed up a 16-yard touchdown pass to Sam Randolph on Heritage's following drive to grow the lead back to 21-12 with 7:41 left in the half. Northwest's Bryce Mantooth cut into the lead with a 6-yard Bruins touchdown, but Heritage kicker Anderson Britton added a 34-yard field goal with just 18 seconds left in the half to push it back to 24-19. The Bruins kicked a 25-yard field goal late in the third quarter to bring it within 24-22 heading into the final frame. Hanson appeared to give Heritage breathing room with a 7-yard rushing touchdown, but a failed PAT kept it a one-possession game and the Generals couldn't celebrate until Northwest Whitfield's last-ditch hail mary fell incomplete.
Oconee County 42, Madison County 14
The Region 8-AAAA champion Oconee County Warriors came away with a win over the Madison County Red Raiders behind a well-balanced offensive attack. Oconee County outscored Madison County 35-7 in the first half, including two rushing scores by Darius Norman and a 16-yard pass from Max Johnson to Jake Johnson in the opening frame. Madison County's Adam Echols scored on an 85-yard kickoff return later in the first to make it a 21-7 game. Max Johnson's second touchdown pass of the night went to Ben Noland in the second quarter, and an interception return for a touchdown by Oconee County's Max Brown gave the Warriors a comfortable lead at halftime. Norman scored his third touchdown of the night in the third quarter, bringing the score 42-7, and Martavian Cooper had a 14-yard rushing score in the fourth for Madison County.
Cartersville 45, Troup 35 
Cartersville outscored Troup 24-14 in the second half at Callaway Stadium to cap off its fifth-straight perfect regular season. Additionally, the win extended the top-ranked Purple Hurricanes' regular-season winning streak to 58-straight games and their region winning streak to 53-straight victories. Before the Canes pulled away, however, Troup found success through much of the first half. The Tigers answered a 9-yard Evan Slocum touchdown run with a pair of Trey Williams rushing scores to take a 14-7 lead into the second quarter. Cartersville was able to tie it up 14-14 on a Harrison Allen 1-yard run that came on a 4th-and-goal, but then Troup quarterback Kobe Hudson put the Tigers back ahead 21-14 with a touchdown pass to Marquavious Kelly with one minute left in the half. Devonte Ross returned the ensuing kickoff all the way to the Troup 15-yard line, and quarterback Tee Webb found Ross for a 10-yard score to make it 21-21 at the break. Cartersville regained the lead on a 24-yard field goal by Oscar Hernandez and a Marko Dudley interception set up a 53-yard rushing touchdown by Webb that extended the lead to 31-21. Hudson ran in a 6-yard touchdown, but Cartersville's offense kept rolling and Webb connected with Kyler Johnson for a 51-yard score that put Cartersville up 38-28 heading into the final quarter. Allen added another 13-yard rushing touchdown to give the Canes their biggest lead of the game (45-28). Troup's final points came on a Hudson touchdown pass with just 12 seconds left.
Woodward Academy 40, Luella 7
Woodward quarterback Mike Wright passed for three touchdowns and rushed for another to lead the War Eagles to a flawless regular season in Region 4-AAAA. Wright, who was 16-of-25 for 241 passing yards, connected with Hunter Sellers (47 yards) and Ambe Caldwell (6 and 5 yards) for touchdowns. Wright opened the scoring on his pass to Sellers, and his 63-yard touchdown run with 8:24 left in the first quarter gave Woodward a 14-0 lead. The War Eagles enjoyed a 23-0 lead at the end of the first quarter after a 12-yard fumble return by Chase Marshall at the 3:55 mark and a safety with 2:42 left. Wright's 6-yard pass to Caldwell early in the second quarter put Woodward up 30-0 and James Mayfield's 25-yard field goal with 9:23 before the half pushed the lead. James Jones broke free in the third quarter and scored on a 58-yard run for Luella's only offensive production before Wright's 5-yard pass to Caldwell put the game out of reach. Caldwell finished with six receptions for 75 yards and a touchdown.
Denmark 34, Flowery Branch 14
Aaron McLaughlin accounted for all five of Denmark's touchdowns en route to a convincing win over visiting Flowery Branch. The Danes trailed 7-0 in the first quarter but reeled off 27 unanswered points, eventually extending a 14-7 halftime advantage to lead by 20 midway through the third. Flowery Branch quarterback David Renard threw a touchdown pass to Baxley O'Brien to cut the deficit to 27-14 before McLaughlin answered with his third scoring strike of the night. McLaughlin also rushed for two scores and two of his touchdown passes went to Ze'Vian Capers.
Class AAA
Westminster 31, Lovett 21
Westminster never trailed and pulled away from Lovett in the third quarter to secure a home game in round one of the state playoffs. Following a 14-14 halftime tie, Robert Clarke rushed for a touchdown and Charlie Wickliffe returned an interception 20 yards for a score to give the Wildcats a 28-14 lead heading into the fourth quarter. Alex Bacchetta tacked on a 23-yard field goal for 17 unanswered points and a 31-14 advantage. Lovett quarterback Blaine McAllister accounted for his third touchdown of the night with a 21-yard strike to Charlie Hoke, but the Lions could get no closer. Will Hallmark rushed for one score and threw a 20-yard touchdown pass to Jennings McGill to lead the Wildcats.
Greater Atlanta Christian 42, Fannin County 21
Greater Atlanta Christian scored the first 14 points of the game and led 35-14 at halftime, sprinting to a road win over Fannin County and a third consecutive region championship. Four different Spartans accounted for two touchdowns apiece. Both Tyler Bride and Tre Henry rushed for a pair of scores, while Jackson Hardy threw two touchdown strikes to Christian Thomas. Fannin County senior running back Treylyn Owensby scored all three of his team's touchdowns.
Class AA
Bremen 17, Heard County 16
Bremen trailed Heard County 16-7 with just 3:35 left in the game before igniting a dramatic comeback to stun the host Braves and secure the No. 2 seed out of Region 5-AA. Heard County struck first with a 26-yard touchdown pass from Leroy Marsh to Ayden Cannon, but the PAT went off the uprights, and Bremen used a 33-yard touchdown run by Bremen's Evan Marcuz early in the second quarter to give the Blue Devils a 7-6 lead that stood at the half. Heard County went back in front with a 34-yard field goal by James Newell, and Alex Boyd ran in a 21-yard touchdown run to give the Braves a 9-point lead with just 3:35 left. Jacob Reynolds returned the ensuing kickoff 99 yards for a touchdown to cut the lead to 16-14. Heard County elected to go for an onside kick and successfully recovered it at the Heard County 49-yard-line with 3:04 left. The Blue Devils converted a 4th-and-10 with two minutes left to keep the drive going before senior Evan Fuller booted through a game-winning 36-yarder with 56 seconds left.
Class A
Mount Vernon 56, Strong Rock Christian 9
Mount Vernon opened up a 49-9 halftime lead before closing out a road victory over the Patriots. Skylar Stefaniak rushed for a 2-yard score and then made it 14-0 with a 5-yard touchdown run with 7:25 left in the first quarter. Austin Taylor intercepted Strong Rock Christian on its next possession and returned it into Patriots' territory to set up a 7-yard Austin Douglas touchdown run that pushed the lead to 21-0 heading into the second quarter. Strong Rock Christian got on the board with a 22-yard Jason Werner field goal, but Mount Vernon responded with four straight touchdowns before a 69-yard touchdown run by Strong Rock's Hunter Lawrence cut the deficit to 49-9. Andrew Douglas rushed for a 75-yard touchdown just 18 seconds after the Werner field goal. Jonathan Hammond added a 3-yard touchdown run and then Douglas lateralled to teammate Parker Carman for a 48-yard touchdown that made it 42-7. Stefaniak's third touchdown of the half came on a 29-yard carry with 5:06 left on the clock.
Irwin County 49, Turner County 0
Top-ranked Irwin County outgained No. 10 Turner County 558-82 in total yardage and closed out a perfect 9-0 regular season over the visiting Rebels. Zach Smith connected with Jamorri Colson for a 54-yard touchdown pass on the first play of scrimmage, and touchdown runs from Eric Anderson and DJ Lundy put the Indians up 20-0 at the end of the first quarter. Irwin County extended the lead to 37-0 at the half with touchdown runs by Kam Ward and Garland Benyard and a 22-yard field goal by Evan Ross. Lundy scored on a 62-yard run on the first play of the second half and then freshman quarterback Cody Soliday threw a touchdown to push the lead to 49-0. Turner County threatened to score late in the fourth quarter, but Gabriel Benyard intercepted the Rebels at the 1-yard line. As a result, Irwin County celebrated five-straight shutouts for the first time since the 1968 season.
Wesleyan 27, Trinity Christian 6
Wesleyan scored one touchdown in each of the four quarters to steadily pull away from host Trinity Christian. The Wolves led 14-6 at halftime before Griffin Caldwell scored his second touchdown of the night on a 40-yard scamper midway through the third quarter. J.C. French, who rushed for a 3-yard score in the first quarter, added a touchdown pass to Micah Smith in the fourth. Wesleyan's defense limited the Lions to a pair of field goals, and an interception by Cooper Blauser set up Caldwell's second touchdown.