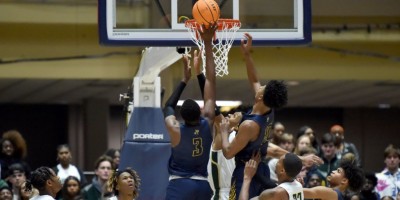 In Class 7A, No. 1 Newton improved to 5-0 with a 61-60 win over No. 10 Archer on Tuesday. The Rams also have wins over McEachern, Westlake, No. 7 Norcross and Concordia Lutheran (Texas). Pebblebrook moved up a spot to No. 2 and Berkmar fell from No. 2 to No. 4 after a 56-55 loss to Greenforest Christian. Grayson also improved one slot to No. 3.
In Class 6A, Buford replaced Kell at No. 2 and Westlake fell from No. 4 to No. 8 after its 1-3 start. Also, Tucker debuts at No. 10 in place of Effingham County following the Rebels' 1-3 start. Class 5A saw No. 3 St. Pius score a 51-49 win over No. 6 Lithonia on Tuesday and introduced Chapel Hill and Mundy's Mill replace Clarke Central and Decatur in the poll.
In Class 4A, Jefferson replaced Cedar Shoals in the poll and Spencer fell from No. 3 to No. 5 following a 2-2 start. Class 3A saw Hart County and Oconee County replaced by Greater Atlanta Christian and Monroe Area in the poll. The Class 2A poll changed with Westside-Augusta jumping Columbia for the No. 2 slot behind No. 1 Pace Academy.
In Class A Private, Greenforest Christian assumed No. 1 after former No. 1 Providence Christian's 88-83 loss to North Cobb Christian. That result also sent North Cobb Christian from No. 8 to No. 3. Finally, the Class A Public poll did not see any shifts with all of the ranked teams avoiding the loss column in the past week.
Class 7A
1. Newton
2. Pebblebrook
3. Grayson
4. Berkmar
5. North Gwinnett
6. Milton
7. Norcross
8. Parkview
9. East Coweta
10. Archer
Class 6A
1. Wheeler
2. Buford
3. Kell
4. Osborne
5. Shiloh
6. Centennial
7. Statesboro
8. Westlake
9. Lanier
10. Tucker
Class 5A
1. Eagle's Landing
2. Tri-Cities
3. St. Pius
4. Jonesboro
5. Calhoun
6. Lithonia
7. Southwest DeKalb
8. Chapel Hill
9. Jones County
10. Mundy's Mill
Class 4A
1. Baldwin
2. McDonough
3. Fayette County
4. Mays
5. Spencer
6. Monroe
7. Jefferson
8. Westover
9. North Oconee
10. East Hall
Class 3A
1. Sandy Creek
2. Windsor Forest
3. Salem
4. LaFayette
5. Thomson
6. Cross Creek
7. Americus-Sumter
8. Johnson-Savannah
9. Greater Atlanta Christian
10. Monroe Area
Class 2A
1. Pace Academy
2. Westside-Augusta
3. Columbia
4. Thomasville
5. Butler
6. Washington County
7. Woodville-Tompkins
8. Laney
9. Chattooga
10. Swainsboro
Class A Private
1. Greenforest Christian
2. Galloway
3. North Cobb Christian
4. Providence Christian
5. Christian Heritage
6. WD Mohammed
7. King's Ridge
8. Darlington
9. Mt. Pisgah
10. Mt. Veron
Class A Public
1. Drew Charter
2. Dublin
3. Chattahoochee County
4. Portal
5. Social Circle
6. Turner County
7. Warren County
8. Lanier County
9. Bowdon
10. Manchester