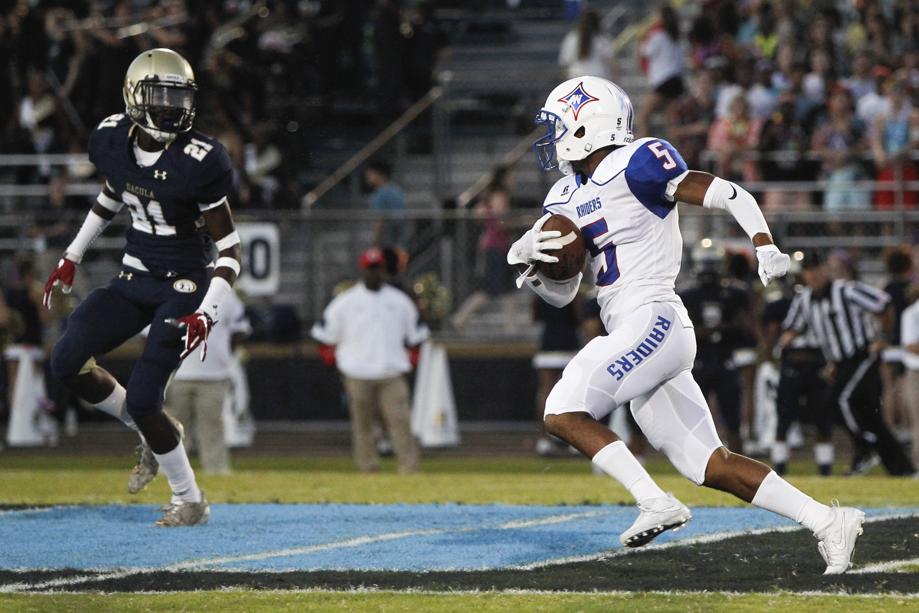 In Class AAAAAAA, top-ranked Colquitt County cruised past Thomasville 50-3. North Gwinnett and Grayson lost to out-of-state opponents and dropped to No. 4 and No. 5, respectively. Walton used a 35-3 win over Pope to climb to No. 2 and Milton's 42-17 win over Cardinal Gibbons lifted the Eagles to No. 3. Parkview takes over No. 6 after defeating previous sixth-ranked Lowndes 39-27 on Friday.
Top-ranked Lee County outlasted Peach County 33-0 at home to protect its top-spot in Class AAAAAA. The Trojans became the first team to shut out Peach since 2007. Second-ranked Coffee beat Ware County 21-14 to keep it in place. Harrison, Creekview and Dalton each had wins to hold the top-5 in place this week. Sequoyah debuts at ninth this week with Tucker reentering the top-10 at No. 10.
Class AAAAA No. 1 Rome scored its 29th straight victory on Friday with a 35-0 win over North Clayton. Buford fell to No. 3 after a 19-14 home loss to Deerfield Beach (FL) and Warner Robins jumped to No. 2.
In Class AAAA, St. Pius climbed from No. 10 to No. 6 after an impressive 35-9 win over Westminster. The only loss seen in the top 10 came with Woodward Academy's 43-21 loss to No. 1 Blessed Trinity and the War Eagles dropped from No. 8 to No. 10 after the defeat.
In Class AAA, Top-ranked Calhoun beat Therrell 52-6 to hold the top-spot again this week. Cedar Grove overtook Peach at No. 2 after the Trojans fell on the road. Westminster is fourth again this week with Benedictine at fifth. Monroe Area, following its win over Pace, enters the rankings at No. 7.
Top-ranked Hapeville Charter beat No. 2 Heard County 33-3 last week to keep the No. 1 spot in Class AA. Hapeville quarterbacks. Hapeville kept the game close before taking a 14-3 lead in the third quarter. Heard stayed second with Callaway a close third. Thomasville and Bremen fill out the top-5.
Eagle's Landing Christian is still the team to beat in Class A-Private. Athens Academy is No. 2 again this week with Prince Avenue Christian making a strong statement that it could take No. 2 if Athens Academy slips. Darlington and Calvary Day round out the top-5.
In Class A-Public, No. 1 Clinch County topped Brooks County 37-7 and No. 2 Irwin County looked impressive in a 40-20 win over Mt. Paran. Previous No. 3 Charlton County dropped to No. 9 after a 21-0 loss to Appling County. Washington-Wilkes fell 54-25 to Harlem and was replaced in the top 10 by Trion.
Class AAAAAAA
1. Colquitt County
2. Walton
3. Milton
4. Grayson
5. North Gwinnett
6. Parkview
7. Marietta
8. Archer
9. Mill Creek
10. McEachern
Class AAAAAA
1. Lee County
2. Coffee
3. Harrison
4. Creekview
5. Dalton
6. Valdosta
7.  Glynn Academy
8. Alpharetta
9. Sequoyah
10. Tucker
Class AAAAA
1. Rome
2. Warner Robins
3. Buford
4. Carrollton
5. Stockbridge
6. Kell
7. Jones County
8. Wayne County
9. Dutchtown
10. Ware County
Class AAAA
1. Blessed Trinity
2. Mary Persons
3. Cartersville
4. Marist
5. Flowery Branch
6. St. Pius
7. Troup
8. Eastside
9. Sandy Creek
10. Woodward Academy
Class AAA
1. Calhoun
2. Cedar Grove
3. Peach County
4. Westminster
5. Benedictine
6. Greater Atlanta Christian
7. Monroe Area
8. Pace Academy
9. Lovett
10. Jefferson
Class AA
1. Hapeville Charter
2. Heard County
3. Callaway
4. Thomasville
5. Bremen
6. Dodge County
7. Rabun County
8. Dublin
9. Rockmart
10. Washington County
Class A-Private
1. Eagle's Landing Christian
2. Athens Academy
3. Prince Avenue Christian
4. Darlington
5. Calvary Day
6. Mt. Paran Christian
7. Savannah Country Day
8. Aquinas
9. Fellowship Christian
10. George Walton Academy
Class A-Public
1. Clinch County
2. Irwin County
3. Mt. Zion-Carroll
4. Manchester
5. Pelham
6. Commerce
7. Marion County
8. Dooly County
9. Charlton County
10. Trion