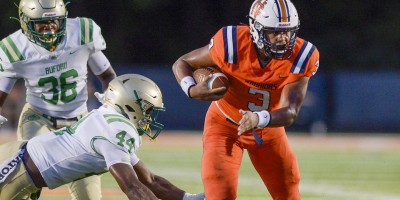 In Class 7A, No. 1 Grayson improved to 2-0 with a massive 55-21 win over McEachern. The rest of the top 5 also scored victories with Lowndes topping Griffin 45-6, Parkview defeating Mountain View 33-16, North Gwinnett topping Jones County 44-21 and Colling Hill scoring a 34-13 win over Sprayberry. No. 6 Colquitt County and No. 7 Mill Creek are yet to play their openers due to issues with COVID-19. No. 8 Brookwood was off this past week after its four-overtime win against Dacula and Marietta was also off after opening its season with a 35-14 win over Wheeler. The only change in Class 7A comes with Archer exiting the poll after its 0-2 start. North Cobb replaces the Tigers and debuts at No. 10. The Warriors (2-0) opened the year with a 48-30 win over Sprayberry and then defeated defending Class 5A state champion Buford 28-14 on Friday.
Class 6A experienced a shakeup after Buford's 28-14 loss to North Cobb and Richmond Hill's 36-29 loss to Ware County. Allatoona replaced Buford at No. 3 and the Wolves dropped to No. 5 and Richmond Hill fell to No. 6 and was replaced by Rome at the No. 4 slot.
In Class 5A, No. 1 ranked Blessed Trinity will open its season this Friday against No. 10 St. Pius. No. 2 Cartersville topped Class 7A West Forsyth 28-17, No. 3 Coffee moved to 2-0 with a 31-16 win over Bainbridge, No. 4 Ware County moved to 2-0 with a 36-29 win over Richmond Hill and No. 5 Warner Robins topped Archer 42-7. Veterans jumped from No. 8 to No. 6 after its 35-0 win over West Laurens improved the Warhawks to 2-0 and Woodward Academy (0-1) sits at No. 7. Woodward Academy was defeated 14-0 to ELCA in its Week 1 opener and will face off with Class 4A No. 1 Marist this Friday.
In Class 4A, Marist, No. 2 Jefferson and No. 3 Benedictine dominated the competition this past week. Marist topped Holy Innocents' 43-0, Jefferson topped Central Gwinnett 61-7 and Benedictine topped Effingham County 49-7. Bainbridge comes in at No. 4 after its loss to Coffee and will take on Class 6A No. 1 Valdosta this Friday in another tough cross-classification matchup. Elsewhere in the 4A rankings, North Oconee fell out of the poll after dropping to 0-2 following a 37-30 loss to Ola and Mays is back in at No. 10 after topping Riverdale 35-28 in the Great Atlanta Bash.
In Class 3A, Oconee County scored a big 35-0 win over Cedar Shoals to improve to 2-0 and jumped Peach County for the No. 3 slot after the Trojans' fell 14-7 to Northside-Warner Robins. Also, former No. 8 Hard County dropped to 0-2 with a 50-47 loss to White County and exited the poll. White County (2-0) makes its debut at No. 10.
Class 2A saw Thomasville jump Lovett for No. 5. Also, Bleckley County and Washington County were replaced in the poll by Toombs County and Early County at No. 9 and No. 10, respectfully. North Cobb Christian makes its debut in the Class A-Private poll at No. 7 following its 2-0 start and 56-37 win over Hebron Christian—which dropped to No. 10 from the No. 8 slot. Holy Innocents' fell out of the poll after dropping to 0-2.
In Class A-Public, Brooks County takes over No. 1 following Irwin County's 21-6 loss to Fitzgerald. Additionally, Commerce debuts at No. 7 and Mitchell County exits the poll.
Class 7A
1. Grayson
2. Lowndes
3. Parkview
4. North Gwinnett
5. Collins Hill
6. Colquitt County
7. Mill Creek
8. Brookwood
9. Marietta
10. North Cobb
Class 6A
1. Valdosta
2. Lee County
3. Allatoona
4. Rome
5. Buford
6. Richmond Hill
7. Dacula
8. Westlake
9. Carrollton
10. Kell
Class 5A
1. Blessed Trinity
2. Cartersville
3. Coffee
4. Ware County
5. Warner Robins
6. Veterans
7. Woodward Academy
8. Calhoun
9. Clarke Central
10. St. Pius
Class 4A
1. Marist
2. Jefferson
3. Benedictine
4. Bainbridge
5. Stephenson
6. Hapeville Charter
7. Flowery Branch
8. Jenkins
9. Carver-Columbus
10. Mays
Class 3A
1. Crisp County
2. Cedar Grove
3. Oconee County
4. Peach County
5. Greater Atlanta Christian
6. Sandy Creek
7. Pierce County
8. Westminster
9. Thomson
10. White County
Class 2A
1. Callaway
2. Rabun County
3. Fitzgerald
4. Pace Academy
5. Thomasville
6. Lovett
7. Bremen
8. Heard County
9. Toombs County
10. Early County
Class A-Private
1. Eagle's Landing Christian
2. Athens Academy
3. Wesleyan
4. Prince Avenue Christian
5. Fellowship Christian
6. Savannah Christian
7. North Cobb Christian
8. Trinity Christian
9. Darlington
10. Hebron Christian
Class A-Public
1. Brooks County
2. Wilcox County
3. Metter
4. Irwin County
5. Macon County
6. Clinch County
7. Commerce
8. Dublin
9. Pelham
10. Marion County