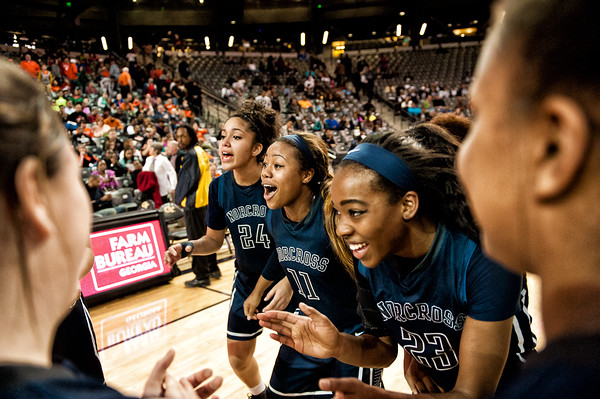 Photo by Ty Freeman
Norcross (4-1) remains No. 1 in state's highest classification even after a loss to No. 7 Tucker (2-2) in the waning seconds, 61-60. Harrison leaps three spots to No. 3 after a 5-1 start to the season. No. 6 Parkview (2-2) fell three spots after No. 4 South Forsyth (2-1) defeated them 57-43. No. 10 Douglas County debuts in the rankings after a 5-0 start and three players averaging a double-double. Freshman Amari Robinson is averaging 16 points and 10.8 rebounds while juniors Ashanti Brown (13.3 points, 10.5 rebounds) and Arsula Clark (11.5 points, 10.3 rebounds) also control the paint inside for the Tigers.
In Class AAAAA, Brunswick (2-0) holds the No. 1 spot, while the rest of the classification sorts itself out. No. 2 Sequoyah (1-2) picked up its first win of the season and is still regarded as one of the best teams in the state after dropping a pair of games to the No. 1 team in Class A-Private (St. Francis) and No. 2 team in Class 4A (Griffin). No. 3 Flowery Branch (3-0) makes its debut in the poll at No. 3, hopping over much of the field after wins over 2A No. 8 GAC 68-43 and 6A No. 9 West Forsyth, 58-48. No. 5 Loganville's (1-2) reign atop the state was short lived after tough losses to No. 4 Stephenson, 43-40 and Collins Hill, 51-47 OT. No. 10 Columbus (4-0) debuts after beating former 4A No. 7 Jonesboro 55-50. Tatyana Wyatt is making a case for being the best player in the state right now, averaging 26.8 points and 11.3 rebounds.
No. 1 Buford (2-0) survived a scare from 2A No. 8 GAC, 46-44, to remain on top of Class AAAA. No. 2 Griffin continues to impress at 4-0 and already has a strong case to make for being the best team in the state. Jonesboro (1-2) drops out of the poll after a 61-60 loss to Clarke Central. Northwest Whitfield (3-1) makes an appearance at No. 9 after going 2-1 at the Border Wars Thanksgiving Tournament.
Class AAA sees some shakeup beneath No. 1 Laney (3-0). Peach County comes in at No. 2 without playing a game yet after South Atlanta (2-2) slips to No. 4 after losses to 2A No. 1 Holy Innocents' and Mountain View. No. 3 Dawson County (3-0) rises three spots and No. 9 Jackson-Atlanta (2-1) and No. 10 Beach (2-0) enter the poll after both Calhoun (2-2) and Morgan County (3-3) drop out. Morgan County has run into tough luck after a 3-0 start. The Bulldogs have faced a gauntlet, losing to 2A No. 2 Wesleyan 67-43, Mount Notre Dame (OH) 75-53 and Wadsworth (OH) 65-37. Things don't get any easier as they return to Georgia as they travel to No. 1 Laney and then host 4A No. 1 Buford.
In Class AA, No. 1 Holy Innocents'(3-0) and No. 2 Wesleyan (3-0) continue to dominate. The Golden Bears wrecked South Atlanta 80-43 at Holiday Hoopsgiving. No. 8 GAC enters the rankings after beating North Forsyth 63-57.
SWAC (1-5), a perennial power every year in Class A-Private is out of the top ten after a miserable start. No. 1 St. Francis (4-0) continues to roll while No. 2 Calvary Day (3-0) picked up a nice win over 5A No. 9 Cross Creek, 61-53. In A-Public, No. 1 Taylor County (1-1) is back on track with a 75-27 beating of Upson-Lee.
Class AAAAAA
1. Norcross
2. Archer
3. Harrison
4. South Forsyth
5. McEachern
6. Parkview
7. Tucker
8. Woodstock
9. West Forsyth
10. Douglas County
Class AAAAA
1. Brunswick
2. Sequoyah
3. Flowery Branch
4. Stephenson
5. Loganville
6. South Effingham
7. Woodland-Stockbridge
8. Grovetown
9. Cross Creek
10. Columbus
Class AAAA
1. Buford
2. Griffin
3. Veterans
4. Marist
5. Americus-Sumter
6. Carrollton
7. Monroe
8. Redan
9. Northwest Whitfield
10. Mary Persons
Class AAA
1. Laney
2. Peach County
3. Dawson County
4. South Atlanta
5. Washington County
6. Kendrick
7. East Hall
8. Ringgold
9. Jackson-Atlanta
10. Beach
Class AA
1. Holy Innocents'
2. Wesleyan
3. Model
4. Lovett
5. Pelham
6. Putnam County
7. Darlington
8. GAC
9. Armuchee
10. Jeff Davis
Class A-Private
1. St. Francis
2. Calvary Day
3. Mt. Paran
4. Savannah Country Day
5. Paideia
6. Tattnall Square Academy
7. ELCA
8. Our Lady of Mercy
9. Stratford Academy
10. Greenforest
Class A-Public
1. Taylor County
2. Turner County
3. Dooly County
4. Randolph-Clay
5. Terrell County
6. Atkinson County
7. Treutlen
8. Commerce
9. Claxton
10. Mitchell County