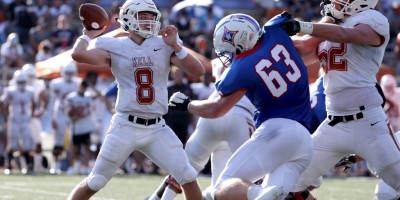 Top-ranked Grayson scored a 28-7 win over Collins Hill to remain at the top of Class 7A. North Gwinnett topped Parkview 21-0 and replaced the Panthers at No. 3 behind undefeated and No. 2 ranked Lowndes (3-0). Colquitt County opened its season with a 51-0 win over Banneker and comes in at No. 4. Collins Hill stays at No. 5 after its loss to the Rams and Mill Creek takes over No. 6 after opening its year with a 20-14 win over Dacula. Brookwood climbed to No. 7 after topping Walton 43-32 and Parkview settles in at No. 8. North Cobb's 21-13 win over Alpharetta improved the Warriors to 3-0 and North Cobb moved up to No. 9 after debuting at No. 10 this past week. Marietta fell out of the top 10 after falling 49-28 to McEachern and Norcross is the new team in the poll at No. 10.
Class 6A No. 1 Valdosta topped Bainbridge 45-7, No. 2 Lee County topped Crawford County 66-0 and No. 3 Allatoona topped Kennesaw Mountain 21-6. Richmond Hill jumped from No. 6 to No. 4 following a 24-21 win over Wayne County and Buford rounds out the top 5. Rome, which lost 21-15 to Cherokee fell from No. 4 to No. 7 behind No. 6 Westlake (1-0). Dacula fell to No. 8 after its 20-14 loss to Mill Creek, Kell moved up to No. 9 after topping Pope in region play 47-13 and Carrollton settles in at No. 10.
In Class 5A, No. 1 Blessed Trinity opened its season with a 38-14 win over ELCA after having the first weeks of its schedule disrupted by COVID. Coffee fell from No. 3 to No. 6 after a 17-10 loss to Houston County, Ware County took over No. 3 and Veterans jumped to No. 5 after improving to 3-0 with a strong 30-6 win over Jones County. Clarke Central fell out of the top 10 after its 24-7 loss to Oconee County and 2-0 Jonesboro makes its debut at No. 10.
In Class 4A, Bainbridge dropped from No. 4 to No. 8 after its 45-7 loss to Class 6A No. 1 Valdosta dropped the Bearcats to 0-2. Bainbridge's other loss was a 31-16 defeat to Class 5A No. 6 Coffee. Carver-Columbus moved up to No. 5 and is 1-0 with a 53-7 win over Spencer on its resume. Hapeville Charter fell from No. 6 to No. 10 after dropping its season opener 28-14 to Class 7A North Forsyth.
In Class 3A, Oconee County maintained its No. 3 spot after a victory over 5A Clarke Central 24-7. Crisp County remains the team to beat. No. 4 Peach County impressed with its 54-14 victory over 5A Griffin after losing to Northside-Warner Robins in its opener.
In Class AA, Callaway maintains the top spot with Fitzgerald, Rabun County, Pace Academy and Thomasville chasing. Eagle's Landing Christian is the team to beat in Class A-Private ahead of Athens Academy, Wesleyan, Prince Avenue Christian, and Fellowship Christian.
In Class A-Public, Brooks County leads the pack with Metter, Macon County, Schley County and Irwin County chasing.
Class 7A
1. Grayson
2. Lowndes
3. North Gwinnett
4. Colquitt County
5. Collins Hill
6. Mill Creek
7. Brookwood
8. Parkview
9. North Cobb
10. Norcross
Class 6A
1. Valdosta
2. Lee County
3. Allatoona
4. Richmond Hill
5. Buford
6. Westlake
7. Rome
8. Dacula
9. Kell
10. Carrollton
Class 5A
1. Blessed Trinity
2. Cartersville
3. Ware County
4. Warner Robins
5. Veterans
6. Coffee
7. Calhoun
8. St. Pius
9. Woodward Academy
10. Jonesboro
Class 4A
1. Marist
2. Jefferson
3. Benedictine
4. Stephenson
5. Carver-Columbus
6. Flowery Branch
7. Jenkins
8. Bainbridge
9. Mays
10. Hapeville Charter
Class 3A
1. Crisp County
2. Cedar Grove
3. Oconee County
4. Peach County
5. Greater Atlanta Christian
6. Pierce County
7. White County
8. Sandy Creek
9. Westminster
10. Thomson
Class 2A
1. Callaway
2. Fitzgerald
3. Rabun County
4. Pace Academy
5. Thomasville
6. Lovett
7. Heard County
8. Early County
9. Toombs County
10. Bleckley County
Class A-Private
1. Eagle's Landing Christian
2. Athens Academy
3. Wesleyan
4. Prince Avenue Christian
5. Fellowship Christian
6. Savannah Christian
7. North Cobb Christian
8. Holy Innocents'
9. Darlington
10. Trinity Christian
Class A-Public
1. Brooks County
2. Metter
3. Macon County
4. Schley County
5. Irwin County
6. Clinch County
7. Commerce
8. Dublin
9. Wilcox County
10. Charlton County